Second in a two-part series on teens' favorite courses in school
A decade ago, toy giant Mattel Inc., came under fire for releasing a talking Barbie, whose words of wisdom included, "Math class is tough." This particular Barbie had a brief shelf life, and to many, she vocalized a common perception that girls don't like math and aren't good at it. If results from the latest Gallup Youth Survey are any indication of changing perceptions, that Barbie today might say, "Math class is fun."
As part of the 2003 Gallup Youth Survey*, American teens (aged 13 to 17) were asked to name their favorite courses in school. Girls and boys mentioned math most as their favorite course, with 24% of boys mentioning it and 22% of girls. Although 2000 National Assessment of Educational Progress (NAEP) figures indicated girls have some way to go in catching up with boys' proficiency levels in math, they also showed that both genders' levels had improved since 1990.
Science is another subject in which girls have traditionally been perceived to perform more poorly than boys do. However, in terms of favorite courses in school, boys and girls are about as likely to choose one of the sciences as their favorite. Collectively, science-related courses placed second on teens' list of favorites, with 14% of all teens naming one. Sixteen percent of boys identified a science course as their favorite, as did 12% of girls.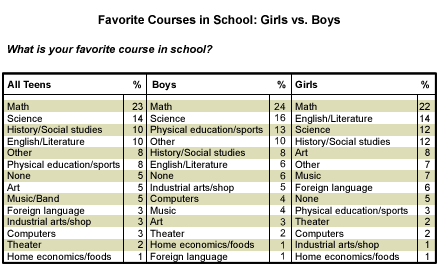 While boys and girls share similar estimations of math, science, and history/social studies, the numbers of boys and girls who said they favor English/literature and physical education/sports fall more in line with traditional perceptions of gender association. Twice as many girls as boys said their favorite course is English/literature, and almost five times as many boys as girls said that physical education/sports is their favorite course in school.
Just as the perception exists that girls perform more poorly in science and math, they are perceived to be better at English. And historically, they have been better. According to a National Education Center for Statistics report, girls have outperformed boys in reading and writing assessments since 1971.
Bottom Line
These survey results yield some surprises in girls' and boys' attitudes toward school subjects, and reinforce some long-held perceptions. What will prove even more interesting is whether teens' interests in these areas will play out in their higher education and career choices. Some of the teens who participated in the survey are clearly thinking about their futures, as these verbatim survey responses indicate.
Female respondent: "My favorite course in school is English because it is fun (at times) reading the novels. I also enjoy the open discussions. In my opinion, out of the four core classes, English is the subject that will be used the most later in life. Applying proper English in your life can aid you and help you to succeed."
Male respondent: "My favorite course in school is either history or advanced algebra. In the future I aspire to become a history teacher because it is something I'm interested in and I feel I could expand the student body's mind."
Female respondent: "Economics. I enjoy studying my country a great deal. And economics is one of a few courses that I may apply to the 'real world' right now, without having to wait until I enter the working class."
*The Gallup Youth Survey is conducted via an Internet methodology provided by Knowledge Networks, using an online research panel that is designed to be representative of the entire U.S. population. The current questionnaire was completed by 1,200 respondents, aged 13 to 17, between Jan. 23-Feb. 10, 2003. For results based on the total sample, one can say with 95% confidence that the maximum margin of sampling error is ±3%. For a complete description of the sampling and weighting procedures used to conduct the survey, click here.