Despite passage of a massive, politically volatile tax cut on May 23, Americans' estimations of the way the U.S. Congress is handling its job haven't changed much in the last month, according to Gallup's June measure of congressional approval. A June 12-15 Gallup Poll* finds exactly half (50%) of U.S. adults approve of the job Congress is doing, compared to 41% who disapprove and 9% who have no opinion. With the exception of an uptick in April 2003 (at the height of the Iraq war), the percentage of Americans approving of Congress has hovered in the 50% range for the past 12 months.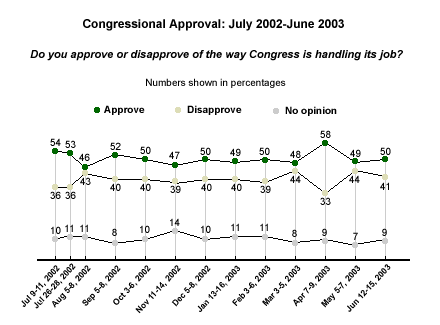 Congressional approval continues to be much higher than in the past (Gallup has been tracking this measure since 1974). Congressional job approval did not exceed 50% until February 1998, and has been as low as 18% (in March 1992). Approval was highest shortly after the Sept. 11 terrorist attacks, when more than 8 in 10 Americans favorably evaluated Congress. Congressional approval has not been below 40% since May 2000 (prior to 1998, it had been above 40% only a handful of times).
Looking at the current demographic results to this question, there are few surprises when it comes to which groups tend to approve of recent congressional performance and which groups don't. Men and women are about equally likely to express approval, as are whites and nonwhites. There is little variation by geographic region. Consistent with previous data, younger Americans continue to be more positive in their evaluations -- 59% of 18- to 29-year-olds say they approve of the way Congress is handling its job, as do only 40% of Americans aged 65 and older. Congressional approval ratings among the 65 and older group bear watching as the House and Senate consider significant changes to Medicare.
Republicans control both the Senate and the House of Representatives; therefore, it is to be expected that Republicans (70%) are significantly more likely than Democrats (38%) or independents (43%) to approve of Congress. But it is worth noting that Republican support for Congress seems to have further solidified since the tax cut was passed. In May 2003, Republican support for Congress stood at 61%, and it increased nine percentage points to 70% in June. The percentages of Democrats and independents who approve of the job Congress is doing remained relatively static during the same time period.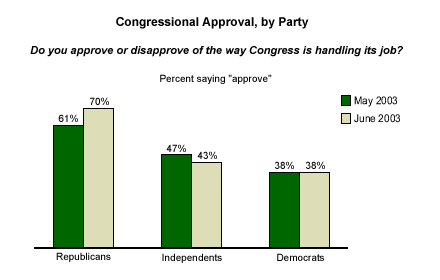 *Results are based on telephone interviews with 1,006 national adults, aged 18 and older, conducted June 12-15, 2003. For results based on the total sample of national adults, one can say with 95% confidence that the margin of sampling error is ±3%.