Oct. 24, 2003, was the first annual "Take Back Your Time Day," a project of the Center for Religion, Ethics and Social Policy at Cornell University and an initiative of the Simplicity Forum designed to "challenge the epidemic of overwork, over-scheduling and time famine that now threatens our health, our families and relationships, our communities and our environment." According to the promoters of "Take Back Your Time Day," job stress and burnout are costing the U.S. economy more than $200 billion per year.
A recent study conducted by the British publication Personnel Today and the Health & Safety Executive found that in the UK, more than 1.5 million workdays per year are lost to stress. "Take Back Your Time Day" reports that on average, Americans work 350 hours (or nine weeks) longer per year than western Europeans do. If all of these statistics hold true, workplace stress must be causing a health epidemic of mammoth proportions in the United States.
However, data from Gallup's August 2003 Work and Education poll* suggest that most Americans don't perceive workplace stress to be a huge problem in their own lives. Gallup asked employed adults (both full- and part-time employees) how satisfied they are with "the amount of on-the-job stress" in their jobs. Well over half of respondents said that they are "completely" (26%) or "somewhat" (36%) satisfied in this regard, while slightly more than a third said they are "somewhat" (23%) or "completely" (11%) dissatisfied.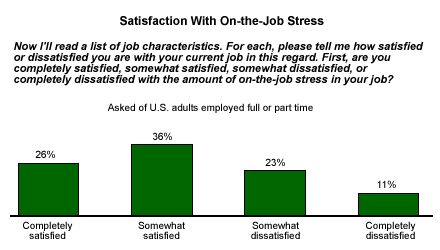 These numbers have been remarkably stable since Gallup first began asking this question more than a decade ago. In July 1991, 61% of American workers were satisfied with the level of stress at their jobs and 35% were dissatisfied. Those percentages are 62% and 34% today. Of course, the numbers also reflect the reality that many employees who feel especially stressed in their jobs will leave them for ones that are more bearable.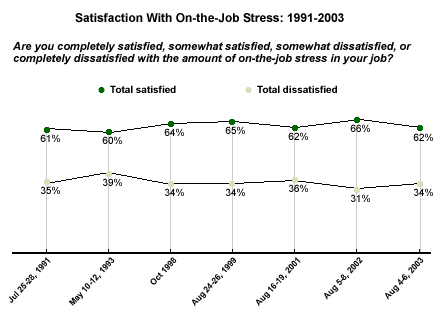 American workers' level of overall satisfaction that they have with their jobs is linked to their level of satisfaction with the amount of on-the-job stress they experience. Ninety-two percent of those satisfied with the amount of stress are satisfied with the jobs, compared with 71% who are dissatisfied with the amount of stress.
People working for companies that have experienced layoffs in the past six months are somewhat less likely to be satisfied with their stress levels than other employees are. Fifty-four percent of employees working for companies that have experienced layoffs are satisfied with the stress they experience at work, as are 67% of employees at companies that haven't laid off anyone in the past six months.
Bottom Line
The Senate recently passed a resolution designating October as "National Work and Family Month." According to the Senate bill, the resolution expressed the "sense of the Senate that supporting a balance between work and personal life is in the best interest of national worker productivity." There's no question that working too many hours can cause stress, and high levels of stress can cause harm to workers' emotional and physical health (not to mention the increased risk of work-related injuries brought on by stress at work).
Yet even in these uncertain economic times, Gallup data show that a significant majority of Americans aren't dissatisfied with the level of stress they experience at work. And if the trend data are any indication, these numbers are unlikely to change soon.
*Results are based on telephone interviews with 588 national adults who are employed full or part time, aged 18 and older, conducted Aug. 4-6, 2003. For results based on the total sample of national adults, one can say with 95% confidence that the margin of sampling error is ±4 percentage points.