On Nov. 4, President Bush signed a bill banning late-term or "partial-birth" abortions into law, which earned praise from pro-life supporters and condemnation from abortion rights activists. The legality of abortion in general may be hanging in the balance, as the slightest shift in the makeup of the U.S. Supreme Court could mean the overturn of Roe v. Wade. According to a recent Gallup Youth Survey*, most teens (aged 13 to 17) do not consider abortion to be a morally acceptable choice, and most also believe that it should only be a legal option under specific circumstances, if at all.
More than 7 in 10 teenagers (72%) said that abortion is morally wrong. Thirty-two percent of teens think abortions should be illegal in all circumstances, and 47% said that abortions should be legal only under certain circumstances. Fewer than one in five teens (19%) believe abortion should be legal in all circumstances.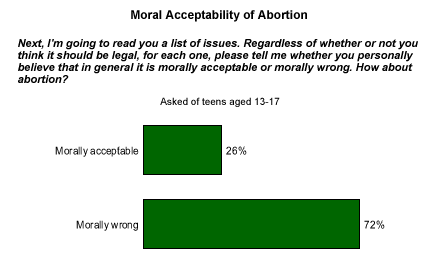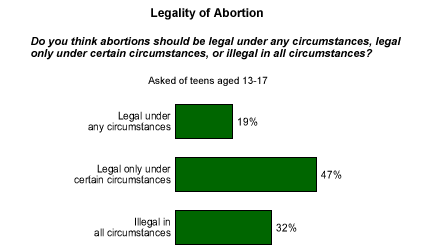 According to a Gallup Poll conducted in late October 2003, fewer than one in five adults (17%) support full legal restriction of abortion; 55% of adults believe it should be legal under certain circumstances; and 26% think it should be legal under any circumstances.
Abortion Is Not Acceptable to Churchgoing Teenagers
Teens who do not attend church are more likely than teens who attend church to find abortion morally acceptable. Only 12% of teens who attend church consider abortion morally acceptable, compared with 38% who do not attend church. And churchgoers are significantly more likely (40%) than non-churchgoers (26%) to say that abortion should be illegal in all circumstances.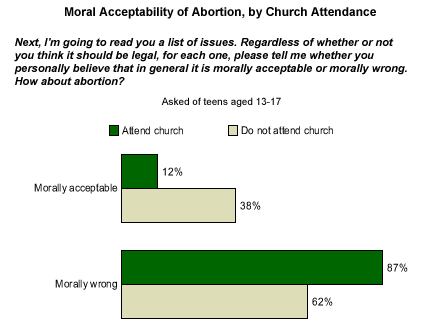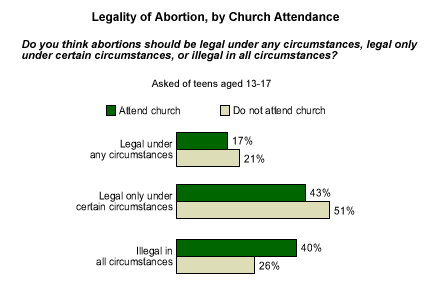 *The Gallup Youth Survey is conducted via an Internet methodology provided by Knowledge Networks, using an online research panel that is designed to be representative of the entire U.S. population. The current questionnaire was completed by 517 respondents, aged 13 to 17, between Aug. 1 and Aug. 29, 2003. For results based on the total sample, one can say with 95% confidence that the maximum margin of sampling error is ±5 percentage points.