As Americans gather with family and friends to count their blessings this Thanksgiving, many may start with their basic health. According to the results of the November 2003 Health and Healthcare poll*, most Americans are upbeat about their current physical and emotional conditions.
Physical and Emotional Well-Being
The majority of Americans (82%) describe their current physical health status as either "excellent" (32%) or "good" (50%), while 14% say it is "only fair" and 4% say "poor." Since Gallup began asking this question in 2001, the opinion has been stable, with no real change in Americans' perceptions of their physical health.
According to 2002 government estimates (reported in the American Medical News), serious mental illness affects 8% of American adults. Although Gallup's question about mental/emotional health is not specific to degree of mental illness, it yields results that seem to coincide with government estimates -- nearly 9 in 10 adults (87%) say that their mental health or emotional well-being is either excellent (43%) or good (44%), while 11% say only fair and 2% rate their current emotional conditions as poor.
"Bad Health" Days
The majority of Americans say they have not experienced any days during the past month when their physical health was not good, while 18% say they experienced five or more days of not feeling well.
Nearly two-thirds (64%) of adults say that there has not been a single day in the past month when their mental or emotional health was not good. Fifteen percent report five or more days of poor mental or emotional health.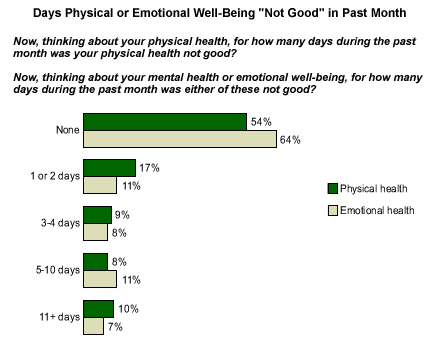 Gallup also asked Americans how many days in the past month that poor physical health kept them from their "usual activities, such as self-care, work, or recreation." Nearly three-quarters of Americans (74%) say that there was not a single day in the past month when poor physical health prevented them from taking part in such routine activities, but the average response given was two days per month. Both estimates are consistent with what Gallup has observed the past two years. Among the 26% of Americans who experienced poor physical health in the past month, 43% say it did not keep them from performing their usual routines. This group averaged about four days per month of not being able to carry out their daily activities.
Eighty-five percent of Americans say there was not a single day when poor mental or emotional health kept them from their normal activities, similar to Gallup data from 2001 and 2002. On average, typical Americans lost one day per month to poor mental health, because the 12% of Americans who experienced poor mental or emotional health had an average of nearly three days when they were not able to attend to their normal activities.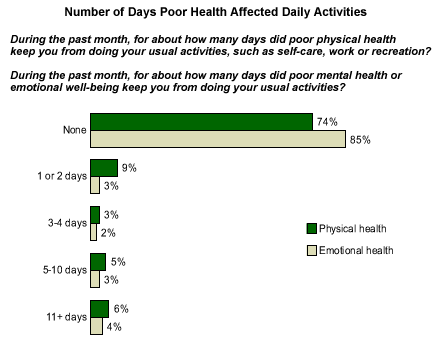 Bottom Line
Strains on the healthcare system will be a focus of political debate in the months leading up to the 2004 elections. And there are certainly many health issues to worry about -- smoking, obesity, SARS, the rising costs of healthcare, and countless others. But this week, as Americans take stock of their many blessings, there is some positive news about their health.
*Results are based on telephone interviews with 1,007 national adults, aged 18 and older, conducted Nov. 3-5, 2003. For results based on the total sample of national adults, one can say with 95% confidence that the maximum margin of sampling error is ±3 percentage points.