PRINCETON, NJ -- Nurses top Gallup's annual survey on the honesty and ethics of various professions, followed by other medical professionals like doctors, veterinarians, pharmacists, and dentists. Car salesmen, HMO managers, insurance salesmen, and advertising practitioners are rated as the least honest and ethical. Overall, there has been little change in the public's rating of the honesty and ethics of professions over the past year. The public's image of the clergy has partially recovered from last year's child sexual abuse scandals, while the images of business executives and stockbrokers remain slightly lower than they were before the recent wave of business scandals.
Honesty and Ethics of Professions in 2003
Americans, in the Nov. 14-16 CNN/USA Today/Gallup poll, were asked to rate the honesty and ethical standards of people in 23 different professions as very high, high, average, low, or very low. In addition to the core professions Gallup tests each year, this year's list focused on medical professions (last year's focus was on business, and next year's will be on government).
As has been the case in four out of the five times they have been included in the poll, nurses rank higher than any other profession, with 83% of respondents saying the honesty and ethical standards of nurses are "very high" or "high." The exception came in 2001, when firefighters (in their lone appearance on the honesty and ethics list) outscored nurses in the wake of the Sept. 11 terrorist attacks. This year, medical doctors (with 68% of Americans saying they have "very high" or "high" honesty and ethical standards), veterinarians (68%), and pharmacists (67%) are the next-highest rated professions after nurses. The 68% rating for medical doctors is the highest Gallup has ever measured for that profession.
The poll also finds that a strong majority of Americans have positive opinions of dentists, college teachers, the police, engineers, and the clergy. The 61% rating of dentists is also the highest Gallup has measured for that profession.
Much lower percentages, between 20% and 38% of respondents, rate the honesty and ethical standards of psychiatrists, bankers, chiropractors, state governors, journalists, and senators favorably. The professions near the bottom of the list include business executives (18% "very high" or "high"), congressmen (17%), lawyers (16%), stockbrokers (15%), advertising practitioners (12%), insurance salesmen (12%), and HMO managers (11%). Car salesmen, with a 7% rating, are last in this year's survey, as they have been in almost every survey in which they have been included since 1977.
Honesty and Ethics of Professions
Percentage "very high" or "high"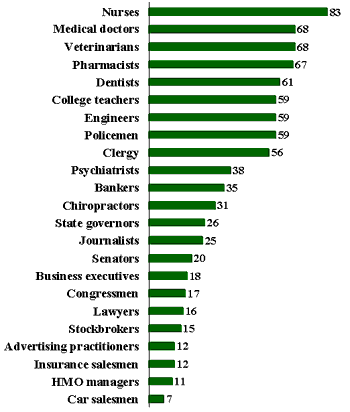 Nov. 14-16, 2003
How Have Americans' Ratings of Professions Changed This Year?
There has been little change in the public's assessment of professions since the last time Gallup asked about each; none has increased or decreased by more than five points:
Honesty and Ethics of Professions
Difference Between Current Ratings and Previous Ratings
(Percentage saying "very high" or "high")

Date of
Last Rating

Last
Rating

Current Rating

Change
(in pct. pts.)

%

%

Medical doctors

2002

63

68

+5

Dentists

2001

56

61

+5

Chiropractors

1999

26

31

+5

Nurses

2002

79

83

+4

Clergy

2002

52

56

+4

Stockbrokers

2002

12

15

+3

Advertising practitioners

2002

9

12

+3

Veterinarians

2000

66

68

+2

College teachers

2002

57

59

+2

Business executives

2002

17

18

+1

HMO managers

1999

10

11

+1

Car salesmen

2002

6

7

+1

Policemen

2002

59

59

0

Congressmen

2002

17

17

0

Druggists, pharmacists

2002

67

67

0

Engineers

2001

60

59

-1

Bankers

2002

36

35

-1

Journalists

2002

26

25

-1

Insurance salesmen

2001

13

12

-1

Lawyers

2002

18

16

-2

State governors

2000

30

26

-4

Senators

2001

25

20

-5
The Medical Professions
Most of the medical professions are quite favorably evaluated:
As noted, nurses have topped the list four times in the past five years, and were exceeded only once, by firefighters, whose honesty rating was at 90% in November 2001 (firefighters were included on the list just that one time).
The perceived honesty and ethical standards of medical doctors have been substantially higher in recent years than has been the case historically. The historical average from 1976 through 2003 stands at 56%. Doctors' honesty ratings moved above the 60% level for the first time in 2000 and have remained high in each poll since. The current poll finds that 68% rate the ethical standards of doctors as very high or high.
Druggists or pharmacists have always fared well in Gallup surveys. The average for pharmacists, included in every survey since 1981, is 65%. Their perceived honesty is slightly higher than average this year, at 67%.
Gallup has asked Americans to rate the ethical standards of veterinarians three times since 1999, resulting in ratings of 63% (1999), 66% (2000), and 68% (this year).
The average rating of dentists is 53%, but the current rating is higher, at 61%.
Psychiatrists and chiropractors are rated lower than all of the other medical professions.
The Clergy
The perceived honesty and ethical principles of the clergy appear to have partially recovered from the aftermath of the Catholic sexual abuse scandal in 2002. The rating of the ethical standards of the clergy decreased from 64% "very high" or "high" in the fall of 2001 to 52% last November. This year's rating shows a small increase, to 56%. Although the current rating of the clergy is still down slightly from the 2000 survey, it is close to the historical average of 58%.
Younger Americans are much more critical of the clergy than are older Americans. Just 44% of 18- to 29-year-olds rate the honesty and ethical standards of the clergy as very high or high, compared with 59% of 30- to 49-year olds, 57% of 50- to 64-year-olds, and 65% of those aged 65 and older.
Government
This year's survey asked Americans to rate the honesty and ethical standards of several government positions -- state governors, senators, and congressmen. None of these professions score well. In fact, just 26% of Americans give state governors a high or very high rating, slightly more than the 20% rating for senators and 17% for congressmen.
The high point for senators came in 2000 and 2001, when roughly one in four Americans gave senators a high rating on being honest and ethical. Similarly, the overall impression of congressmen peaked in 2001, when a quarter of respondents rated them highly. The current results for both professions are also close to the historical averages, 18% and 16%, respectively.
Business Executives and Stockbrokers
Business executives have never scored particularly well on this measure of honesty and ethical standards. Most likely due to the accounting and business scandals involving the likes of Enron or WorldCom, the image of business executives decreased from an already low 25% in 2001 to 17% last November. The current poll (18%) shows essentially no change in the public's perception of business executives.
The public's image of stockbrokers declined from 19% in 2001 to 12% in 2002. Americans' ratings of stockbrokers edged up just slightly this year to 15%, even with investigations into the trading practices of some prominent mutual fund companies.
Survey Methods
These results are based on telephone interviews with a randomly selected national sample of 1,004 adults, aged 18 and older, conducted Nov. 14-16, 2003. For results based on this sample, one can say with 95% confidence that the maximum error attributable to sampling and other random effects is ±3 percentage points. In addition to sampling error, question wording and practical difficulties in conducting surveys can introduce error or bias into the findings of public opinion polls.
Please tell me how you would rate the honesty and ethical standards of people in these different fields -- very high, high, average, low, or very low? First, ... Next, ...[RANDOM ORDER]

2003 Nov 14-16

Very high


High


Average


Low

Very
low

No opinion

%

%

%

%

%

%

Advertising Practitioners

1

11

48

29

7

4

Bankers

5

30

53

9

2

1

Business executives

2

16

56

20

5

1

Car salesmen

2

5

39

39

14

1

Clergy

17

39

34

6

2

2

Congressmen

3

14

52

25

5

1

Druggists, pharmacists

17

50

29

2

1

1

Lawyers

3

13

47

25

11

1

Medical doctors

16

52

27

4

1

*

Nurses

25

58

16

1

*

*

Policemen

14

45

35

4

2

*

Chiropractors

5

26

49

13

2

5

College teachers

12

47

33

5

1

2

Dentists

11

50

34

3

1

1

Engineers

12

47

36

2

*

3

HMO managers

2

9

45

28

11

5

Insurance salesmen

2

10

56

24

7

1

Journalists

4

21

49

18

7

1

Psychiatrists

8

30

44

11

2

5

Senators

2

18

53

21

6

*

State governors

4

22

52

18

3

1

Veterinarians

16

52

27

2

*

3

Stockbrokers

2

13

54

23

6

2

* Less than 0.5%