Congress
Explore Gallup's research.
What average Americans would say in a letter to their elected representatives.
A majority of U.S. registered voters, 56%, believe President Donald Trump does not deserve to be reelected, while 43% say he does.
A record 41% of U.S adults prefer that the same party control the presidency and Congress. Meanwhile, 23% say it is better to have divided party control, and 32% say it makes no difference.
Americans agree that their government should take immediate action in a number of specific problem areas.
Americans may not be overly excited for the 400th anniversary of the "first representative legislative assembly in the Western Hemisphere."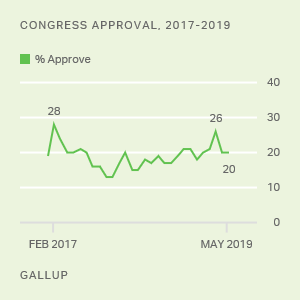 Congressional job approval remained at 20% for the second consecutive month, six points lower than the two-year high reached in March.