Congress
Explore Gallup's research.
Americans agree that their government should take immediate action in a number of specific problem areas.
Americans may not be overly excited for the 400th anniversary of the "first representative legislative assembly in the Western Hemisphere."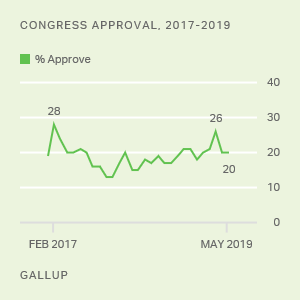 Congressional job approval remained at 20% for the second consecutive month, six points lower than the two-year high reached in March.
The 26% of U.S. adults approving of the job Congress is doing is the highest for the institution since February 2017.