USA
Explore Gallup's research.
Americans' views of Israeli Prime Minister Benjamin Netanyahu have changed little in 2019, with 40% viewing him favorably and 27% unfavorably.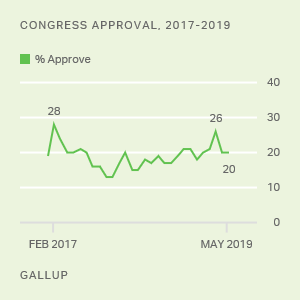 Congressional job approval remained at 20% for the second consecutive month, six points lower than the two-year high reached in March.
A majority of Americans (63%) remain dissatisfied with the direction of the U.S., but the percentage satisfied edged up to 36% in May.
Americans have mixed views about the healthcare system and clearly have not yet come to a firm collective judgment on suggested healthcare reforms.
President Donald Trump's May 1-12 job approval rating stands at 42%, slightly below the 46% high reached in the second half of April.
By failing to include an exception for cases of rape or incest, the Alabama anti-abortion bill is out of step with the views of most Americans.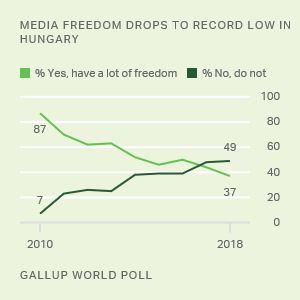 Since 2010, the percentage of Hungarians who say the media in their country have a lot of freedom has dropped 50 percentage points.
With rising tuition, $1.5 trillion in student loan debt and completion rates under 60%, the value of higher education is in question.
Joe Biden has an extraordinary 44 years of service as an elected federal official; how he defines it will help determine his campaign's success.