Gallup-Lumina Foundation Study on Higher Education
Explore Gallup's research.
A recent Lumina Foundation-Gallup study shows that in 2022, Hispanic students enrolled in a post-high school program in the U.S. were more likely than any other race or ethnicity to feel discriminated against.
A recent Lumina Foundation-Gallup study found that Hispanic students struggle to stay in college more than students of any other race or ethnicity.
Gain a globally inclusive understanding of wellbeing.
Americans with at least some postsecondary education are about twice as likely to volunteer their time as those with no education after high school.
College education is still highly valued by U.S. adults, but concerns over accessibility persist.
Though enrollment in higher education has declined, most U.S. adults see great value in higher education, with demand among the unenrolled remaining high -- and even increasing among certain demographic groups.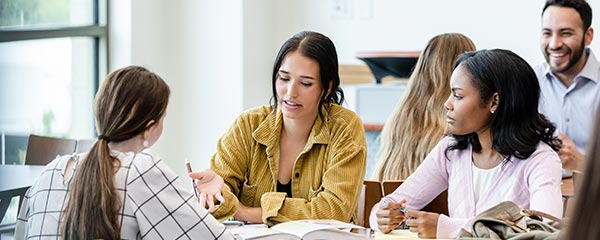 Most U.S. college students (74%) say laws regulating the discussion of divisive topics are at least somewhat important to their decision to remain enrolled.
A state's reproductive health laws influence college students' and unenrolled, non-degree-holding adults' decisions to enroll in college.
See how WGU alumni outcomes compare to national averages.
Even with concerns about COVID-19 receding, students are no less likely to have considered stopping their coursework. "Emotional stress" remains by far their most commonly cited reason for thinking of "stopping out."
Black bachelor's degree students in the U.S. are more likely than all other bachelor's students to be caregivers or balance school with a full-time job.
About one in five Black postsecondary students say they "frequently" or "occasionally" feel discriminated against at their institutions. Reports of discrimination are higher among those in short-term credential programs.
Exploring perceptions around postsecondary education
Download the State of Higher Education 2022 Report
Americans Value Postsecondary Education
Employers believe that college graduates aren't developing the skills needed for the 21st-century workplace. Millennials agree.
Though politically polarized, Americans find consensus on the need for the U.S. to invest in the talent of its workforce.
Ninety-six percent of Americans say it is "somewhat" or "very" important for adults in the country to have a degree or certificate beyond high school.