Wells Fargo/Gallup Investor and Retirement Optimism Index
Explore Gallup's research.
Most investors say it is a good time to buy stocks, yet a majority think a market correction is looming. Few are stressed about the prospect of a correction.
Optimism among U.S. investors rose again in the third quarter after plateauing in the second quarter and is now hitting levels not reached since 2000.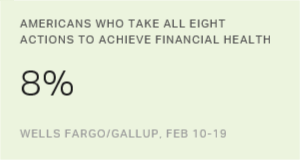 Majorities of U.S. investors are taking each of eight actions that can contribute to financial health, but they are far more likely to be doing some than others.
U.S. investors are gaining confidence that they will be able to maintain the lifestyle they want throughout their retirement.