Politics
Explore Gallup's research.
Americans' views of Israeli Prime Minister Benjamin Netanyahu have changed little in 2019, with 40% viewing him favorably and 27% unfavorably.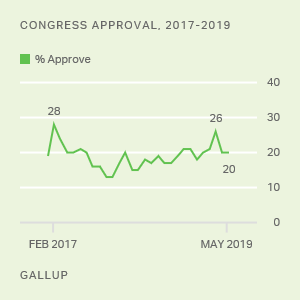 Congressional job approval remained at 20% for the second consecutive month, six points lower than the two-year high reached in March.
A majority of Americans (63%) remain dissatisfied with the direction of the U.S., but the percentage satisfied edged up to 36% in May.
Americans have mixed views about the healthcare system and clearly have not yet come to a firm collective judgment on suggested healthcare reforms.
The European Union parliamentary elections this week give new urgency to finding an answer to the question of what is driving populist success.
President Donald Trump's May 1-12 job approval rating stands at 42%, slightly below the 46% high reached in the second half of April.
By failing to include an exception for cases of rape or incest, the Alabama anti-abortion bill is out of step with the views of most Americans.
Joe Biden has an extraordinary 44 years of service as an elected federal official; how he defines it will help determine his campaign's success.