PRINCETON, NJ -- Barack Obama continues to gain slowly on front-runner Hillary Clinton among Democrats nationally. Clinton now leads Obama by 11 percentage points in Gallup's three-day rolling average nationally; as recently as Jan. 18-20 she was ahead by 20 points.
At the same time, Gallup analysis of interviewing conducted Sunday shows Clinton is ahead by 10 points, not the immediately significant impact of Obama's overwhelming win in South Carolina that Obama supporters may have hoped for. Today, Sen. Edward Kennedy is scheduled to announce his endorsement of Obama. This follows his niece Caroline Kennedy's strong endorsement of Obama Sunday in a New York Times op-ed, which could have some influence on Democrats nationally. Tuesday's Florida primary has less significance for Democrats because there are no delegates at stake, but there could be some impact of news reports of the popular vote.
The Republican race appears to be tightening. John McCain's lead over Mitt Romney is now only 8 points, from a recent high of 14 points in polling conducted early last week. Mike Huckabee remains slightly behind Romney, while Rudy Giuliani is in fourth place with 13% of the Republican national vote. The results of Tuesday's Florida primary could have a significant effect on the standing of the GOP candidates nationally. -- Frank Newport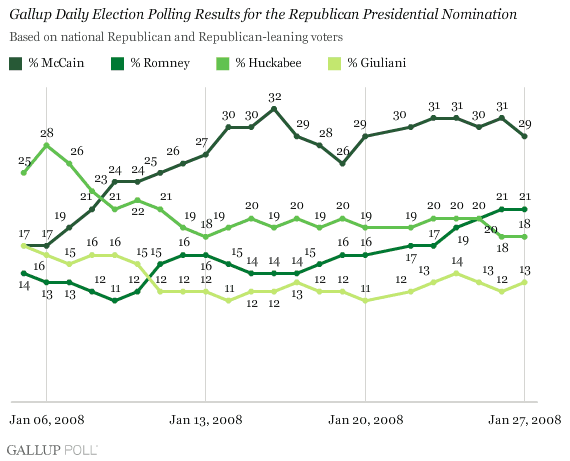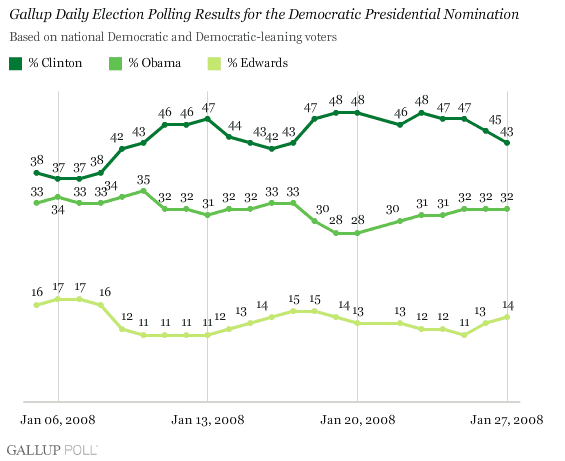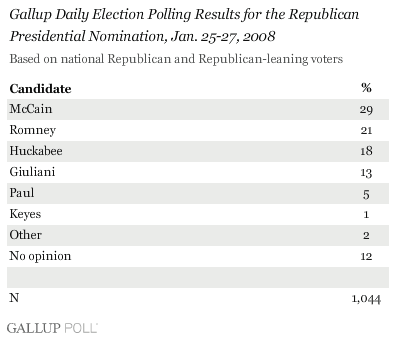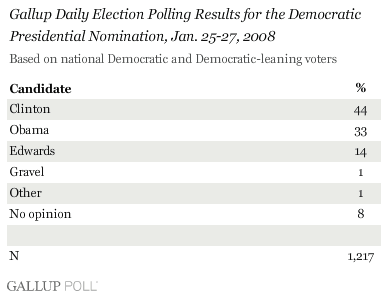 Methodology: The results reported here are based on combined data from Jan. 25-27, 2008, including interviews with 1,044 Republican and Republican-leaning voters and 1,217 Democratic and Democratic-leaning voters. For results based on these samples, the maximum margin of sampling error is ±3 percentage points. In addition to sampling error, question wording and practical difficulties in conducting surveys can introduce error or bias into the findings of public opinion polls.