GALLUP NEWS SERVICE
PRINCETON, NJ -- Massachusetts Sen. John Kerry has moved to a dominant position as the first choice of rank-and-file Democrats across the country as their party's nominee for president, receiving 49% support, compared with 14% for former Vermont Gov. Howard Dean, and 13% for North Carolina Sen. John Edwards. Kerry tops President George W. Bush by 53% to 46% nationwide when likely voters are asked for whom they would vote if the general election came down to a contest between Bush and Kerry. At the same time, President Bush's job approval rating has fallen to the lowest point of his administration, at 49%.
Kerry's Support Among National Democrats Surges
The Jan. 30-Feb. 1 CNN/USA Today/Gallup Poll reflects a remarkable surge of support for Kerry among Democrats.
Democratic Challenger Trial Heat
Among Registered Democrats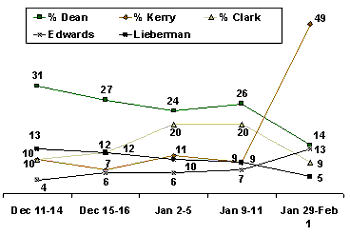 Gallup last measured Democrats' preferences for their party's nominee three weeks ago, prior to the Iowa caucuses and New Hampshire primary. The newest results show a dramatic shift.
| | |
| --- | --- |
| | Democrats' Preferences Shift |
| John Kerry | 40 point increase (comparing Jan. 9-11, 2004 to Jan. 30-Feb. 1, 2004 polls) |
| John Edwards | 6 point increase |
| Howard Dean | 12 point drop |
| Wesley Clark | 11 point drop |
| Joe Lieberman | 4 point drop |
This extraordinary jump in Kerry's support is obviously a function of his victories in the Iowa caucuses and the New Hampshire primary, just as the drops in Dean's, Clark's, and Lieberman's support are a result of their relatively poor showings in Iowa and New Hampshire.
Kerry's level of support at this stage in the primary campaign appears to be particularly propitious for the Massachusetts senator. No Democratic candidate in the history of Gallup's primary polling has ever received as high as 49% of the trial heat support among Democrats and not gone on to win the nomination. The closest to Kerry's current margin for a non-winner are Estes Kefauver in 1942 (who at one point had 45% of the Democratic vote, but went on to lose the nomination to Adlai Stevenson) and Edmund Muskie and Hubert Humphrey, both of whom in 1972 had 35% of the Democratic vote, but eventually lost to George McGovern. Thus, based on history alone, the probability of Kerry moving on to capture the Democratic nomination this year would appear to be high.
Edwards is often mentioned as the one candidate who may stand in the way of Kerry's drive for the nomination, but the North Carolina senator receives only 13% of the support of registered Democrats nationwide, still one point behind erstwhile front-runner Dean. Edwards' hopes of moving these national numbers up depend on a very strong showing in today's South Carolina primary, coupled with other signs of Kerry weakness.
The poll is not at all auspicious for either Connecticut Sen. Joe Lieberman (who receives just 5% of the Democrats' support) or retired Gen. Wesley Clark, who receives only 9%. Both of these candidates, at other points in their respective campaigns, have received over 20% support.
There are some scenarios by which Kerry might come out of today's voting in a weakened position. For example, if Edwards scores a large win in his native South Carolina, if Clark wins in Oklahoma, and/or if Kerry's victory margins in the other five states are defined by the media as being smaller than expected. But based on a review of polls conducted by various media and other state polling organizations in the seven states holding caucuses and primaries today, it appears unlikely that all of these scenarios will occur.
National Images of the Democratic Candidates
The vast amount of publicity afforded Kerry since his come-from-behind victory in Iowa has had a positive effect on his name identification nationally. When Gallup first measured Kerry back in February 1999, 61% of Americans said they didn't know enough about him to have an opinion either way. As recently as last November, 45% did not have an opinion. That has all changed now. In the weekend poll, 84% of Americans know enough about Kerry to have an opinion, and those opinions are much more positive than negative.
NAME RECOGNITION AND IMAGE

FOR DEMOCRATIC CANDIDATES

Name Recognition,
% who know enough about candidate to have an opinion

Net Image,
% favorable minus % unfavorable

%

%

John Kerry

All Adult Americans

84

38

Democrats

89

75

Republicans

81

-5

John Edwards

All Adult Americans

75

33

Democrats

79

61

Republicans

71

1

Wesley Clark

All Adult Americans

74

16

Democrats

75

43

Republicans

75

-13

Howard Dean

All Adult Americans

84

0

Democrats

87

37

Republicans

82

-42

Joe Lieberman

All Adult Americans

80

10

Democrats

81

15

Republicans

80

2
With all of this apparent momentum, it is not surprising to find that Kerry does well when pitted against Bush in a hypothetical general election trial race. Kerry, in fact, does better than any of the other Democratic challengers.
Bush vs. Democratic Challengers
Among Likely Voters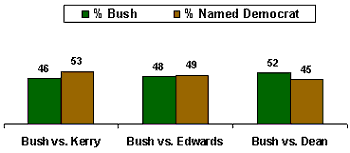 Jan. 29-Feb. 1, 2004
Bush's Image at Low Point on Many Dimensions
Kerry's seven-point lead over Bush is due in part to the generally weakened position of Bush in the eyes of the American public at this time.
Bush's overall job approval rating -- 49% -- is the lowest of his administration, one point below his previous low points of 50% in September and November 2003, and four points below the 53% measured Jan. 12-15, 2004.
George W. Bush's Job Approval Rating,
2001-2004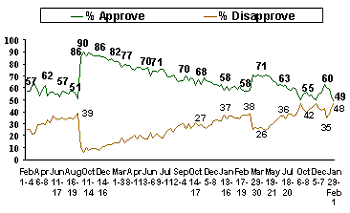 Bush's personal favorability rating -- 52% -- is also the lowest of his administration, and his unfavorable rating of 47% is the highest.
Bush's approval rating for handling the economy is at 43%. This is not the lowest of his administration, as he received a 42% economic rating in October of last year. But the fact that it is this low in the face of what Bush and his administration have been touting as a much-improved economy -- helped to a significant degree, they claim, by the Bush tax cuts -- is certainly not what the administration would hope for.
President Bush's Approval Rating on Issues
Jan. 29-Feb. 1, 2004
Bush's rating on handling foreign affairs, at 46% approval and 51% disapproval, is the worst such rating of his administration. His other 46% approval rating of foreign affairs occurred in February 2001, shortly after he took office, but his disapproval rating on this measure was only 21% at that time, with 33% expressing no opinion.
Bush's rating on handling the situation in Iraq, at 46% approval and 53% disapproval, has returned essentially to where it was last November, before it was temporarily boosted by news of the capture of Saddam Hussein the following month.
Exit polls in New Hampshire (as well as the entrance polls in Iowa) showed that Democratic voters this year are very concerned about the cost of healthcare. Bush gets only a 35% favorable rating on "healthcare policy," lower than any of the other six times in which this dimension of the Bush administration has been tested. Nearly 6 in 10 Americans now disapprove of the way Bush has handled healthcare.
The fact that Kerry is doing well and that Bush is not at this point in the campaign process is not totally unexpected. The Democratic primaries have been a major focus of media attention over the past month, making this a situation analogous to what happens after a party's convention in the summer, when that party's candidate usually spikes in election trial-heat polls because media attention is overwhelmingly focused on one party and its message. Additionally, of course, much of the Democrats' focus in their campaigning has been on criticizing Bush, his policies, and his administration, so some negative impact is a logical result.
Survey Methods
The results are based on interviews conducted Jan. 30-Feb. 1, 2004 with 1,001 national adults aged 18 and older. For this sample, the maximum margin of error attributable to sampling is ±3 percentage points. Margins of error for sample subgroups would be slightly higher.
For results based on the sample of 469 Democrats and Democratic leaners, the maximum margin of sampling error is ±5 percentage points.
For results based on the sample of 415 Democrats and Democratic leaners who are registered to vote, the maximum margin of sampling error is ±5 percentage points.
In addition to sampling error, question wording and practical difficulties in conducting surveys can introduce error or bias into the findings of public opinion polls.