WASHINGTON, D.C. -- A simple contradiction helps illuminate growing political tensions in Peru: About half of Peruvians (49%), according to a 2007 Gallup Poll in the South American nation, say they personally are more socialist than capitalist in their attitudes, while just 16% say they are more capitalist than socialist. However, 45% of Peruvians view their country as more capitalist than socialist, while just 24% say it is more socialist than capitalist.
Despite Peru's strong overall economic growth in recent years, President Alan Garcia remains singularly unpopular; a recent poll by Ipsos-Apoyo put his approval rating in Peru's main cities at just 26%. According to a 2007 Gallup Poll, just 21% of Peruvians say they approve of their country's leadership.
Garcia's political weakness has made him vulnerable to attacks from populist leaders in the country's Southern Andean region, an area that has failed to see much of the economic progress enjoyed further north. Hernan Fuentes, head of the Puno region in the South, regularly criticizes Garcia's economic liberalism, favoring the "socialist nationalism" model exemplified by Venezuelan President Hugo Chavez. Populist former army officer Ollanta Humala, who narrowly lost the 2006 presidential election to Garcia, also has a political stronghold in the South.
Garcia's rivals point to the fact that poverty is still a huge problem in Southern Peru, afflicting as much as 70% of the population. Many Peruvians share their disapproval; almost two-thirds (64%) say they are dissatisfied with efforts to deal with the poor. These problems are nowhere more challenging than in Peru's rural South, where many residents live as subsistence farmers, lacking the infrastructure that would connect them to the country's market economy.
Southern Peru is the only region where a majority of residents -- 57% -- say they consider themselves more socialist than capitalist. Just 11% of Southern Peruvians say they are more capitalist than socialist.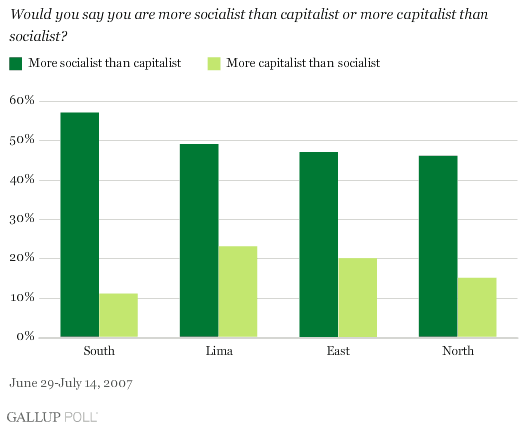 Regional support for Garcia's government also reflect these differences. In 2007, just 13% of those living in the Southern Andean region said they approved of the country's leadership, vs. 25% of those in Peru's economically dynamic capital Lima.
Bottom Line
Until recently, it has been politically safe for Peruvian leaders to ignore the indigenous Southern population because it consists of poor and remote residents largely disconnected from the rest of the country. However, the growing visibility of protesters and striking workers in the South suggests that may be changing. Peruvians aren't necessarily attracted to extreme forms of socialism; their low approval of national leaders in Venezuela (21%), Bolivia (28%), and Ecuador (31%) suggests otherwise. Nonetheless, more moderate socialist stances may resonate with many, especially in the South where regional populists such as Fuentes and Humala have deep wells of dissatisfaction from which to draw support.
Survey Methods
Results are based on telephone interviews with 1,000 adults living in Peru, aged 15 and older, conducted from June 29 to July 14, 2007. For results based on the total sample of adults, one can say with 95% confidence that the maximum margin of sampling error is ±3 percentage points. In addition to sampling error, question wording and practical difficulties in conducting surveys can introduce error or bias into the findings of public opinion polls.