WASHINGTON, D.C. -- Results from Gallup Polls conducted in 141 countries, including European Union (EU) member countries, G8 members, and former Soviet states, suggest that Germany may be poised to be a major player in mending relations between Russia and the West after Moscow's recent clash with Georgia over South Ossetia. Among residents of five of the G8 countries, which include Russia, Germany's leadership is viewed more favorably than the leaderships of France, the United Kingdom, and the United States.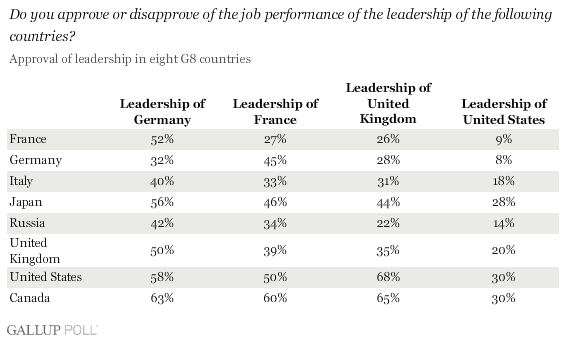 The conflict between Russia and Georgia is the latest in a series of events -- which include Russian protests over Ukraine's bid to join NATO and the EU and tensions over plans to place U.S. missiles in Poland -- that indicate Russia's relationship with the West is at a crossroads.
European Union heads of state recently called an emergency summit on the Georgia crisis, in which several former communist countries joined the United Kingdom in demanding a tougher stance toward Russia. There is a clear division in the EU among countries that favor this hard-line approach and those who do not wish to upset Russia. This lack of consensus raises a crucial question: Who will take the lead in working toward improved relations between Russia and the West?
France, which currently holds the EU presidency, already plays a crucial role in negotiating peace between Tbilisi and Moscow. Among G8 countries, the leaderships of France and Germany receive higher ratings than the United States overall. Focusing on Germany and France, Germans express more confidence in the leadership of France than that of Germany, but the French themselves are much more likely to approve of Germany's leadership than their own.
Within the EU, residents in many countries express more confidence in Germany's leadership than that of other powerful Western nations. In 15 of 25 EU countries surveyed, residents are more likely to approve of Germany's leadership than they are of French, British, or U.S. leadership.
German Chancellor Angela Merkel has risen atop the world stage as a key player in shaping European foreign policy toward Russia. Since being elected to Germany's top spot in November 2005, Merkel has been an outspoken proponent of strengthening ties with the United States and has often taken a harder line against Russia. But some critics say Germany cannot be an honest broker in negotiating with Russia because it is a major investor in the country and too dependent on it for energy.
While Russia's leadership remains popular within most members of the Commonwealth of Independent States (CIS), Germany's leadership approval is higher than approval for the leaderships of other Western allies. In 6 of 10 CIS countries surveyed (excluding Georgia, which recently withdrew from the group) residents are more likely to express confidence in German leadership than they are in U.S., French, or British leadership.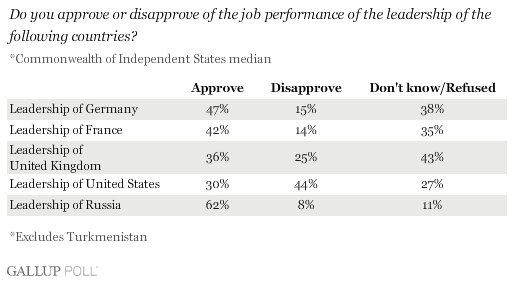 Georgians are most likely to express confidence in the leadership of the United States, but their level of confidence in the leaderships of France, Germany, and the United Kingdom are similar. There are high proportions of people who say they do not have an opinion about the leaderships of these countries, however.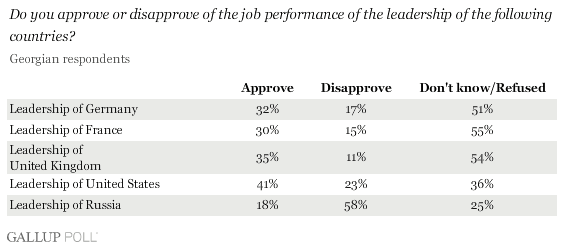 The good image of Germany's leadership extends well beyond the countries described previously, and its popularity is especially marked in parts of the Balkans and in sub-Saharan Africa. (See the next page for the complete table of Gallup Poll results.)
Bottom Line
It is in the interest of Western leaders to build better relationships with Russia, which remains a military superpower, without compromising their commitment to democratic principles. This is not an easy task, and it will require effort from more than one country. Based on data from Western countries and former Soviet states, Gallup finds that Germany may be well-suited to assume a leading role because of the high level of leadership approval it enjoys on both sides.
Survey Methods
Results are based on telephone and face-to-face interviews with approximately 1,000 adults, aged 15 and older, conducted in 2005, 2006, 2007, and 2008, in 141 countries. For results based on the total sample of national adults, one can say with 95% confidence that the maximum margin of sampling error is ±3 percentage points. In addition to sampling error, question wording and practical difficulties in conducting surveys can introduce error or bias into the findings of public opinion polls.