Suicide is now the third-leading cause of death among young people between the ages of 15 and 24, according to the U.S. Centers for Disease Control and Prevention (CDC). And the incidence of suicide among the nation's youth is on the rise. CDC figures also show that the suicide rate increased by 11% between 1980 and 1997 among 15- to 19-year-olds, and an alarming 109% among 10- to 14-year-olds.
While these statistics focus on deaths related to suicide, aggregated data from the 2003 and 2004 Gallup Youth Surveys* provide some insight on teens' awareness of suicide attempts among their peers and their own personal experiences. According to the results, 45% of the nation's teens (aged 13 to 17) reported that they personally know a teenager who has tried to commit suicide, and 22% said that they themselves have talked about or thought about committing suicide. Eight percent of teens said that they have come close to committing suicide, and 6% said that they have actually tried to commit suicide.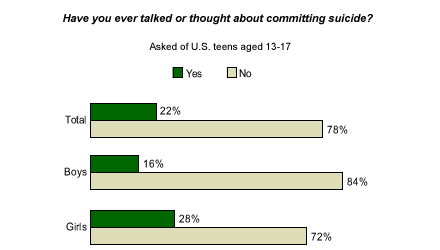 Suicide and Gender
While CDC statistics indicate that males (including youth) are four times more likely than females to actually die from suicide, women are more likely to attempt taking their own lives. The Gallup Youth Survey also shows that teenage girls are more likely then teenage boys to know other teenagers who have tried to commit suicide, more likely than boys to have discussed suicide with friends, and more likely to have talked or thought about committing suicide. Gallup also finds that slightly more teenage girls than boys said that they have either come close to, or actually attempted, suicide.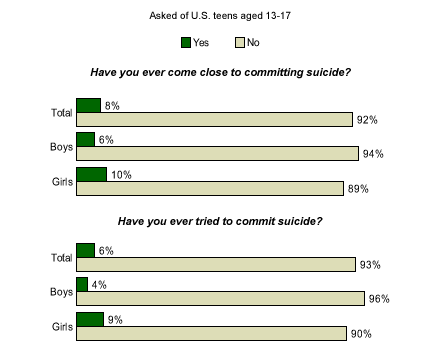 Seriousness of Suicide Among Friends
In the 2004 Gallup Youth Survey, Gallup asked teens how serious a health issue depression/suicide is among their teen friends, and nearly 7 in 10 said that it is either a "very" (42%) or "somewhat" (27%) serious problem. Consistent with the findings that girls think and talk more about suicide than boys do, girls are far more likely than boys to characterize depression/suicide as a very serious health issue among their teen friends (51% vs. 33%).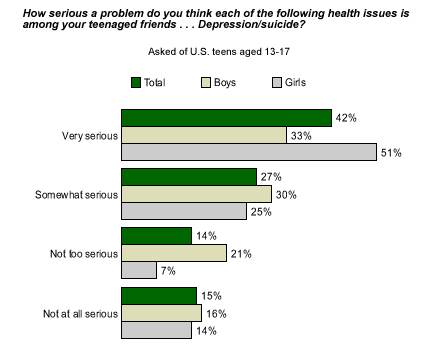 Bottom Line
In 2000, suicide took the lives of more than 29,000 Americans, 15% of whom were under the age of 25. Gallup teen data clearly underscore the CDC's conclusion that suicide is a major public health problem among teens. The National Center for Injury Prevention and Control is working to raise awareness of suicide and is focused on science-based prevention strategies to reduce the number of injuries and deaths due to suicide.
Treating teens for depression is a complex issue -- one that requires intensive involvement by family, schools, and the medical community. A recent FDA report warns that using certain antidepressants for treatment of depression in young people may actually be linked to suicide. The FDA now requires warnings on some antidepressant labels describing possible links to pediatric suicide. Given the rising rates of teenage suicide and teens' own concerns about the issue, identifying risk factors and effective prevention and treatment programs is vital in reversing this serious threat to the lives of America's youth.
*The Gallup Youth survey is conducted via an Internet methodology provided by Knowledge Networks, using an online research panel that is designed to be representative of the entire U.S. population. The questionnaires were completed by a total of 1985 respondents, age 13-17, between Jan. 23-Feb. 10, 2003, and Jan. 22-March 9, 2004. For results based on the total sample, one can say with 95% confidence that the maximum margin of sampling error is ±2 percentage points. Among the sample of 1,016 teenage boys, the margin of sampling error ±3 percentage points and among 969 teenage girls, the error margin is ±3 percentage points.