A preoccupation with death is indicative of several mental health conditions -- depression, bipolar disorder, and others -- and may be a warning sign of suicide, particularly among emotionally vulnerable teenagers. Aggregated data from two recent Gallup Youth Surveys* allow a closer look at how often teens think about dying.
The data show that just 9% of teens often think about their own deaths, while the majority of them think about it sporadically or not at all. But according to U.S. Census estimates, there are about 21 million teens (aged 13 to 17) living in the United States today, so 9% represents quite a large number of teens who have frequent thoughts about dying.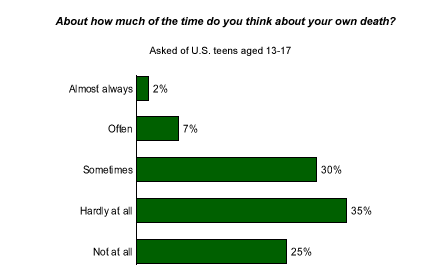 When teens share this type of sensitive, troubling information, what should parents or teachers do with it? Leslie McGuire, a social worker at Columbia University, has one answer. McGuire directs a program at Columbia called TeenScreen -- a free, 10-minute, online mental health test that screens teenagers at school for a variety of mental health disorders and, most importantly, sees to it that the information gets to the right people: parents (see Related Sites). "Just like with physical problems, early detection of mental disorders can get teens into treatment earlier and have a significant impact on the outcome," McGuire says. "And the kids we're reaching are the ones slipping through the cracks -- teens who are not getting any help whatsoever."
The Alienation Connection
There is virtually no difference between boys and girls, whites and nonwhites, or younger and older teens when it comes to thoughts about death. However, there are strong relationships between these thoughts and Gallup questions on social alienation.
Thirty-five percent of teens choose the statement "I often wonder why I exist" over the statement "I always see a reason for my being here on Earth" to best describe how they feel. Within that group, more than one in five (22%) say they "often" or "almost always" think about their own death -- compared with just 4% of those who choose the alternate statement. Similarly, 25% of teens choose the statement "I wish I were somebody else" over the statement "I would choose my life the way it is right now." Within that group, 21% say they "often" or "almost always" think about their own death, versus 7% of those who choose the more positive statement.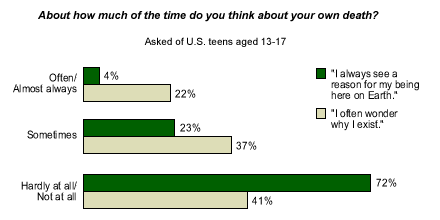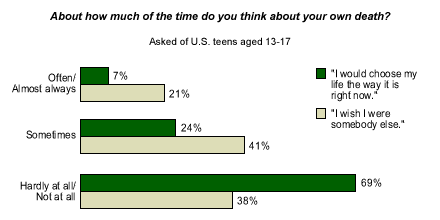 Bottom Line
Suicide continues to be the third leading cause of death among young people aged 10 to 19, according to the U.S. Centers for Disease Control and Prevention (see "Nearly Half of Teens Aware of Peer Suicide Attempts" in Related Items). Teens' feelings of alienation combined with frequent thoughts of death should throw up the reddest of flags for parents and educators. Uncovering and addressing these feelings is key.
McGuire's research has shown that teens are willing to reveal this information in private, and she is confident that TeenScreen will make a difference. Although the test is self-administered, teens do not just log on and take it by themselves. Parents must give permission, and a school administrator, usually a mental health professional who meets afterward with a parent to discuss the results, supervises the test. "TeenScreen is the only national effort to identify mental disorders among teens," says McGuire. Already, high schools in 26 states have adopted the program.
*The Gallup Youth Survey is conducted via an Internet methodology provided by Knowledge Networks, using an online research panel that is designed to be representative of the entire U.S. population. The questionnaires were completed by 1,302 respondents aged 13 to 17 between Aug. 1-29, 2003, and Jan. 22-March 9, 2004. For results based on the total sample, one can say with 95% confidence that the maximum margin of sampling error is ±2 percentage points.