Fledgling small business owners have a notoriously difficult lot, with a third of new firms surviving fewer than two years, according the U.S. Small Business Administration. Entrepreneurs, despite their drive and creativity, face wide-ranging challenges -- from raising adequate funding and financial resources for crucial capital investments, to finding the right management talent, to meeting health insurance costs. And yet every year, for each of the half million or so small businesses that close or go bankrupt, an almost equal number of start-ups are formed.
The Wells Fargo/Gallup Small Business Index* takes a closer look at what it means to go it alone and investigates the trade-offs and successes of owning a small business.
Success and Satisfaction?
Most small business owners, 89%, report that they are satisfied with being small business owners, including 39% who are very satisfied, 16% who are extremely satisfied, and 34% who are somewhat satisfied. Only 10% are dissatisfied.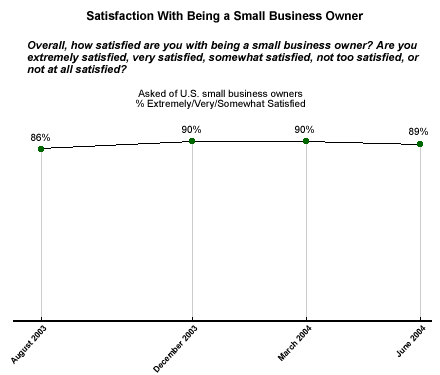 When it comes to their successes, small business owners think they have succeeded. Ninety-four percent of small business owners report that they have been successful in their ventures, with 42% saying that they have been extremely or very successful and 52% somewhat successful. Only 6% say they have not been successful.
Higher levels of self-reported success remained relatively stable with only slight variation over the last year. In March 2004, small business owners' very positive assessments of their accomplishments reached as high as 49% before returning to a level close to those seen throughout 2003.
The Small Business Payoff
About half (52%) of small business owners report earning more per hour than they would have working for another company in the same field, another 15% say their compensation is about the same. Seven in 10 say that they are better off financially working for themselves than they would be working for someone else. So even though only half of small business owners report an advantage in terms of hourly compensation, many small business owners perceive the net financial payoff to be worth the effort of owning their own businesses.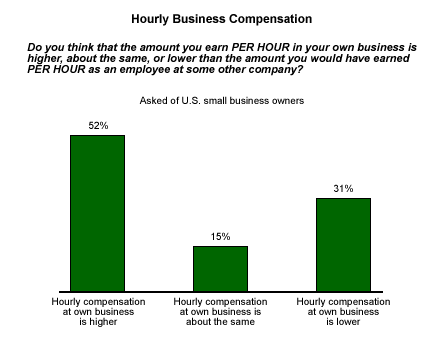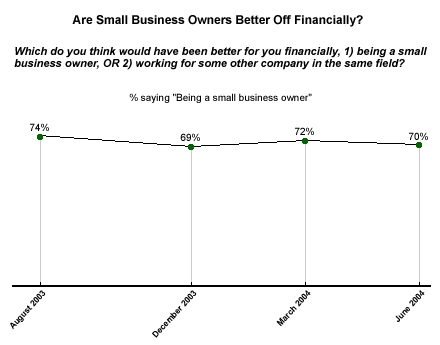 And there seems to be no doubt that overall, most small business owners find their careers rewarding. When Gallup asked small business owners if they would still choose to have their own companies if they were to do it all over, more than 8 in 10 (85%) say they would do it again.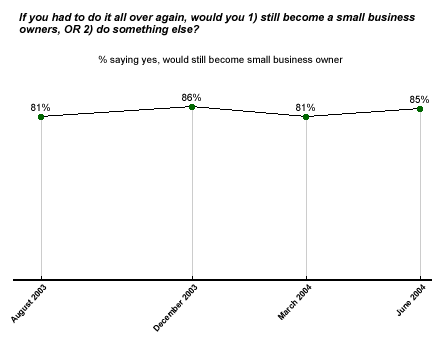 Bottom Line
According to the U.S. Small Business Administration, one in every three small businesses fail within two years of their inception, and less than half make it at least four years. Owners of about a third of the businesses that closed said their businesses were successful at closing. Despite these travails, most small business owners still believe that it pays to be your own boss.
*Results for the total dataset are based on telephone interviews with 597 small business owners, conducted June 1-24, 2004. For results based on the total sample of small business owners, one can say with 95% confidence that the margin of sampling error is ±4 percentage points.