Few small business owners seem to have regrets about their vocation for the most part, and the majority also claim to be better off financially than they would be working for someone else. But just how robust are small business owners' personal finances? According to the Wells Fargo/Gallup Small Business Index*, most small business owners -- defined as those owning companies with $20 million or less in annual sales -- rate their financial situations positively and are expecting things to get even better.
Personal Finances in Good Shape
A clear majority of small business owners -- 68% -- rate their personal financial situations as excellent (22%) or good (46%). Seventy percent believe that their finances are getting better, not worse, and 77% also say they expect to be better off financially one year from now.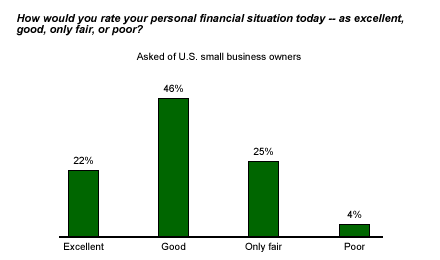 Those numbers are more positive than what Gallup typically finds for the U.S. adult population as a whole.
The Outlook for Saving and Spending
Thirty-nine percent of small business owners expect to personally save more money over the next 12 months and 18% of small business owners anticipate increasing their spending over the next 12 months. Six percent of small business owners plan to increase their debt over the next year.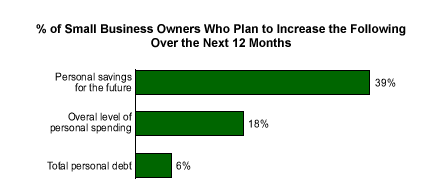 A Plan for Retirement?
Nearly three-fourths (73%) of small business owners are confident they have the financial resources to handle a medical emergency, and two-thirds (67%) think that they will be able to maintain their current standard of living in retirement. The vast majority of small business owners feel they are well positioned to handle both these situations.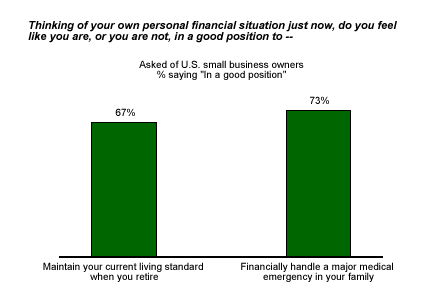 A plurality of small business owners (39%) anticipate that the sale of their own businesses will represent a major source of their retirement finances. Virtually the same percentage (38%) expects retirement savings accounts such as 401(k)s and IRAs to be a major source of retirement income. And about a third (32%) of small business owners are counting on continued income streams from their businesses to help finance their retirement expenses.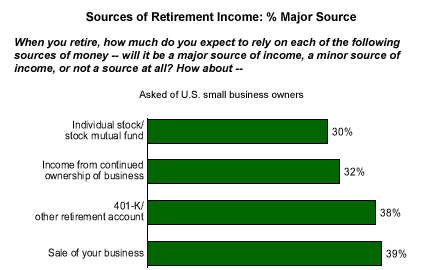 Bottom Line
The latest Small Business Index may show some signs of uncertainty for small businesses (see "Small Business Index: Will the 'Soft Patch' Last?" in Related Items), but small business owners continue to feel positively about their personal financial situations. Not only are they happy with their current personal finances and bullish about their personal financial outlook for the future, they also feel well prepared to handle their retirement and unexpected medical expenditures. Because many small business owners are positive about their prospects, they expect their businesses to help sustain them during their golden years.
*Results for the total dataset are based on telephone interviews with 597 small business owners, conducted June 1-24, 2004. For results based on the total sample of small business owners, one can say with 95% confidence that the margin of sampling error is ±4 percentage points.