It's that time of year again in Washington. The cherry trees blossom, tourists flock to the National Mall -- and Congress begins negotiations over the federal budget.
Near the top of this year's agenda are cuts needed to address the deficit, and various healthcare programs are undoubtedly under discussion. But if Gallup's March 7-10 poll* is any indication, healthcare probably isn't the best place for major cuts. When presented with a list of 12 social, economic, and political problems facing the country, Americans are most likely to choose "the availability and affordability of healthcare" as the issue they worry about most. Six in 10 Americans (60%) worry about this issue "a great deal." Social Security is a distant second with 48% worrying a great deal.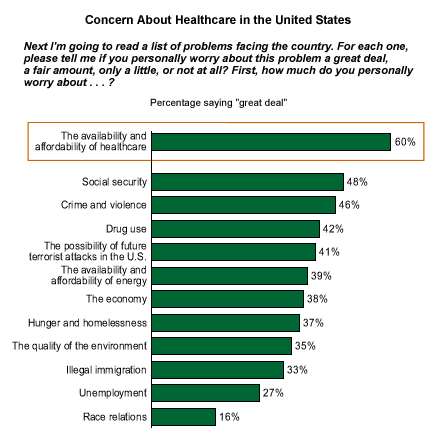 That sentiment is reflective of a speech Franklin Delano Roosevelt once gave. "The success or failure of any government in the final analysis must be measured by the well-being of its citizens," Roosevelt argued. "Nothing can be more important to a state than its public health; the state's paramount concern should be the health of its people." Roosevelt would be pleased that overall health status and life expectancy in the United States have improved dramatically since the 1930s -- but he'd also recognize that these improvements haven't lessened public concern about the nation's healthcare system.
Who Is Concerned About Healthcare?
A majority of Americans in almost every group worry a great deal about healthcare availability and cost. But an aggregate of the last four years' data on this question**, which allows for a more in-depth look at subgroups, shows black Americans are more concerned than whites.
Blacks have good reason to be more concerned than whites about healthcare in the United States. The Office of Minority Health at the U.S. Centers for Disease Control and Prevention reports:
The infant death rate for black Americans is more than double that of whites.
The death rate for heart disease is 40% higher for black Americans than it is for whites.
The death rate for cancer is 30% higher for black Americans than it is for whites.
Black American women, despite having almost as high a mammography screening rate as white women, have a higher death rate from breast cancer.
The medical journal Health Affairs recently published an article titled, "What If We Were Equal? A Comparison of the Black-White Mortality Gap in 1960 and 2000." The authors have found that the gap between black and white mortality rates changed little between 1960 and 2000, and the gap actually grew worse for black infants and black men over the age of 35.
Bottom Line
When it comes to the United States' black population, it appears the U.S. government is not living up to FDR's ideal. Blacks are extremely likely to say they worry about access to healthcare -- and their worries are justified. Even as the push to reform Social Security grabs headlines, the Medicare system is approaching crisis, as is Medicaid in many states. How will legislators respond? Will they aggravate the problem for short-term budgetary gain, or lead the charge toward reforming healthcare and protecting public health? Where black Americans are concerned, the issue is one of social justice -- and for many a matter of life or death.
*Results are based on telephone interviews with 1,004 national adults, aged 18 and older, conducted March 7-10, 2005. For results based on the total sample of national adults, one can say with 95% confidence that the maximum margin of sampling error is ±3 percentage points.
**Results are based on telephone interviews with 4,023 national adults, aged 18 and older, conducted March 2002 to March 2005. For results based in the sample of 3,406 whites, the margin of sampling error is ±2 percentage points. For results based in the sample of 253 blacks, the margin of sampling error is ±7 percentage points.