Based on adults employed full or part time
Very likely
Fairly likely
Not too likely
Not at all likely
No opinion

%

%

%

%

%

2018 Apr 2-11
4
7
29
59
*
2017 Apr 5-9
4
4
29
62
1
2016 Apr 9-12
8
7
32
53
1
2015 Apr 9-12
5
8
34
52
1
2014 Apr 3-6
5
10
34
50
*
2013 Apr 4-14
6
12
35
45
2
2012 Apr 9-12
5
10
42
42
1
2010 Apr 8-11
8
13
40
38
1
2007 Apr 2-5
4
8
31
57
*
2006 Apr 10-13
3
7
32
57
*
2001 Sep 21-22
7
6
25
62
*
2001 Apr 6-8
5
7
36
52
*
1998 Dec 4-6
5
7
27
60
1
1997 Jun 26-29
3
6
26
63
2
1996 Apr 9-10
5
9
34
51
1
1993 Dec 4-6
5
7
27
59
2
1991 Oct
6
8
26
59
1
1991 Jul
5
10
25
59
1
1991 Mar
5
7
22
65
1
1990 Oct
7
9
21
62
1
1990 Jul
6
6
24
62
2
1989 Feb
4
8
35
53
*
1983 Apr
8
8
26
55
4
1982 Nov
9
10
29
48
4
1982 Jun
8
7
27
54
4
1982 Jan
5
10
25
57
3
1980 Sep
6
9
24
60
2
1980 May
6
8
24
60
2
1979 Nov
3
8
18
66
4
1976 Oct
6
6
21
64
3
1975 Apr
4
8
22
63
3
1975 Jan
5
10
27
54
4
* Less than 0.5%
Gallup
Favor
Oppose
No opinion

%

%

%

2018 Mar 26-31
47
48
6
2009 June 13-14 ^
59
35
5
^ Asked of a half sample
Gallup
Prefer man
Prefer woman
No difference (vol.)
No opinion

%

%

%

%

National adults
2017 Nov 2-8
23
21
55
1
2014 Aug 7-10
33
20
46
2
2013 Aug 7-11
35
23
41
2
2011 Aug 11-14
32
22
44
2
2006 Aug 7-10
37
19
43
1
2002 Apr 22-24
31
19
49
1
2000 Dec 2-4
48
22
28
2
1999 Aug 24-26
38
16
45
1
1995 Sep 14-17
46
20
33
1
1994 Jun 25-28
35
16
47
2
1993 Aug 23-25
39
22
36
3
1989 Dec 18-21
48
14
34
4
1982 Jun 25-28
46
12
38
4
1975
62
7
29
2
1953
66
5
25
4
Men
2017 Nov 2-8
19
13
68
*
2014 Aug 7-10
26
14
58
2
2013 Aug 7-11
29
18
51
2
2011 Aug 11-14
26
16
56
1
2006 Aug 7-10
34
10
56
*
2002 Apr 22-24
29
13
57
1
2000 Dec 2-4
45
19
35
1
1999 Aug 24-26
35
12
52
1
1995 Sep 14-17
37
17
44
2
1994 Jun 25-28
30
12
56
3
1993 Aug 23-25
33
16
49
2
1989 Dec 18-21
43
12
41
4
1982 Jun 25-28
40
9
46
5
1975
63
4
32
1
1953
75
2
21
2
Women
2017 Nov 2-8
27
28
44
2
2014 Aug 7-10
39
25
34
1
2013 Aug 7-11
40
27
32
1
2011 Aug 11-14
39
27
32
2
2006 Aug 7-10
40
26
32
2
2002 Apr 22-24
32
23
43
2
2000 Dec 2-4
50
26
22
2
1999 Aug 24-26
42
22
35
1
1995 Sep 14-17
54
22
24
*
1994 Jun 25-28
40
19
39
2
1993 Aug 23-25
44
29
24
3
1989 Dec 18-21
54
15
27
4
1982 Jun 25-28
52
15
30
3
1975
60
10
27
3
1953
57
8
29
6
* Less than 0.5%
Gallup
Based on adults employed full or part time
Man
Woman
Don't have a boss
No opinion

%

%

%

%

2017 Nov 2-8
52
32
12
4
2014 Aug 7-10
51
33
13
2
2013 Aug 7-11
54
30
13
2
2011 Aug 11-14
56
30
13
1
Gallup
Major problem
Minor problem
Not a problem (vol.)
No opinion

%

%

%

%

National adults
2017 Oct 30-31
69
26
1
4
1998 Mar 20-22
50
43
1
6
Men
2017 Oct 30-31
66
28
1
5
1998 Mar 20-22
45
47
1
8
Women
2017 Oct 30-31
73
23
1
3
1998 Mar 20-22
55
40
1
4
(vol.) = volunteered response
Gallup
Too sensitive
Not sensitive enough
About right (vol.)
No opinion

%

%

%

%

National adults
2017 Oct 30-31
30
59
3
8
1998 Mar 20-22
53
37
4
6
Men
2017 Oct 30-31
33
54
4
9
1998 Mar 20-22
59
32
4
5
Women
2017 Oct 30-31
28
63
2
6
1998 Mar 20-22
48
40
5
7
(vol.) = volunteered response
Gallup
More likely
Less likely
No change
No opinion

%

%

%

%

National adults
2017 Oct 30-31
32
16
48
4
1998 Mar 20-22
n/a
n/a
n/a
n/a
Men
2017 Oct 30-31
26
18
51
4
1998 Mar 20-22
n/a
n/a
n/a
n/a
Women
2017 Oct 30-31
38
14
44
4
1998 Mar 20-22
18
29
49
4
n/a=not asked
Gallup
Yes
No
No opinion

%

%

%

National adults
2017 Oct 30-31
27
73
1
1993 Mar 17-18
19
81
--
Men
2017 Oct 30-31
11
89
1
1993 Mar 17-18
n/a
n/a
n/a
Women
2017 Oct 30-31
42
57
1
1993 Mar 17-18
n/a
n/a
n/a
n/a=data not available
Gallup
Based on adults employed full or part time
Completely satisfied
Somewhat satisfied
Somewhat dissatisfied
Completely dissatisfied
Not applicable/No opinion

%

%

%

%

%

2017
60
31
5
3
2
2016
65
22
7
5
*
2015
57
27
9
7
1
2014
58
31
6
3
1
2013
51
31
11
6
2
2012
49
34
10
5
1
2011
49
33
10
8
*
2010
51
33
7
7
1
2009
50
30
10
8
1
2008
55
31
8
5
1
2007
56
31
6
6
1
2006
55
29
10
5
1
2005
52
31
9
7
1
2004
54
28
11
6
1
2003
48
35
7
8
2
2002
55
30
7
7
1
2001
54
30
8
7
1
1999
48
33
11
7
1
1993
46
33
9
11
1
* Less than 0.5%
Gallup
Based on adults employed full or part time
Completely satisfied
Somewhat satisfied
Somewhat dissatisfied
Completely dissatisfied
Not applicable/No opinion

%

%

%

%

%

2017
56
23
9
9
3
2016
56
24
8
8
3
2015
57
20
11
9
3
2014
59
22
7
7
5
2013
54
22
9
10
4
2012
54
20
10
10
5
2011
54
21
10
10
4
2010
60
19
9
8
4
2009
56
20
9
10
4
2008
51
27
10
8
4
2007
55
24
7
9
5
2006
54
27
7
8
4
2005
47
28
11
11
1
2004
52
27
9
8
4
2003
53
26
9
8
4
2002
50
25
11
11
3
2001
52
25
9
9
5
1999
50
30
9
9
2
* Less than 0.5%
Gallup
Based on adults employed full or part time
Completely satisfied
Somewhat satisfied
Somewhat dissatisfied
Completely dissatisfied
Not applicable/No opinion

%

%

%

%

%

2017
25
44
19
10
2
2016
34
36
19
10
1
2015
28
35
19
14
3
2014
27
42
18
10
2
2013
28
39
20
11
3
2012
29
37
20
13
2
2011
28
38
21
13
*
2010
26
42
19
13
1
2009
28
41
21
9
1
2008
27
42
21
7
3
2007
32
43
14
9
2
2006
22
43
22
9
4
2005
27
36
25
10
2
2004
27
37
24
10
2
2003
26
36
23
11
4
2002
20
46
18
13
3
2001
22
40
23
13
2
1999
21
44
22
12
1
* Less than 0.5%
Gallup
Based on adults employed full or part time
Completely satisfied
Somewhat satisfied
Somewhat dissatisfied
Completely dissatisfied
Not applicable/No opinion

%

%

%

%

%

2017
52
34
10
3
*
2016
58
28
9
4
1
2015
53
29
10
6
1
2014
56
29
11
2
1
2013
51
34
9
4
1
2012
49
32
13
6
*
2011
53
30
10
7
*
2010
55
30
9
6
*
2009
54
30
8
7
*
2008
50
37
10
3
*
2007
54
34
7
4
1
2006
52
36
8
4
*
2005
49
36
11
4
*
2004
53
33
10
4
*
2003
50
31
13
6
*
2002
51
36
9
4
*
2001
47
35
13
5
*
1999
46
35
12
6
1
* Less than 0.5%
Gallup
Based on adults employed full or part time
Completely satisfied
Somewhat satisfied
Somewhat dissatisfied
Completely dissatisfied
Not applicable/No opinion

%

%

%

%

%

2017
40
33
12
7
8
2016
43
29
9
9
10
2015
35
36
10
12
7
2014
38
30
12
11
8
2013
38
27
13
13
9
2012
33
31
12
11
13
2011
39
26
12
14
10
2010
40
28
10
11
11
2009
40
26
13
9
12
2008
35
33
12
7
13
2007
39
29
11
10
11
2006
37
25
15
11
12
2005
28
32
18
8
14
2004
40
30
11
9
10
2003
35
27
15
13
10
2002
35
30
14
11
10
2001
32
30
13
12
13
1999
32
32
15
12
9
* Less than 0.5%
Gallup
Based on adults employed full or part time
Completely satisfied
Somewhat satisfied
Somewhat dissatisfied
Completely dissatisfied
Not applicable/No opinion

%

%

%

%

%

2017
64
27
6
3
*
2016
67
23
6
4
*
2015
58
25
9
7
2
2014
63
27
6
4
1
2013
64
23
7
5
1
2012
60
26
10
5
*
2011
63
24
7
5
1
2010
64
22
8
5
1
2009
65
21
7
5
1
2008
61
26
7
5
1
2007
68
22
5
4
1
2006
60
28
8
3
1
2005
62
23
8
6
1
2004
62
24
7
5
1
2003
61
25
9
4
1
2002
63
27
8
2
*
2001
57
28
9
5
1
1999
39
44
10
6
1
1989
46
40
10
3
1
* Less than 0.5%
Gallup
Based on adults employed full or part time
Completely satisfied
Somewhat satisfied
Somewhat dissatisfied
Completely dissatisfied
Not applicable/No opinion

%

%

%

%

%

2017
40
27
13
13
6
2016
37
28
10
14
12
2015
40
26
12
14
9
2014
39
22
12
12
15
2013
35
25
11
19
10
2012
35
22
13
18
11
2011
35
23
12
18
12
2010
39
26
9
15
11
2009
43
24
8
15
10
2008
40
28
8
11
13
2007
36
28
10
13
13
2006
31
27
13
13
16
2005
27
33
11
16
13
2004
39
26
9
14
12
2003
34
34
11
11
10
2002
36
28
12
14
10
2001
36
27
11
15
11
1999
33
30
14
14
9
* Less than 0.5%
Gallup
Based on adults employed full or part time
Completely satisfied
Somewhat satisfied
Somewhat dissatisfied
Completely dissatisfied
Not applicable/No opinion

%

%

%

%

%

2017
36
32
10
13
8
2016
44
24
7
14
12
2015
35
27
12
15
11
2014
36
27
10
13
13
2013
33
28
11
17
12
2012
33
26
11
16
14
2011
34
26
8
20
12
2010
33
30
11
14
12
2009
35
26
9
19
12
2008
34
26
11
14
15
2007
32
30
9
14
15
2006
31
31
12
11
15
2005
27
31
9
18
15
2004
36
28
10
13
13
2003
35
31
9
14
11
2002
29
33
10
16
12
2001
31
34
8
16
11
1999
31
30
10
19
10
* Less than 0.5%
Gallup
Based on adults employed full or part time
Completely satisfied
Somewhat satisfied
Somewhat dissatisfied
Completely dissatisfied
Not applicable/No opinion

%

%

%

%

%

2017
48
33
9
7
3
2016
55
30
9
5
2
2015
45
31
10
12
2
2014
53
30
9
7
1
2013
48
30
13
8
3
2012
46
34
10
7
3
2011
47
31
13
6
3
2010
49
30
10
9
2
2009
50
30
12
6
2
2008
45
35
12
5
3
2007
47
34
10
7
2
2006
47
33
10
8
2
2005
41
34
14
10
1
2004
48
35
9
7
1
2003
41
38
12
8
1
2002
46
33
13
7
1
2001
39
36
13
10
2
1999
38
35
14
11
2
* Less than 0.5%
Gallup
Based on adults employed full or part time
Completely satisfied
Somewhat satisfied
Somewhat dissatisfied
Completely dissatisfied
Not applicable/No opinion

%

%

%

%

%

2017
30
48
14
8
*
2016
41
35
13
10
1
2015
33
36
18
12
1
2014
31
44
15
10
*
2013
29
40
16
14
1
2012
30
41
19
9
*
2011
29
41
16
14
*
2010
31
43
15
11
*
2009
26
45
14
14
*
2008
28
45
17
10
*
2007
29
46
15
10
*
2006
31
44
15
9
1
2005
25
46
19
10
*
2004
28
46
16
10
*
2003
28
46
17
8
1
2002
27
43
18
12
*
2001
24
46
18
12
*
1999
23
47
16
14
*
* Less than 0.5%
Gallup
Based on adults employed full or part time
Completely satisfied
Somewhat satisfied
Somewhat dissatisfied
Completely dissatisfied
Not applicable/No opinion

%

%

%

%

%

2017
60
21
8
6
5
2016
61
23
5
3
6
2015
54
29
6
5
5
2014
60
27
6
2
5
2013
56
26
7
4
7
2012
54
28
7
4
7
2011
58
23
5
7
7
2010
58
27
5
4
6
2009
56
25
6
4
8
2008
53
26
8
5
8
2007
60
24
5
4
7
2006
55
29
6
4
6
2005
50
30
10
5
5
2004
60
24
6
4
6
2003
54
28
9
5
4
2002
56
28
7
5
4
2001
51
29
8
6
6
1999
47
35
7
4
7
* Less than 0.5%
Gallup
Based on adults employed full or part time
Completely satisfied
Somewhat satisfied
Somewhat dissatisfied
Completely dissatisfied
Not applicable/No opinion

%

%

%

%

%

2017
79
16
4
1
*
2016
76
17
4
2
1
2015
70
20
6
3
2
2014
74
19
6
1
1
2013
70
21
5
2
2
2012
73
19
5
3
1
2011
72
19
6
3
1
2010
78
15
3
3
1
2009
76
19
3
2
1
2008
73
21
3
2
1
2007
73
19
6
2
1
2006
67
23
6
3
1
2005
68
22
8
2
*
2004
73
19
5
2
1
2003
69
23
5
2
1
2002
69
23
5
2
1
2001
65
25
6
3
1
1999
63
28
5
3
1
* Less than 0.5%
Gallup
Based on adults employed full or part time
Completely satisfied
Somewhat satisfied
Somewhat dissatisfied
Completely dissatisfied
Not applicable/No opinion

%

%

%

%

%

2017
76
19
3
*
2
2016
71
23
2
1
3
2015
72
20
3
1
4
2014
71
24
1
1
3
2013
70
24
2
1
3
2012
69
25
2
3
2
2011
68
24
2
2
4
2010
70
24
2
1
2
2009
69
24
2
1
4
2008
69
27
1
*
3
2007
74
20
1
1
4
2006
67
26
2
1
4
2005
69
25
3
*
3
2004
74
22
2
--
2
2003
68
29
1
1
1
2002
66
28
2
2
2
2001
64
28
3
2
3
1999
67
27
2
1
3
* Less than 0.5%
Gallup
Based on adults employed full or part time
Completely satisfied
Somewhat satisfied
Somewhat dissatisfied
Completely dissatisfied
No opinion

%

%

%

%

%

2017
52
40
6
1
1
2016
54
37
5
4
*
2015
44
42
9
4
1
2014
48
41
8
3
1
2013
46
39
12
3
*
2012
47
42
7
4
*
2011
47
36
13
5
*
2010
48
39
8
4
1
2009
50
37
10
3
*
2008
48
42
7
2
1
2007
46
48
4
2
--
2006
43
47
8
2
*
2005
42
44
11
3
*
2004
50
39
7
4
*
2003
44
41
11
4
--
2002
43
46
9
2
*
2001
41
44
11
4
--
1999
39
47
12
2
*
1993
35
51
10
3
1
* Less than 0.5%
Gallup
Based on adults employed full or part time
Worried
Not worried
No opinion

%

%

%

You will be laid off
2017 Aug 2-6
19
81
*
2016 Aug 3-7
19
80
1
2015 Aug 5-9
22
78
1
2014 Aug 7-10
19
80
1
2013 Aug 7-11
29
71
1
2012 Aug 9-12
28
71
1
2011 Aug 11-14
30
70
*
2010 Aug 5-8
26
73
1
2009 Aug 6-9
31
68
1
2008 Aug 7-10
15
85
*
2007 Aug 13-16
14
85
1
2006 Aug 7-10
17
82
1
2005 Aug 8-11
15
84
1
2004 Aug 9-11
20
79
1
2003 Aug 4-6
19
81
*
1997 Aug 22-24
20
80
--
Your hours at work will be cut back
2017 Aug 2-6
16
84
*
2016 Aug 3-7
17
82
1
2015 Aug 5-9
19
80
1
2014 Aug 7-10
23
76
1
2013 Aug 7-11
25
75
*
2012 Aug 9-12
26
73
1
2011 Aug 11-14
30
69
1
2010 Aug 5-8
25
73
1
2009 Aug 6-9
27
72
1
2008 Aug 7-10
14
85
1
2007 Aug 13-16
12
87
1
2006 Aug 7-10
16
83
1
2005 Aug 8-11
13
87
*
2004 Aug 9-11
14
86
--
2003 Aug 4-6
15
84
1
1997 Aug 22-24
15
85
--
Your wages will be reduced
2017 Aug 2-6
19
81
*
2016 Aug 3-7
20
80
*
2015 Aug 5-9
20
79
1
2014 Aug 7-10
24
76
*
2013 Aug 7-11
31
69
*
2012 Aug 9-12
28
71
1
2011 Aug 11-14
33
66
*
2010 Aug 5-8
26
74
1
2009 Aug 6-9
32
67
1
2008 Aug 7-10
16
83
1
2007 Aug 13-16
14
86
*
2006 Aug 7-10
19
80
1
2005 Aug 8-11
14
86
--
2004 Aug 9-11
17
83
--
2003 Aug 4-6
17
82
1
1997 Aug 22-24
17
83
--
Your benefits will be reduced
2017 Aug 2-6
32
68
1
2016 Aug 3-7
30
69
1
2015 Aug 5-9
34
64
3
2014 Aug 7-10
34
63
2
2013 Aug 7-11
43
54
2
2012 Aug 9-12
40
58
2
2011 Aug 11-14
44
54
3
2010 Aug 5-8
39
58
3
2009 Aug 6-9
46
52
2
2008 Aug 7-10
27
70
3
2007 Aug 13-16
29
68
3
2006 Aug 7-10
30
67
3
2005 Aug 8-11
28
69
3
2004 Aug 9-11
28
69
3
2003 Aug 4-6
31
67
2
1997 Aug 22-24
34
66
--
Your company will move jobs to countries overseas
2017 Aug 2-6
9
90
2
2016 Aug 3-7
8
92
*
2015 Aug 5-9
9
90
1
2014 Aug 7-10
8
91
1
2013 Aug 7-11
11
87
2
2012 Aug 9-12
11
87
3
2011 Aug 11-14
13
86
1
2010 Aug 5-8
8
91
1
2009 Aug 6-9
10
88
2
2008 Aug 7-10
8
91
1
2007 Aug 13-16
10
88
2
2006 Aug 7-10
11
86
3
2005 Aug 8-11
12
88
*
2004 Aug 9-11
11
89
*
2003 Aug 4-6
9
89
2
Your job wil become obsolete because of technology
2017 Aug 2-6
13
87
*
* Less than 0.5%
Gallup
Based on adults employed full or part time
<30
30 to 34
35 to 44
45 to 59
60+
No opinion
Mean

%

%

%

%

%

%

2017 Aug 2-6
8
4
43
29
16
*
44.5
2016 Aug 3-7
10
7
36
29
17
*
44
2015 Aug 5-9
12
3
42
25
17
--
44
2014 Aug 7-10
10
4
45
24
16
1
43.4
2013 Aug 7-11
12
5
43
25
15
1
43.1
2012 Aug 9-12
11
6
42
29
13
*
42.8
2011 Aug 11-14
11
7
40
30
12
*
42.8
2010 Aug 5-8
12
6
39
27
15
1
43
2009 Aug 6-9
11
6
45
25
12
*
42.4
2008 Aug 7-10
8
5
47
27
12
1
43.3
2007 Aug 13-16
8
5
45
29
13
1
43.6
2006 Aug 7-10
8
6
47
29
9
1
43
2005 Aug 8-11
10
6
45
30
9
--
41.9
2004 Aug 9-11
12
5
45
26
12
*
42.3
2003 Aug 4-6
8
5
46
30
11
*
43.1
2002 Aug 5-8
8
6
45
27
13
1
43
2001 Aug 16-19
12
4
41
29
14
*
42.8
1999 Aug 24-26
9
5
41
33
12
*
43.5
1993 May 10-12
10
5
48
26
11
*
42.5
1991 Jul 25-28
10
5
44
27
13
1
43.4
1989 Jul 18-21
10
5
46
26
13
--
--
* Less than 0.5%
Gallup
Based on adults employed full or part time
One
Two
Three or more
No opinion

%

%

%

%

2017 Aug 2-6
82
14
4
*
2005 Aug 8-11
83
13
4
--
2003 Aug 4-6
85
13
2
--
2002 Aug 5-8
86
11
3
--
1999 Aug 24-26
85
13
2
*
* Less than 0.5%
Gallup
Recent trend; based on adults employed full or part time
2017
2016
2015
2014
2013
2005
2003

%

%

%

%

%

%

%

Professional Specialty
25
21
19
22
21
24
22
Service
14
20
13
15
13
10
14
Executive: Administrative and Managerial
13
15
13
14
16
20
15
Operators, Fabricators and Laborers
10
10
16
11
12
11
12
Precision Production, Craft and Repair
9
9
7
12
7
8
6
Sales
9
8
9
7
8
8
8
Administrative
7
8
14
10
10
12
17
Technical
4
5
4
4
7
3
1
Military
2
1
2
1
1
1
2
Farming/Forestry/Fishing
2
1
1
2
1
1
1
Other
4
2
*
1
1
2
1
No Opinion
1
*
1
*
1
*
1
* Less than 0.5%
Gallup
Based on adults employed full or part time
Salary
Hourly
Commission
Other (vol.)
No opinion

%

%

%

%

%

2017 Aug 2-6
40
50
7
2
1
2016 Aug 3-7
44
44
7
4
*
2014 Aug 7-10
39
50
7
3
1
2007 Aug 13-16
38
51
5
6
*
2005 Aug 8-11
39
51
6
4
*
2002 Aug 5-8
41
47
7
4
1
* Less than 0.5%; (vol.) = Volunteered response
Gallup
Yes, justified
No, unjustified
No opinion

%

%

%

2017 Jul 5-9
59
38
2
2014 Jul 7-10
58
40
2
2013 Jul 10-14
58
40
2
2011 Jul 7-10
60
38
2
2005 Jul 7-10 ^
64
35
1
2003 Jul 7-9
65
34
1
^ Asked of a half sample
Gallup
Yes, should be allowed
No, should not
No opinion

%

%

%

2017 Jul 5-9
12
87
1
2014 Jul 7-10
14
85
1
2011 Jul 7-10
14
85
1
2005 Jul 7-10 ^
13
84
3
^ Asked of a half sample
Gallup
Based on smokers
Every day
Every week
Once a month
Few times a year
Less than once a year
Never
No opinion

%

%

%

%

%

%

%

2017 Jul 5-9
13
8
8
13
14
44
1
Gallup
Justified
Unjustified
No opinion

%

%

%

2017 Jul 5-9
37
62
2
2014 Jul 7-10
39
59
2
2013 Jul 10-14
41
56
3
2011 Jul 7-10
42
57
1
2008 Jul 10-13 ^
34
63
3
2005 Jul 7-10 ^
37
61
2
2003 Jul 7-9
43
55
2
^ Asked of a half sample
Gallup
Yes, should
No, should not
No opinion

%

%

%

2017 Jul 5-9
13
86
2
2014 Jul 7-10
12
85
2
2011 Jul 7-10
14
84
2
2008 Jul 10-13 ^
17
78
5
2005 Jul 7-10 ^
16
82
2
^ Asked of a half sample
Gallup
Based on adults who say they are overweight
Every day
Every week
Once a month
Few times a year
Less than once a year
Never
No opinion

%

%

%

%

%

%

%

2017 Jul 5-9
1
2
3
7
4
83
1
2003 Jul 7-9
2
2
4
5
4
82
1
^ Asked of a half sample
Gallup
Based on employed adults
Positive
Negative
No effect
No opinion

%

%

%

%

Your job
2017 Jun 7-11
27
11
60
1
The company, business or organization you work for
2017 Jun 7-11
33
12
54
1
Gallup
Based on employed adults
Very likely
Somewhat likely
Not too likely
Not likely at all
No opinion

%

%

%

%

%

Five years
2017 Apr 27-May 4
4
9
25
62
2
Twenty years
2017 Apr 27-May 4
8
18
27
45
1
Each item asked of a randomly selected half sample of employed adults
Gallup
Based on employed adults
Very worried
Somewhat worried
Not too worried
Not worried at all
No opinion

%

%

%

%

%

Five years
2017 Apr 27-May 4
2
12
19
66
1
Twenty years
2017 Apr 27-May 4
5
15
24
56
1
Each item asked of a randomly selected half sample of employed adults
Gallup
Based on employed adults who use email at work
2017 Mar

9-29

%

Less than 10%
33
10%-Less than 25%
29
25%-Less than 50%
16
50%-Less than 75%
12
75% or more
10
No opinion
1
Mean
25.0
Gallup
Based on employed adults who use email at work
Frequently
Occasionally
Rarely
Never
No opinion

%

%

%

%

%

2017 Mar 9-29
36
27
16
21
--
Gallup
Based on employed adults who use email at work
Extremely
Very
Somewhat
Not very
Not at all
No opinion

%

%

%

%

%

%

2017 Mar 9-29
10
11
31
19
28
1
Gallup
Based on employed adults who check work email outside of normal work hours
2017 Mar

9-29

%

Glance to see if anything important
41
Read, but only respond to critical things
35
Read and respond as normal
21
No opinion
3
Gallup
Based on employed adults who check work email outside of normal work hours
Reasonable
Unreasonable
No opinion

%

%

%

2017 Mar 9-29
91
8
1
Gallup
Based on employed adults who check work email outside of normal work hours
Positive effect
Not much effect
Negative effect
No opinion

%

%

%

%

2017 Mar 9-29
4
65
31
*
Gallup
Based on employed adults
Favor
Oppose
No opinion

%

%

%

2017 Mar 9-29
60
34
7
Gallup
Based on adults employed full or part time
Job is beyond skills/training
Job is good match for skills/training
Job does not take advantage of skills/training
No opinion

%

%

%

%

2016 Aug 3-7
6
70
23
*
* Less than 0.5%
Gallup
Based on adults employed full or part time
A lot more
A little more
Same amount
A little less
A lot less
No opinion

%

%

%

%

%

%

2016 Aug 3-7
31
37
11
7
13
1
2013 Aug 7-11
28
30
14
10
18
1
* Less than 0.5%
Gallup
Based on adults employed full or part time
2016 Aug

3-7

2012 Aug

9-12

2002 Aug

5-8

%

%

%

One year or less
20
22
24
Two to four years
22
20
28
Five to nine years
19
21
18
Ten to nineteen years
23
21
19
Twenty or more years
15
16
11
No opinion
*
*
--
Mean
9.7 years
9.2 years
7.4 years
* Less than 0.5%
Gallup
Based on adults employed full or part time
Yes, do
No, do not
No opinion

%

%

%

2016 Aug 3-7
87
13
*
2004 Aug 9-11
85
15
*
2003 Aug 4-6
81
18
1
2002 Aug 5-8
86
14
*
2001 Aug 16-19
83
16
1
1998 Sep
85
14
1
1993 May 10-13
86
12
2
* Less than 0.5%
Gallup
Based on adults employed full or part time
Yes, does
No, does not
No opinion

%

%

%

2016 Aug 3-7
76
24
1
2004 Aug 9-11
67
29
4
2003 Aug 4-6
63
34
3
2002 Aug 5-8
70
27
3
2001 Aug 16-19
64
32
4
1998 Sep
66
32
2
1993 Dec 4-6
73
24
3
1993 May 10-13
67
30
3
* Less than 0.5%
Gallup
Based on adults employed full or part time
Very likely
Somewhat likely
Not too likely
Not at all likely
No opinion

%

%

%

%

%

2016 Apr 6-10
33
30
20
17
1
2010 Apr 8-11
16
26
30
27
1
2007 Apr 2-5
34
30
21
15
1
2006 Apr 10-13
29
31
23
16
1
2001 Apr 6-8
37
33
23
7
*
2001 Feb 9-11
35
29
24
11
1
* Less than 0.5%
Gallup
Based on men employed full or part time who are not self-employed
Suit
Casual business
Casual street clothes
Uniform
Other/Mixed/No opinion

%

%

%

%

%

2015 Aug 5-9
14
19
40
24
2
2007 Aug 13-16
12
34
31
22
1
2002 Aug 5-8
12
26
36
24
2
Gallup
Based on men employed full or part time who are not self-employed
Everyday
Most days
Half the time
Only occasionally
Never
No opinion

%

%

%

%

%

%

2015 Aug 5-9
11
2
1
20
66
--
2007 Aug 13-16
6
3
4
20
67
*
2002 Aug 5-8
10
6
3
21
59
1
* Less than 0.5%
Gallup
Based on women employed full or part time who are not self-employed
Business dress
Casual business
Casual street clothes
Uniform
Other/Mixed/No opinion

%

%

%

%

%

2015 Aug 5-9
11
42
25
18
3
2007 Aug 13-16
6
52
25
15
2
2002 Aug 5-8
13
38
27
21
1
* Less than 0.5%
Gallup
Based on adults employed full or part time
Yes, have
No, have not
No opinion

%

%

%

2015 Aug 5-9
37
63
*
2008 Aug 7-10
30
69
1
2006 Aug 7-10
32
68
*
1995 Oct 13-16 ^
9
91
*
* Less than 0.5%; ^ U.S. News and World Report/CNN/Gallup poll
Gallup
Based on adults employed full or part time who have telecommuted
During regular business hours
After regular business hours
Neither (vol.)
No opinion

%

%

%

%

2015 Aug 5-9
46
45
6
3
2008 Aug 7-10
33
54
8
5
2006 Aug 7-10
40
50
7
3
(vol.) = Volunteered response
Gallup
Based on adults employed full or part time who have telecommuted
None

1-5

6-10

11-15

16-20

No opinion
Mean

%

%

%

%

%

%

2015 Aug 5-9
23
45
6
5
19
2
6.4
2008 Aug 7-10
23
49
9
3
11
5
5.1
2006 Aug 7-10
17
48
8
7
16
3
6.3
Gallup
Based on adults employed full or part time who have telecommuted
More productive
Less productive
Just as productive
No opinion

%

%

%

%

National adults
2015 Aug 5-9
16
20
58
5
2006 Aug 7-10
20
18
55
7
1995 Oct 13-16 ^
28
18
47
7
Telecommuters
2015 Aug 5-9
24
18
56
2
2006 Aug 7-10
33
15
48
4
^ U.S. News and World Report/CNN/Gallup poll
Gallup
Based on adults employed full or part time
Extremely important
Very important
Somewhat important
Not too important
Not important at all
No opinion

%

%

%

%

%

%

2015 Aug 5-9
38
19
23
12
7
*
2013 Aug 7-11
33
21
23
11
10
1
Gallup
Based on adults employed full or part time
Yes, have
No, have not
No opinion

%

%

%

All workers
2015 Aug 5-9
8
91
1
2013 Aug 7-11
11
88
1
Men
2015 Aug 5-9
5
95
*
2013 Aug 7-11
8
91
2
Women
2015 Aug 5-9
12
87
*
2013 Aug 7-11
15
85
1
* Less than 0.5%
Gallup
Based on adults employed full or part time
Yes, have
No, have not
No opinion

%

%

%

All workers
2015 Aug 5-9
10
90
--
2013 Aug 7-11
8
91
1
Men
2015 Aug 5-9
4
96
--
2013 Aug 7-11
4
94
2
Women
2015 Aug 5-9
17
83
--
2013 Aug 7-11
13
86
1
* Less than 0.5%
Gallup
Outside home
Stay home
Both (vol.)
No opinion

%

%

%

%

National adults
2015 Aug 5-9
63
34
2
1
2014 Aug 7-10
62
34
2
1
2012 Aug 9-12
63
33
3
1
2008 Aug 7-10
63
34
1
2
2007 Aug 13-16
58
37
3
2
2005 Aug 8-11
54
41
4
1
2003 Jun 12-18
58
38
3
1
2002 Jun 3-9
59
36
4
1
2001 Jun 11-17
62
35
2
1
1997 Sep 18-20 ^
62
30
5
3
1994 Nov 12-Dec 3 #
62
31
--
7
1992 Oct 2-4 @
56
37
5
2
1983 Nov 11-20 &
58
35
3
4
Men
2015 Aug 5-9
73
25
1
1
2014 Aug 7-10
75
23
1
1
2012 Aug 9-12
76
22
1
1
2008 Aug 7-10
74
23
*
3
2007 Aug 13-16
68
29
1
2
2005 Aug 8-11
68
27
3
2
2003 Jun 12-18
73
24
3
*
2002 Jun 3-9
72
24
3
1
2001 Jun 11-17
73
24
2
1
1999 May 15-22 #
73
21
--
6
1997 Sep 18-20 ^
74
17
5
4
1994 Nov 12-Dec 3 #
78
15
--
7
1992 Oct 2-4 @
72
21
5
2
1989 Jul 22-Aug 12 #
81
13
--
6
1985 Mar 1-30 #
86
12
--
2
1983 Nov 11-20 &
72
21
1
6
Women
2015 Aug 5-9
53
44
3
1
2014 Aug 7-10
50
46
4
1
2012 Aug 9-12
51
44
4
1
2008 Aug 7-10
52
45
1
2
2007 Aug 13-16
50
45
4
1
2005 Aug 8-11
42
53
4
1
2003 Jun 12-18
45
51
3
1
2002 Jun 3-9
47
48
4
1
2001 Jun 11-17
53
45
2
*
1999 May 15-22 #
48
44
--
8
1997 Sep 18-20 ^
50
42
6
2
1994 Nov 12-Dec 3 #
46
47
--
7
1992 Oct 2-4 @
42
51
5
2
1989 Jul 22-Aug 12 #
42
51
--
7
1985 Mar 1-30 #
51
45
--
4
1983 Nov 11-20 &
45
47
5
3
1982 Jun 26-28 ^
48
47
--
5
1979 Oct 6-20 #
46
51
--
3
1978 Jan 7-21 #
49
45
--
6
1974 Apr #
36
60
--
4
* Less than 0.5%; (vol.) = Volunteered response; ^ CBS News poll; # Roper poll; @ CBS News/New York Times poll; & New York Times poll
Gallup
National adults
Women
Men
Working women

%

%

%

%

Equal pay/Fair pay
39
41
37
42
Equal opportunity for promotion, advancement/No gender discrimination
20
20
21
24
Jobs/Unemployment/Availability of jobs
8
8
8
8
Sexual harassment/Better treatment, more respect in workplace
8
7
9
9
Access to childcare/Better childcare
7
10
3
12
Balancing work and home life
6
9
3
10
Healthcare
5
7
3
9
Maternity leave/Family leave/Time off for family matters
3
3
3
2
Abortion/Access to contraception
2
2
2
2
The economy (non-specific)
2
2
2
3
Education/Access to education
1
1
1
1
Equal benefits
1
*
1
*
Other
5
5
6
4
No opinion
16
12
20
8
* Less than 0.5%; Responses total more than 100% due to multiple mentions.
Gallup
Based on adults employed full or part time
Sense of Identity
Just what you do
No opinion

%

%

%

2014 Aug 7-10
55
42
3
2003 Aug 4-6
56
43
1
2001 Aug 16-19
54
44
2
1999 Aug 24-26
51
47
2
1998 Oct
57
40
3
1993 May 10-11
58
41
1
1989 Jul 18-21
57
40
3
Gallup
Based on adults employed full or part time
Strongly positive
Somewhat positive
Somewhat negative
Strongly negative
Does not apply (vol.)
No opinion

%

%

%

%

%

%

2014 Mar 24-Apr 8
40
36
12
7
4
1
(vol.) = Volunteered response
Gallup
Based on adults employed full or part time
March 24-April 8, 2014

%

None
29
One to two hours
20
Three to five hours
20
Six to 10 hours
15
Eleven to 20 hours
10
More than 20 hours
6
No opinion
1
Mean
6.3 hours
Median
3 hours
Gallup
Based on adults employed full or part time
Yes, does
No, does not
Does not apply (vol.)
No opinion

%

%

%

%

2014 Mar 24-Apr 8
32
63
4
*
* Less than 0.5%; (vol.) = Volunteered response
Gallup
Based on adults employed full or part time
One week
One month
Four months
One year
More than one year
No opinion

%

%

%

%

%

%

2014 Apr 3-6
14
29
26
17
14
*
2013 Apr 4-7
16
27
28
17
11
3
2010 Apr 8-11
14
30
27
15
13
1
2003 Apr 7-9
16
25
29
15
14
1
2001 Feb 9-11
15
31
30
13
10
1
* Less than 0.5%
Gallup
Based on adults employed full or part time
2013 Aug

7-11

2005 Aug

8-11

2004 Aug

9-11

1997 Aug

22-25

%

%

%

%

Continue to work
68
61
55
59
(In current job)
(44)
(36)
(36)
(35)
(In different job)
(23)
(24)
(19)
(23)
(Unspecified job)
(1)
(1)
(*)
(1)
Stop working
31
39
44
40
No opinion
1
*
1
1
* Less than 0.5%
Gallup
Based on adults employed full or part time
Understaffed/Too few
Right number
Overstaffed/Too many
Does not apply (vol.)
No opinion

%

%

%

%

%

2013 Aug 7-11
37
55
6
2
8
2010 Aug 5-8
38
52
8
1
1
(vol.)=volunteered response
Gallup
Based on adults employed full or part time
Yes
No
No opinion

%

%

%

2013 Aug 7-11
43
57
*
2005 Aug 8-11
43
57
*
2002 Aug 5-8
38
61
1
Gallup
Based on adults employed full or part time
Yes, eligible
No, not eligible
No opinion

%

%

%

2013 Aug 7-11
72
25
3
2004 Aug 9-11
77
21
2
2002 Aug 5-8
75
24
1
Gallup
Yes
No
No \nopinion

%

%

%

2012 Apr 9-12
68
31
*
2008 Apr 6-9
54
46
*
2007 Apr 2-5
50
50
*
2006 Apr 10-13
53
46
*
2005 Apr 4-7
55
45
*
2004 Apr 5-8
60
40
*
2003 Apr 7-9 ^
63
37
--
2002 Feb 4-6 #
51
49
*
2001 Nov 8-11 #
54
46
*
2001 Oct 11-14 #
50
50
*
2001 Aug 16-19 ^#
43
57
*
1996 Apr 9-10 @
58
42
*
1994 Mar 7-8 @
60
40
*
1993 Dec 4-6 @
52
47
1
1991 Oct 17-20 @
50
46
*
1990 Oct 25-26 @
50
49
1
^ Asked of a half sample; # WORDING: Do you know someone, personally, who has been laid off or fired recently, or not?; @ WORDING: Which of the following statements applies to you ... You know people outside of your family who have been laid off or fired recently?
Gallup
Based on adults employed full or part time
Underpaid
Paid about right
Overpaid
No opinion

%

%

%

%

2010 Aug 5-8
43
53
4
*
2008 Aug 7-10
51
46
3
*
* Less than 0.5%
Gallup
Based on adults employed full or part time
Yes, has
No, has not
No opinion

%

%

%

2008 Aug 7-10
30
67
3
2007 Aug 13-16
22
73
5
2005 Aug 8-11
27
71
2
2004 Aug 9-11
26
72
2
2003 Aug 4-6
34
64
2
* Less than 0.5%
Gallup
Based on adults employed full or part time
Fewer hours, less income
Same hours, same income
More hours, more income
Other/None (vol.)
No opinion

%

%

%

%

%

2008 Aug 7-10
8
53
37
2
*
2002 Aug 5-8
8
52
37
2
1
1995 Mar 17-19
14
55
26
4
1
* Less than 0.5%
Gallup
Based on adults employed full or part time
2008 Aug

7-10

2007 Aug

13-16

%

%

Drive yourself
82
85
Ride with someone else
6
6
Take mass transportation
5
4
Work at home/Telecommute (vol.)
3
1
Walk
3
3
Bicycle (vol.)
*
--
Something else
1
1
No answer
*
*
* Less than 0.5%; (vol.)=volunteered response
Gallup
Based on adults employed full or part time
2008 Aug

7-10

2007 Aug

13-16

%

%

Less than 30 minutes
31
28
30 minutes to less than one hour
35
36
One hour to less than 90 minutes
16
17
90 minutes to less than 2 hours
7
9
2 hours or more
11
8
No answer
1
2
Mean (including zero)
46.5
45.6
Mean (excluding zero)
48.9
48.1
Median (including zero)
30
30
Gallup
Based on adults employed full or part time
Very stressful
Somewhat stressful
Not that stressful
Not stressful at all
Doesn't apply (vol.)
No opinion

%

%

%

%

%

%

2007 Aug 13-16
2
22
21
53
2
--
(vol.)=volunteered response
Gallup
Based on adults employed full or part time
2007 Aug

13-16

%

None
18
Less than one hour
13
One hour
25
Two hours
20
Three hours
6
Four hours or more
6
Does not apply/work alone (vol.)
8
No answer
4
Mean
1.44 hours
Median
1 hour
(vol.)=volunteered response
Gallup
Based on adults employed full or part time
2007 Aug

13-16

%

None
26
Less than one hour
25
One hour
29
Two hours
11
Three hours
3
Four hours or more
4
No answer
2
Mean
1.00 hour
Median
Less than 1 hour
(vol.)=volunteered response
Gallup
Based on adults employed full or part time
Yes, has
No, has not
No opinion

%

%

%

You were given a promotion
42
58
*
You left a job to work for a different company
41
59
--
You changed careers or made a significant change in the type of work you do for a living
32
68
--
Your benefits were reduced
30
69
1
Your wages were reduced
19
81
--
You were laid off from a job
15
85
*
You were fired from a job
7
93
--
* Less than 0.5%; 2005 Aug 8-11
Gallup
Subscribe to receive weekly Gallup News alerts.
Never miss our latest insights.
Recommended
Americans' approval of labor unions has risen to 61%, the highest since 2003. A new high of 39% say unions should have more influence.
People living in places that shifted employment from manufacturing to other sectors do not evaluate their lives lower than those living in other areas.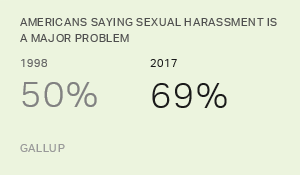 Americans are more concerned about workplace sexual harassment today than they were in 1998, when President Bill Clinton faced related allegations.