The first day of school still seems a long way away, but television airwaves are already inundated with back-to-school ads and store shelves are stocked with supplies. As American children head back to school this fall, will they all have an equal shot at a good education?
The answer depends on whom you ask. Gallup's June 2005 Minority Relations poll* asked Americans whether black children in their communities have as good a chance as white children to get a good education. The vast majority of white adults, 84%, say yes, while a slim majority of black Americans, 51%, agree.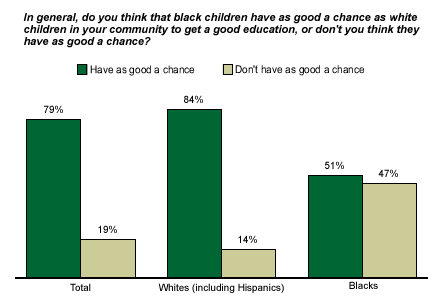 The "race gap" in American education has been well documented -- minority and low-income children tend to score lower than white and upper-income children on standardized achievement tests, even within the same communities. But the most recent standardized test results from the National Assessment of Educational Progress (NAEP) provide some good news on this front -- America's 9-year-olds have significantly improved their mathematics and reading scores over the past five years, and black students' scores have improved even more than white students' (although white 9-year-olds still outscore minorities). Black 13-year-olds' mathematics scores also significantly improved. Scores were stagnant across the board for all 17-year-olds.
Blacks' Views on Equal Opportunities
The percentage of blacks who believe black children and white children have equal opportunities to get a good education reached as high as 68% in 1990, but has tumbled since then. Since 2001, only about half of blacks have felt black children in their communities had as good a chance as white children to get a good education, nearly the same level it was in August 1962 (53%).
In contrast, white opinion on this question has held fairly steady since 1962. Over the entire period, the percentage of whites who feel white children and black children have equal opportunities to get a good education has ranged between 79% and 86%.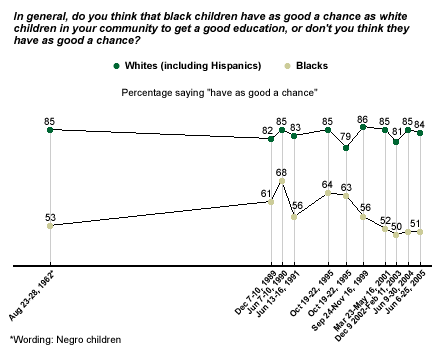 Bottom Line
The No Child Left Behind Act, a sweeping piece of education legislation passed in 2002 that aims to ensure every U.S. student becomes competent in reading and math, may have helped to narrow the gap in educational achievement somewhat. Even so, optimism among black Americans that black children in their communities can get as good an education as white children has not increased.
*Results are based on telephone interviews with 2,264 national adults, aged 18 and older, conducted June 6-25, 2005, including oversamples of blacks and Hispanics that are weighted to reflect their proportions in the general population. For results based on the total sample of national adults, one can say with 95% confidence that the maximum margin of sampling error is ±5 percentage points.