Things could not look better for the Indian economy. The monsoon was good, earnings are strong, knowledge industries are thriving, and the GDP is set to grow at 7% to 8%. In a nod to all this good news, the Bombay Stock Exchange bellwether index, the Sensex, touched a record high of 7,800 last week and is up more than 15% year-to-date. A survey that Gallup conducted this spring for TeamLease* confirms the good news.
Strong Business Outlook
Nearly three out of four business unit heads, HR heads, or CEOs in each of the seven cities where the survey was conducted are looking forward to an increase in business activity over the next six months. The outlook is brightest in Hyderabad, Mumbai, and Pune, where roughly 8 in 10 respondents expect increased business activity. Even in Kolkata, where optimism is relatively lower, 7 in 10 are upbeat about business prospects. Firms with 100 or more employees are the most optimistic about business prospects, with about 4 in 5 of representatives from such companies answering positively. Of the industries surveyed, those in the rapidly growing information technology and technology-enabled services sector are the most positive.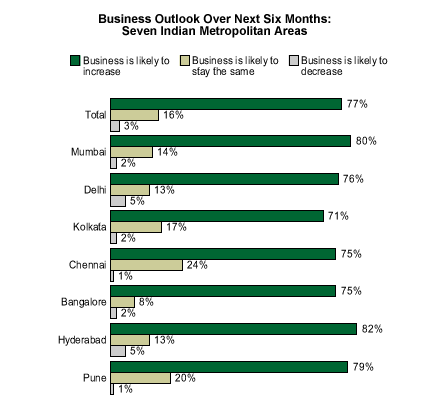 The survey also confirms that the IT industry has the most stellar future business prospects -- the business outlook index in this area has increased by 21 percentage points since the first wave of the survey in April 2004. In other industries, while the sentiment is also quite positive, the trend line has been flatter and optimism not as emphatic as in the IT industry.
Business Outlook Index Trend by Industry
The survey also finds that businesses are translating their overall optimism into hiring intentions -- at least one in every two firms surveyed plans to hire more employees over the next six months. In Hyderabad, where hiring intentions are strongest, nearly 9 in 10 local companies are planning to bring more employees on board over the next six months. Hiring intentions are the lowest in Chennai, with only 36% of firms surveyed looking to increase payrolls.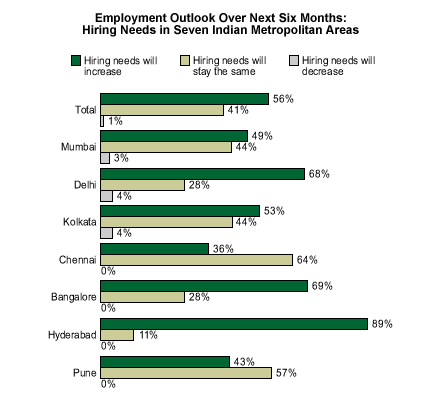 Bottom Line
The results of the TeamLease/Gallup survey suggest Indian businesses in the country's largest metropolitan areas are looking to grow larger and hire more talent. At a time when foreign institutional investors are pouring money into the country and India is certainly the flavor of the month for money managers, this could not be a more comforting sign.
*Results based on telephone interviews with 530 business unit heads, HR heads, or CEOs in the top seven metros of Mumbai, Delhi, Kolkata, Chennai, Bangalore, Hyderabad, and Pune. For results based on the total sample, one can say with 95% confidence that the maximum margin of sampling error is ±5 percentage points.