Bombings fail to shake trust in British Muslims
It has been three months since bombings in London once again shoved the threat of terrorist attacks back into the global spotlight. Recent Gallup polling in Great Britain* suggests Britons anticipate further attacks and aren't wholly convinced that their government can do anything to protect them. But even though British Muslims reportedly carried out the July attacks, most Britons say their trust toward Muslims living in their country remains unchanged.
Majority Says More Attacks Likely
Three-fourths (73%) of Britons believe that further acts of terrorism are either "very likely" (22%) or "somewhat likely" (51%) in the near future.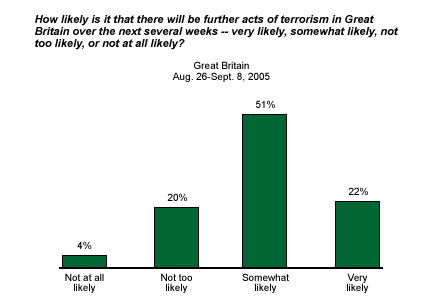 Given that they expect future attacks, how safe do Britons feel? On this topic, Britons are fairly evenly split. Roughly half (52%) say they have "a great deal" or "fair amount" of confidence in the government's ability to protect them from future acts of terrorism, although just 9% have a great deal and 43% have a fair amount. On the flipside, 47% of Britons do not have much (31%) or any (16%) confidence in the government in this regard.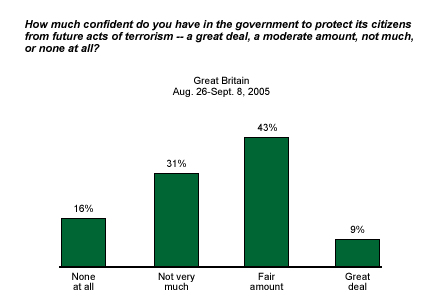 Assessing Muslim-Relations in Great Britain
Decades of conflict with the Irish Republican Army have given Great Britain an extensive history in dealing with terrorist acts committed by "homegrown" terrorists on its own soil. Did the London bombings influence the way Britons view Muslims living in their country? The poll queried Britons as to whether they now have less trust in the Muslims living in Great Britain than they did before the attacks, or if their trust level has not changed. Roughly a third of Britons now say they have less trust in Muslims, while 60% say their trust in Muslims has not changed.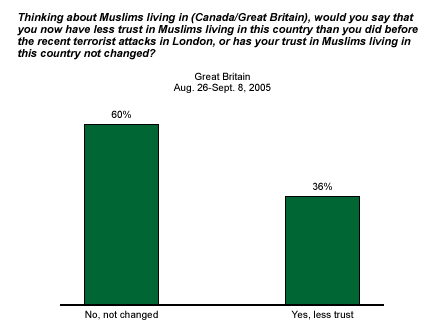 Asking Britons about their observations since the attacks provides another way of investigating British perceptions of the Muslim population there. Gallup asked respondents if they have heard friends, neighbors, coworkers, or acquaintances make negative about Muslims who live in the country. The results closely resemble the findings from the general question about trust. Only 38% say they have heard negative comments about Muslims, while 61% say they have not.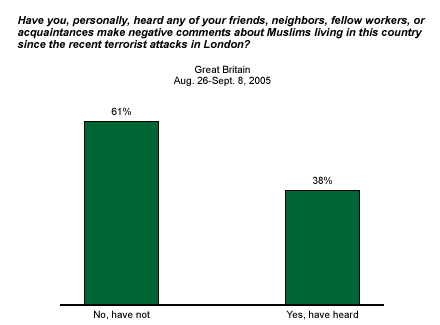 *Results in Great Britain are based on telephone interviews with 1,010 national adults, aged 18 and older, conducted Aug. 26-Sept. 8, 2005. For results based on the total sample of national adults, one can say with 95% confidence that the maximum margin of sampling error is ±3 percentage points. The survey was conducted by Gallup UK. In addition to sampling error, question wording and practical difficulties in conducting surveys can introduce error or bias into the findings of public opinion polls.