Since 1978, Gallup has gauged the percentage of "unchurched" Americans, defined as those who answer "no" to either one or both of the following questions: "Do you happen to be a member of a church, synagogue, or mosque?", and "Apart from weddings, funerals, or special holidays, such as Christmas, Easter or Yom Kippur, have you attended the church, synagogue, or mosque of your choice in the past six months, or not?"*
The percentage of "unchurched" Americans has remained relatively unchanged over the last quarter-century. A Sept. 12-15 Gallup Poll** put the percentage at 43%, down slightly from its high point of 47% in 2001, and more in line with what we've seen in other years.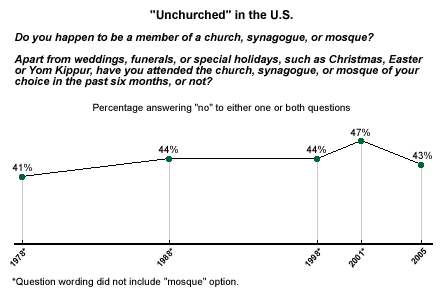 The"Unchurched"
Men are more likely to be unchurched than women -- about half of men (49%) fall into the category, as opposed to 38% of women. Americans 65 and older are far less likely than those under 65 to be unchurched. Looking at the results by political party, Republicans are the least likely group to be unchurched, followed by Democrats and independents.
Interestingly, the likelihood to be unchurched doesn't vary by race or income level, or by Protestant versus Catholic religious affiliation.
Membership, Attendance Remain Steady
Examining the two "unchurched" criteria separately reveals little change over the past decade. The percentage of Americans who claim to be members of a church, synagogue, or mosque is currently about two-thirds (66%). Since 1990, this percentage has remained somewhere in the mid- to upper-60% range, with that figure touching 70% in 1992 and 1999.
Women, those aged 65 and older, Southerners, and married people are the most likely Americans to say they are members of religious congregations.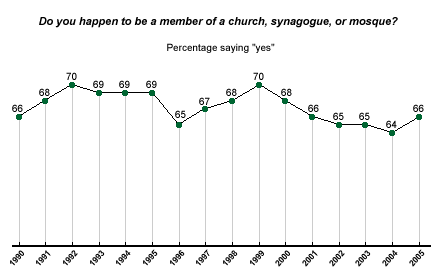 Two-thirds of Americans also say they have attended a worship service in the last six months, apart from special events. That figure has varied little since 1978.
Older Americans, women, married Americans, and ideologically conservative Americans are among the most likely subgroups to attend services, apart from special events.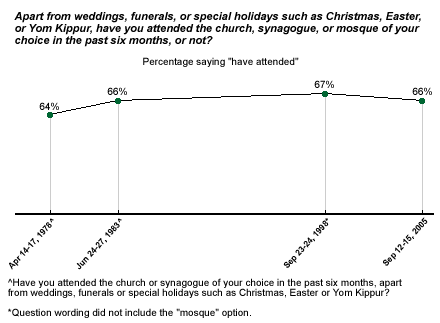 *The question wording did not include "mosque" until the September 2005 survey.
** Results are based on telephone interviews with 921 national adults, aged 18 and older, conducted Sept. 12-15, 2005. For results based on the total sample of national adults, one can say with 95% confidence that the maximum margin of sampling error is ±4 percentage points.