'Tis the season to be shopping. Men and women alike will spend the next two weeks armed with wish lists, searching for the perfect gifts at the right prices. But how much do you know about the shopping habits of the opposite sex, the men or women you're sharing the aisles with?
A mid-September Gallup Poll Panel survey* asked respondents about their shopping habits and preferences, including what types of products they buy and where they buy them. In some cases, the results align with longstanding stereotypes about who buys what from where, but Gallup retail industry expert Kurt Deneen finds respondents' input reflects ever-changing national shopping trends among men and women.
Men Shop at Mars, Women Shop at Venus
Gallup asked respondents what types of stores they had purchased items from in the last 30 days. Women are more likely than men to say they've made purchases at department stores, while men are more likely say they've purchased from electronics stores. That's nothing new -- these differences have guided retail chains and advertisers for decades. But, Deneen says, the data also contain evidence of new trends in shopping behaviors that are forcing retailers to retool their product offerings and marketing strategies.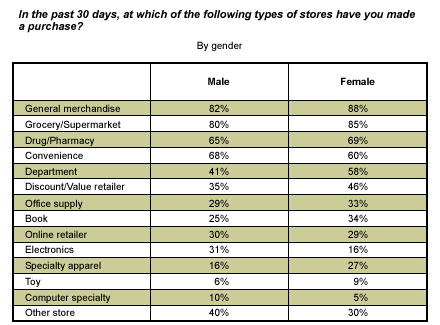 The first stop is the grocery store or supermarket, where 83% of respondents say they have made purchases in the last 30 days. Male respondents are almost as likely as female respondents to have made purchases there in the last month, 80% vs. 85%, respectively. "Who says that the female head of household is the only one doing the grocery shopping?" Deneen asks, adding that because men behave differently than women do when they shop, grocers are reformatting their stores to offer environments that are conducive to men as well as women. "Many consumers, and arguably most men, want to get in and get out -- so stores are starting to position product categories as 'grab and go.'"
Sixty-four percent of respondents say they made purchases at a convenience store in the last month. Sixty-eight percent of male respondents say they've made purchases at a convenience store, slightly more than the 60% of female respondents who say they did. Regardless of who is buying at convenience stores, they're generally finding an increasing array of goods at an expanding number of stores. "Many convenience stores are expanding their product offerings to include gourmet coffees and sandwiches, along with a better selection of 'staples,'" says Deneen.
What's in Your Cart?
The survey also asked respondents about the types of items they bought in the last month. Female respondents are more likely than male respondents to have bought clothing, while men are more likely to have bought automotive accessories and shop tools or building supplies. No surprise there, either.
But Deneen says retailers are seeing a "gender-blurring" effect when it comes to other retail categories. Eighty-nine percent of respondents report having purchased health or well-being products in the last 30 days. However, 86% of male respondents say they've bought health or well-being products in the last 30 days, just slightly lower than the 92% of female respondents who say the same. "People are living longer, but they don't want to look like it," he says. "This is becoming more relevant to men; health brands like Nivea are advertising during football games, when they probably wouldn't have done that in the past."
Similarly, entertainment products aren't disproportionately purchased by men these days: 37% of both male respondents and female respondents say they've purchased movies, games, or entertainment products in the last month. This form of "gender-blurring" is forcing electronics stores to think harder about marketing to women shoppers. "Retailers like Best Buy are targeting the female customer in some of their core store formats, in an attempt to make the store experience speak more specifically to women," Deneen says. "Gaming and entertainment retailers are making it easier for women to shop and navigate the stores, and this ease of shopping is creating stronger awareness and interest among female shoppers."
*These results are based on interviews with a sample of 1,043 adults in the Gallup Poll Panel survey of households, conducted Sept. 10 to Sept. 22, 2005. For results based on this sample, one can say with 95% confidence that the maximum error attributable to sampling and other random effects is ±3 percentage points. In addition to sampling error, question wording and practical difficulties in conducting surveys can introduce error or bias into the findings of public opinion polls.