GALLUP NEWS SERVICE
PRINCETON, NJ -- The latest USA Today/Gallup poll finds more than 6 in 10 Americans critical of President George W. Bush on the leak controversy. The more closely people are following the issue, the more likely they are to say he did something illegal rather than unethical. The poll also shows that 37% of Americans continue to approve of Bush's job performance, unchanged from last month. While that is a low rating -- and among the lowest of the Bush administration -- it represents no change in four Gallup polls conducted since the end of February.
The leak controversy erupted into the news last week, when a court filing revealed that Vice President Dick Cheney's former chief of staff, I. Lewis Libby, testified that he was authorized to leak classified information by President Bush through Cheney. The president has long been critical of administration officials who have leaked information, and there are still questions as to how this revelation might relate to the leaking of a former CIA operative's name. While most political and legal observers acknowledge that Bush's actions in authorizing the release of classified information were not illegal, there are political implications to the controversy.
The poll, conduced April 7-9, 2006, shows that just 25% of Americans are following the matter "very" closely, while another 39% are following the issue "somewhat" closely. Another 36% are not following the issue closely.
How closely have you been following the news about George W. Bush's possible involvement with the leaking of certain intelligence information to reporters -- very closely, somewhat closely, not too closely, or not at all?
Very
closely

Some-
what
closely

Not too
closely

Not
at all

No
opinion

%

%

%

%

%

2006 Apr 7-9

25

39

22

14

*

* Less than 0.5%
Overall, 63% of Americans believe Bush did something either illegal (21%) or unethical (42%), while 28% say he did nothing wrong.
Which of the following statements best describes your view of George W. Bush in these matters -- he did something illegal, he did not do anything illegal, but did something unethical, or he did not do anything seriously wrong?
Illegal

Unethical

Nothing
wrong

No
opinion

%

%

%

%

All respondents

21

42

28

9

Follow issue "very" closely

37

35

26

2

Follow issue "somewhat" closely

20

48

28

4

Not follow issue closely

10

41

28

21
The more closely people are following the issue, the more likely they are to say Bush did something illegal rather than unethical, though expert opinion suggests that Bush has the authority to declassify information and thus his actions could not have been illegal. The less attentive respondents are more likely to think Bush did something unethical rather than illegal.
The percentage of Americans who say Bush did nothing wrong is not affected by how closely they are following the issue. The least attentive group is much more likely to express no opinion (21%) than either of the two more attentive groups (2% to 4%).
Views are highly correlated with party affiliation. Sixty-one percent of Republicans say Bush did nothing wrong, while only 18% of independents and 8% of Democrats agree. On the other hand, 30% of Republicans say Bush did something unethical or illegal, compared with 70% of independents and 85% of Democrats.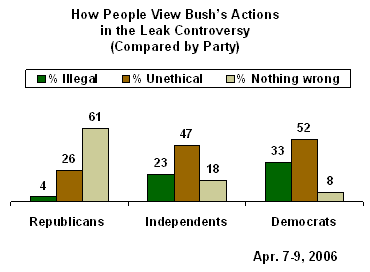 Bush Approval Steady over Past Two Months
Despite this newest controversy, Bush's job approval rating at 37% remains essentially where it has been since the middle of February, when Gallup measured a 39% approval. Over the past two months, the president's approval has fluctuated between a low of 36% and a high of 39%. During the previous two months, Bush's approval averaged between 42% and 43%.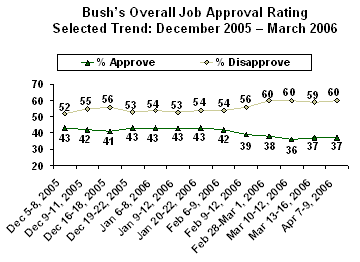 The current results suggest that the controversy over Bush's role in the leak controversy has not affected his approval rating, except perhaps to help keep it at a depressed level. Whether the issue will hurt the president's popularity in the long run will almost certainly depend on how much more attention the issue is given in the future. Interviewing for this poll began only one day after the first news story on the issue. Typically, for stories to have much of an effect on public opinion, more time is required. It is likely there will be at least some additional news stories on the matter. On Sunday, Republican Senator Arlen Specter, Chairman of the Senate Judiciary Committee, called for Bush and Cheney to speak publicly about their involvement in the CIA leak case.
Survey Methods
Results are based on telephone interviews with 1,004 national adults, aged 18 and older, conducted Apr. 7-9, 2006. For results based on the total sample of national adults, one can say with 95% confidence that the margin of sampling error is ±3 percentage points. In addition to sampling error, question wording and practical difficulties in conducting surveys can introduce error or bias into the findings of public opinion polls.