GALLUP NEWS SERVICE
PRINCETON, NJ -- Just how much damage was done to the standing of President George W. Bush in the eyes of the American public by the government's faltering response to Hurricane Katrina?
The conventional wisdom appears to be that his image took a major hit.
In a New York Times story on Monday, reporter Sheryl Gay Stolberg said: "His (Bush's) approval ratings have never rebounded from their post-hurricane plummet." The story later quotes New York Sen. Charles Schumer as saying: "I might argue that this was the worst thing that's happened to George Bush in the whole six years of his presidency." A Reuters dispatch from August 24, as reported in The Washington Post, said: "Katrina, which killed about 1,500 people and displaced hundreds of thousands across four states, was a catalyst for a slide in Bush's poll numbers from which he has only partially recovered."
Yet, despite this apparently widespread conventional wisdom, a close examination of the available Gallup Poll data suggests that while the public did disapprove of how Bush handled Katrina, and the public did downgrade their perception of Bush as a strong and decisive leader, it is difficult to pinpoint a precise and lasting impact of Hurricane Katrina on Bush's overall approval ratings.
Bush's job approval ratings throughout September 2005, were identical to his ratings in August, and although the president's ratings fell in October and November, they had recovered by December of last year and January of this year. Bush's major slide in the ratings occurred in late February through May of this year, and there is little evidence to suggest that this was a result of his handling of Katrina.
Job Approval Data
Gallup conducted four surveys in August 2005, and four surveys in September 2005, which included measures of Bush's job approval rating: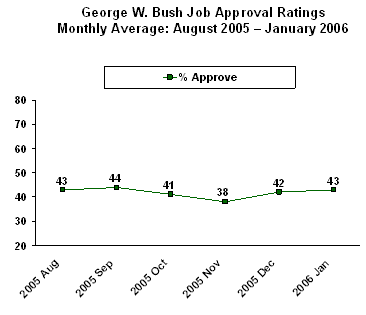 Hurricane Katrina hit the Gulf Coast on August 29, 2005, and the weeks thereafter were dominated by news coverage of the great suffering of the people of New Orleans and other Gulf Coast towns, and the feeble government response thereto. Yet there was no immediately discernible effect of Katrina on the president's job approval rating throughout September -- the month following Katrina's impact. Bush averaged 43% in August and 44% in September.
Bush's ratings did fall in October and November 2005, to an average of 41% and 38%, respectively. Some could argue that these ratings were perhaps a delayed reaction to the aftermath of Katrina. But that hypothesis is difficult to prove using available data. There were a number of high-profile problems that beset the president in this time frame, including the abortive nomination of Harriett Miers to the Supreme Court, the indictments of White House adviser Lewis "Scooter" Libby and Texas Republican Congressman Tom DeLay, and continuing violence in Iraq that resulted in the death of the 2,000th American soldier. All of these could have contributed in some way to the drop in approval ratings just as easily as Katrina.
Perhaps most importantly, the president's job approval ratings recovered by December, averaging 42%, and by January his ratings were back to a 43% average, the same as in August 2005, before Katrina hit.
Bush's job approval ratings began to plummet more significantly in February of this year, reaching his all-time low monthly average of 32% in May.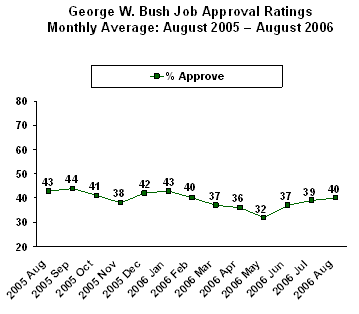 Again, however, there is little basis to support a hypothesis that the slide in his ratings this spring was a result of Katrina. The drop is more plausibly a result of continued fighting in Iraq and in particular with the dramatic run-up in the price of gasoline to over $3.00 a gallon.
Strong and Decisive Leader
While Katrina may not have had a long-lasting impact on Bush's overall job rating, there did appear to be an impact of Katrina on Bush's image as a "strong and decisive leader."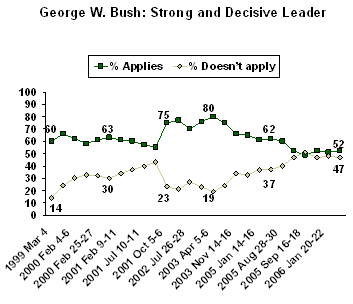 Gallup's measure of Bush's image on this dimension dropped in September after Katrina and stayed low through February/early March of this year, the last time this had been measured.
Similarly, there was a drop in Bush's image as an effective manager: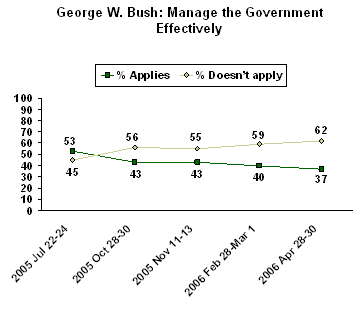 The drop in Americans' rating of Bush on these dimensions in September occurred at the same time that his overall ratings were holding constant. This supports the theory that the public did not directly translate their perceptions of Bush on some specific qualities relating to his handling of Katrina to their overall evaluation of him.
In short, while certain aspects of Bush's image may have been affected by Katrina, there was not a discernible effect on the highly important, overall approval rating.
Survey Methods
Results are based on telephone interviews with 1,00 national adults, aged 18 and older, conducted August 18-20, 2006. For results based on the total sample of national adults, one can say with 95% confidence that the maximum margin of sampling error is ±3 percentage points.
In addition to sampling error, question wording and practical difficulties in conducting surveys can introduce error or bias into the findings of public opinion polls.
Bush Approval

Approve

Disapprove

No
opinion

%

%

%

2006

2006 Aug 18-20

42

54

4

2006 Aug 7-10

37

59

4

2006 Jul 28-30

40

56

4

2006 Jul 21-23

37

59

4

2006 Jul 6-9

40

55

5

2006 Jun 23-25

37

60

3

2006 Jun 9-11

38

56

6

2006 Jun 1-4

36

57

6

2006 May 8-11

33

61

6

2006 May 5-7

31

65

5

2006 Apr 28-30

34

63

3

2006 Apr 10-13

36

59

5

2006 Apr 7-9

37

60

3

2006 Mar 13-16

37

59

5

2006 Mar 10-12

36

60

4

2006 Feb 28-Mar 1

38

60

2

2006 Feb 9-12

39

56

4

2006 Feb 6-9

42

55

4

2006 Jan 20-22

43

54

4

2006 Jan 9-12

43

53

4

2006 Jan 6-8

43

54

3

2005

2005 Dec 19-22

43

53

4

2005 Dec 16-18

41

56

3

2005 Dec 9-11

42

55

3

2005 Dec 5-8

43

52

5

2005 Nov 17-20

38

57

5

2005 Nov 11-13

37

60

3

2005 Nov 7-10

40

55

5

2005 Oct 28-30

41

56

3

2005 Oct 24-26

41

56

3

2005 Oct 21-23

42

55

3

2005 Oct 13-16

39

58

3

2005 Sep 26-28

45

50

5

2005 Sep 16-18

40

58

2

2005 Sep 12-15

45

52

3

2005 Sep 8-11

46

51

3

2005 Aug 28-30

45

52

3

2005 Aug 22-25

40

56

4

2005 Aug 8-11

45

51

4

2005 Aug 5-7

45

51

4