GALLUP NEWS SERVICE
PRINCETON, NJ -- A recent Gallup Poll of Cuba, conducted with 1,000 residents of Havana and Santiago, offers a rare look at the island's understudied population. The findings represent a fascinating portrayal of a populace living with the paradoxes of a communist regime. One of the most striking examples can be seen in the way Cuban respondents feel about the country's educational opportunities as opposed to its opportunities to attain fulfilling jobs.
Satisfaction With Schools Is High
Respondents were extremely positive about the country's schools, reflecting the success of a concerted effort by the state beginning in 2002 to make education a higher priority. In 2004, education spending represented more than 11% of GDP, compared with 6.3% in 1998.*
Almost all respondents (98%) agreed that all Cubans, regardless of economic status, have access to education. A high 78% say they are satisfied with the schools in their communities. Perhaps most impressively, a majority of the Cuban respondents, 60%, say the quality of Cuba's colleges is superior to that in other countries, more than twice the regional percentage for urban Latin America (26%).
The vast majority of respondents also perceive Cuban society as good environment for child development. A full 96% say they think most children have the opportunity to learn and grow every day, far above the 50% regional figure for Latin America. Nearly as many Cuban respondents, 93%, say they think the country's children are treated with dignity and respect, compared with just 36% of respondents across Latin America.
Positivity Toward Work Low for Latin America
Somewhere along the way, the potential generated by Cuba's well-developed education system gets truncated. As students, Cubans are typically presented only with those career options that are deemed in demand by the state -- that is, the professions in which the country needs workers at that time. State control of prices gives workers little control over their earning potential, which may reduce their motivation to work hard or be innovative.
Just 42% of Cuban respondents say people in the country can get ahead by working hard; the regional figure for Latin America is almost twice as high (79%).
Among Cuban respondents who say they have jobs, about two-thirds (68%) say they are satisfied with them. Sixty percent say their jobs give them the opportunity to do what they do best every day. Both figures are significantly below the regional results for urban Latin America (84% for both questions).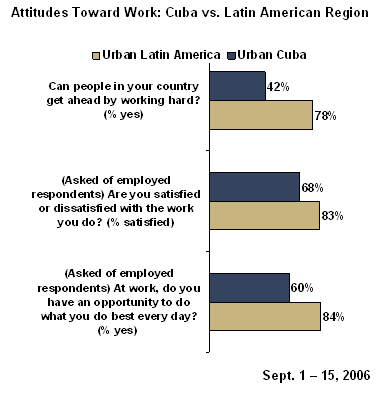 Lack of a sense of control may also curb entrepreneurial impulses in Cuban society: although 94% of respondents say they would describe the Cuban people as "entrepreneurial," only about one-third (32%) say they currently have a plan, idea, or invention in mind to improve their standard of living, compared with a regional finding of 44% overall among urban Latin Americans.
* Economist Intelligence Unit Country Profile: Cuba
Survey Methods
Results are based on face-to-face interviews conducted between Sept. 1 and Sept. 15, 2006, with 1,000 residents of Havana (600) and Santiago (400), aged 15 and older. Extreme challenges posed by Cuba's poor transportation infrastructure made it unfeasible to collect a nationwide sample; thus, the results are representative only of the nearly 3 million inhabitants of Cuba's two largest cities. Comparison results for all of Latin America are based on data from urban populations in 20 Latin American countries.
For results based on these samples, one can say with 95% confidence that the maximum error attributable to sampling and other random effects is ±3 percentage points. In addition to sampling error, question wording and practical difficulties in conducting surveys can introduce error or bias into the findings of public opinion polls.