GALLUP NEWS SERVICE
PRINCETON, NJ -- Puerto Rico's economy may get a much-needed shot in the arm. Beginning Jan. 23, 2007, Americans are required to carry passports when traveling to Mexico, Bermuda, and most of the Caribbean islands. Because Puerto Rico is a U.S. territory, it is exempt from the new regulation -- and the island's government is attempting to leverage that fact in a $36 million advertising campaign aimed at U.S. tourists. Additional tourist dollars can't come soon enough, given Puerto Ricans' dismal view of their economy. Gallup World Poll results indicate just 9% of Puerto Ricans say that the island's economy is currently good, and only 7% think it is getting better. Worldwide, only Zimbabweans are more likely to rate their economic conditions negatively than are Puerto Ricans.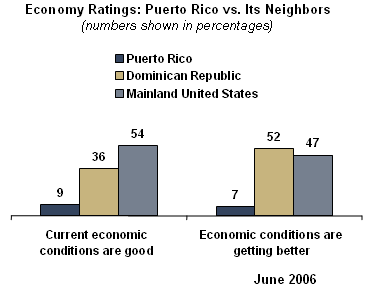 U.S. Census data place 48.2% of Puerto Rico's population below the poverty level, and very few islanders (26%) say they are satisfied with the nation's efforts to deal with the poor. Nearly 3 out of 10 Puerto Ricans (28%) tell Gallup that there have been times in the past year when they did not have enough money to purchase needed food, a finding that is closer to the average for Central American countries (35%) than it is to that of the United States (15%).
One outcome of the island's economic difficulties is that many Puerto Ricans move to the U.S. mainland in search of jobs. The poll finds that about 1 in 5 Puerto Ricans (19%) are satisfied with their government's efforts to increase the number and quality of jobs on the island, less than half the percentage expressed by residents in the nearby Dominican Republic (44%). Sixteen percent of Puerto Ricans say they are planning to move to another country.
Survey Methods
Results are based on face-to-face interviews with a representative sample of 500 residents of Puerto Rico, aged 15 and older, conducted in June 2006. For results based on this sample, one can say with 95% confidence that the maximum error attributable to sampling, weighting, and other random effects is ±5 percentage points. In addition to sampling error, question wording and practical difficulties in conducting surveys can introduce error or bias into the findings of public opinion polls.