GALLUP NEWS SERVICE
PRINCETON, NJ -- More than 6 in 10 Americans say they have a favorable opinion of former President Bill Clinton, according to a recent Gallup Poll. Clinton's favorable rating is up slightly from last summer, and is at its highest level since February 1998. His favorable rating reached historical lows in 2001 as Clinton sparked many controversies as he left office. But since that time, Clinton's favorable rating has gradually improved and is now close to his historical high, a 66% rating just prior to his inauguration in 1993. A comparison of Bill Clinton's favorable ratings and Hillary Clinton's favorable ratings show that Americans rated the Clintons similarly following their departure from the White House, but in recent years, the former president has been viewed more favorably than his wife.
Americans' Opinion of Bill Clinton
The Feb. 9-11, 2007 poll finds that 63% of Americans have a favorable opinion of the former president, while 35% have an unfavorable opinion of him. Clinton's favorability is somewhat more positive now than in June 2006, when 59% had a favorable opinion and 37% had an unfavorable opinion of him. These ratings are also the highest Gallup has measured since February 1998, shortly after Clinton's relationship with intern Monica Lewinsky was first reported in the media.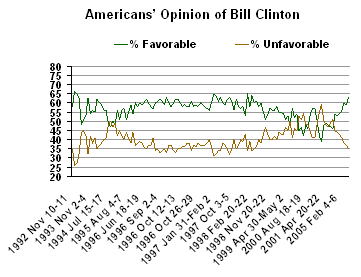 From a longer-term perspective, Clinton's favorable rating has averaged 56% since Gallup first measured opinions of him in 1992. During his eight years in office, the former president's average favorable rating was 57%, and since leaving office, this rating has averaged a slightly lower 51%. Clinton's highest favorable rating came just prior to his inauguration in 1993, at 66%, and his lowest rating was 39% in March 2001 following his exit from the White House, which includes controversial presidential pardons and taking gifts from the White House.
Americans' current ratings of Clinton are divided along political lines, as they always have been. The latest poll finds that 89% of Democrats have a favorable opinion of Clinton, compared with 64% of independents and just 30% of Republicans. His latest ratings are among the highest for each party group that Gallup has measured since he left office in 2001.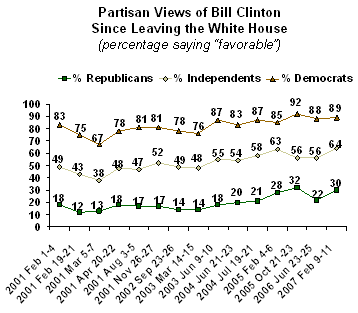 Prior to Clinton's inauguration in 1993, when Clinton's favorable rating was at its highest level, Gallup found that 42% of Republicans, 61% of independents, and 92% of Democrats rated the then incoming president favorably.
Bill Clinton vs. Hillary Clinton
Although the former president's role in his wife's campaign for president is not fully clear at this point, New York Sen. Hillary Clinton referred to her husband as her "full-time political counselor" in a speech in New Hampshire this weekend. In the latest poll, Hillary Clinton's favorable ratings are slightly lower than her husband's, at 58%. Americans' opinion of Hillary Clinton have improved; when last measured in November 2006, 53% of Americans viewed her favorably.
During the first two years of the Clinton administration, the Clintons' favorable ratings closely mirrored each other on the basis of yearly averages. Americans viewed Hillary Clinton more negatively than Bill Clinton in 1995 and 1996, most likely due to Whitewater and the problems with healthcare reform. The public then viewed Hillary Clinton more favorably than Bill Clinton after the Lewinsky scandal and impeachment proceedings in 1999. Then, from 2000 through 2004, Americans again rated the Clintons similarly, but since that time, Americans have grown more favorable toward Bill Clinton than they have toward Hillary Clinton. The current situation may reflect the fact that Hillary Clinton is still highly involved in partisan politics while her husband is involved in the less controversial pursuits typical of an ex-president.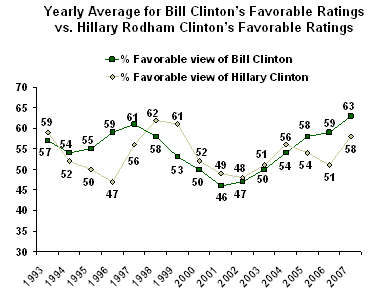 Survey Methods
Results are based on telephone interviews with 1,006 national adults, aged 18 and older, conducted Feb. 9-11, 2007. For results based on the total sample of national adults, one can say with 95% confidence that the maximum margin of sampling error is ±3 percentage points. In addition to sampling error, question wording and practical difficulties in conducting surveys can introduce error or bias into the findings of public opinion polls.