PRINCETON, NJ -- Former President Bill Clinton's controversial remarks against Barack Obama earlier this year were a major part of the 2008 campaign narrative. Some political observers wondered whether Clinton was harming his legacy while campaigning on his wife's behalf. The latest USA Today/Gallup poll suggests that is not the case. Nearly half of Americans believe history will regard Clinton as an outstanding or an above-average president, little changed from the last pre-campaign rating and his most positive review to date.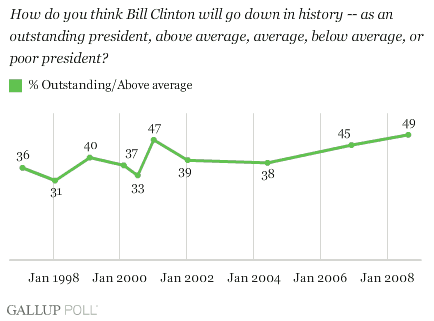 Clinton will address the Democratic National Convention Wednesday night. He and Obama have had an uneasy relationship, in part because of remarks Clinton made against the Illinois senator while campaigning for Hillary Clinton. This included using the word "fairy tale" in reference to Obama's campaign and apparently dismissing Obama's South Carolina primary victory by reminding people that Jesse Jackson had also won the state's primary in 1984 and 1988.
In the last pre-campaign reading, from December 2006, 45% of Americans said Clinton would go down in history as an outstanding or above-average president; with 49% saying that today, the public does not believe his legacy has been damaged.
Notably, Obama supporters are largely positive when assessing Bill Clinton's historical significance. Among Democrats and Democratic-leaning independents who say they supported Obama in the primaries, 60% say Clinton will be regarded as an outstanding or above-average president. That pales in comparison to the 80% above-average or better ratings from Democrats who supported Hillary Clinton during the primaries, but is little different from the 65% of all Democrats in 2006 who said Bill Clinton would get a favorable historical review.
Even though perceptions of his historical legacy have not suffered, there has been some short-term damage to the former president's image during the last several months. Currently, 52% of Americans say they have a favorable opinion of him. He has averaged just a 51% favorable rating in four 2008 readings, all of which were taken after Clinton's most controversial remarks. That compares with an average 60% favorable score last year.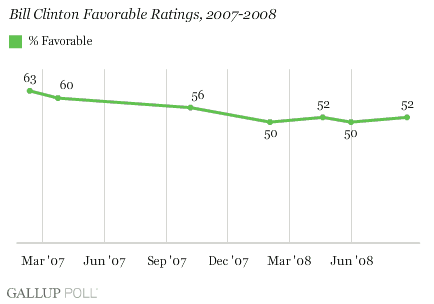 The poll provides some suggestive evidence that the decline may chiefly result from more negative assessments from Obama supporters. In the October 2007 poll -- the last reading before the primaries began -- 87% of all Democrats and 24% of all Republicans rated Clinton favorably. In the latest poll, Clinton's favorable rating remains 24% among Republicans but has declined to 74% among Democrats.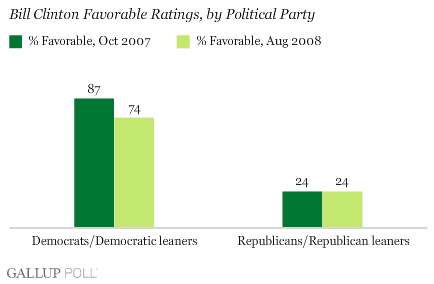 But when Democrats in the current poll are subdivided as to their candidate of choice in the primaries, Obama backers give Bill Clinton an average 64% favorable score, compared with 90% among Hillary Clinton supporters.
Survey Methods
Results are based on telephone interviews with 1,023 national adults, aged 18 and older, conducted Aug. 21-23, 2008. For results based on the total sample of national adults, one can say with 95% confidence that the maximum margin of sampling error is ±3 percentage points.
Interviews are conducted with respondents on land-line telephones (for respondents with a land-line telephone) and cellular phones (for respondents who are cell-phone only).
In addition to sampling error, question wording and practical difficulties in conducting surveys can introduce error or bias into the findings of public opinion polls.
To provide feedback or suggestions about how to improve Gallup.com, please e-mail feedback@gallup.com.