GALLUP NEWS SERVICE
PRINCETON, NJ -- In the wake of the Sept. 11 terrorist attacks last year, Americans rallied around their leaders and government, and expressed record levels of approval and trust. The rally effect for President George W. Bush was evidenced by a jump of almost 40 points in his approval rating. Reaching the 90% level, Bush's approval rating was the highest in Gallup's history. The rally effect for Congress was just over 40 points, peaking at an approval rating of 84%. Smaller rally effects were measured for other areas of government, and also included the public's general satisfaction with the way things were going in the country and the public's expressed levels of trust in government.
But the most recent Gallup Poll, conducted nearly a year after Sept. 11, 2001, finds that -- with two exceptions -- public sentiment has mostly reverted to its pre-9/11 levels. Only Bush's approval rating remains significantly above its level just before the attacks, while Congress' approval rating is just slightly higher.
The current poll, conducted Sept. 5-8, records a Bush approval rating of 66%, essentially unchanged for the past month, but still significantly higher than the 51% rating he received Sept. 7-10 of last year, the last reading before the terrorist attacks.
George W. Bush's Job Approval Ratings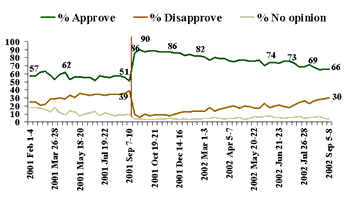 Congress' current approval rating of 52% is also higher than the Sept. 7-10 rating (42%), but the comparison is less definitive. Last week's rating of Congress found 46% of Americans expressing approval, closer to the immediate pre-Sept. 11 rating of 42%, and actually lower than the rating Congress received in August 2001 (50%).
Congress's Job Approval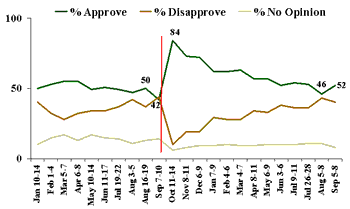 The percentage of Americans who said they trusted the federal government's handling of both international and domestic problems jumped by 15 and 17 percentage points, respectively in the immediate aftermath of Sept. 11. In October of last year, 83% of Americans said they trusted the government "a great deal" or "a fair amount" when dealing with international problems, up from 68% who said that just prior to terrorist attacks. Similarly, 77% of Americans in October 2001 said they trusted the government to handle domestic problems, compared with 60% the previous month.
Some observers speculated that this more positive sentiment toward government could represent a significant and long-term reversal in the public's generally skeptical view -- perhaps returning the country to the high levels of trust measured before Vietnam and Watergate. Today, however, that speculation seems misplaced. The levels of trust in both areas have fallen to just three percentage points above the pre-9/11 levels. Seventy-one percent of Americans trust the government a great deal or a fair amount in its handling of international problems, and 63% express that same level of trust in the government's handling of domestic problems.
Trust in Government:
Handling International/Domestic
How much trust and confidence do you have in our federal government in Washington when it comes to handling [international/domestic problems] -- a great deal, a fair amount, not very much, or none at all?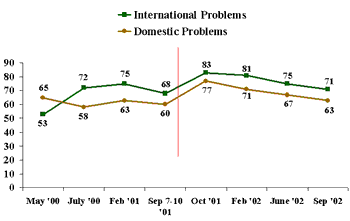 A different, more general measure of trust in government also surged to a 30-year high after the terrorist attacks. Sixty percent of Americans in October of last year said they trusted the government in Washington to do what is right "just about always" or "most of the time," the highest level since 1968. However, a Sept. 2-4 Gallup Poll finds that this increase has also dissipated. Forty-six percent express that level of trust now, slightly higher than what was measured in July 2000.
Trust in Government:
Trust Washington to Do What Is Right
How much of the time do you think you can trust the government in Washington to do what is right -- just about always, most of the time, or only some of the time?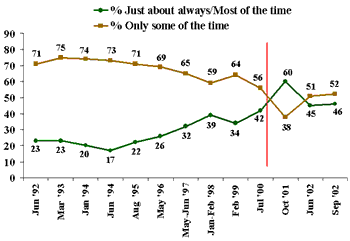 In what some observers saw as a paradoxical effect of the terrorist attacks of Sept. 11, the public's general mood immediately improved. A series of Gallup Polls over the two years prior to September 2001 had shown the public to be about evenly divided between being satisfied and dissatisfied with the way things were going in the country. Immediately following the terrorist attacks, a clear majority of Americans expressed satisfaction, by 61% to 36%. Satisfaction increased to a ratio of 70% to 28% by the end of the year. Since then satisfaction has been falling toward its pre-9/11 level, where once again the public is about evenly divided.
General Mood of the Nation:
Satisfaction With the U.S.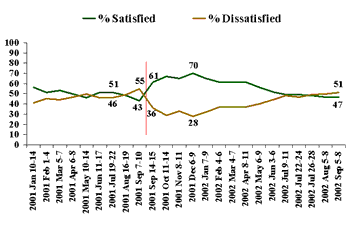 The big increase in expressed satisfaction with the way things are going in the United States may have reflected approval of the war on terrorism in Afghanistan, which two-thirds of Americans thought was being won by the United States and its allies at one time in early January. Coinciding with the drop in current satisfaction ratings, a little more than a third of Americans say that the United States and its allies are winning the war.
Except for the presidential approval numbers, all of these results suggest that the public is viewing politics much as they had before the terrorist attacks. Whatever the long-term effects of the Sept. 11 attacks in other areas, they do not appear to signal a significantly improved level of trust between the public and its government.
Survey Methods
The latest results are based on telephone interviews with 1,004 national adults, aged 18 and older, conducted Sept. 5-8, 2002. For results based on the total sample of national adults, one can say with 95% confidence that the margin of sampling error is ±3 percentage points. In addition to sampling error, question wording and practical difficulties in conducting surveys can introduce error or bias into the findings of public opinion polls.