While the goal of National Alcohol Screening Day on April 10 is to increase the general public's awareness to the consequences of at-risk drinking and health perils, alcohol use continues to be a serious problem for one segment of the public in particular: American teens. According to Leadership to Keep Children Alcohol Free, more than 40% of kids who begin drinking before the age of 13 will have alcohol abuse problems later in life. The 2003 Gallup Youth Survey* asked teens (aged 13 to 17) a series of questions about alcohol use; almost a third of U.S. teens say they drink alcohol. The number who say they have been personally affected by alcohol use in their families is also about one in three.
How Many Teens Are Drinking?
According to the poll, 30% of U.S. teens say they "have occasion to use alcoholic beverages," while 70% say they do not. The data reveal some interesting differences according to age and gender.
As age increases in the teen years, so does the likelihood of alcohol consumption. In the 2003 survey, 42% of teens aged 16 to 17 report using alcohol, compared to just 22% of teens aged 13 to 15. The significant increase among older teens may reflect increased peer pressure within this age group to drink.
The stereotype that teen boys are wilder and more likely to drink than teen girls is not borne out in these data; in fact, teen girls are somewhat more likely than teen boys to say they drink (33% to 26%, respectively). This statistic has significant health consequences, as the Leadership to Keep Children Alcohol Free reports that girls aged 12 to 16 who drink are six times more likely than girls who don't drink to suffer from depression.
How Are Teens Affected by Alcohol Use in Their Families?
Teens do not have to be using alcohol themselves to be negatively affected by it. Thirty-two percent of teens report that at some point, alcohol has been a cause of trouble in their families.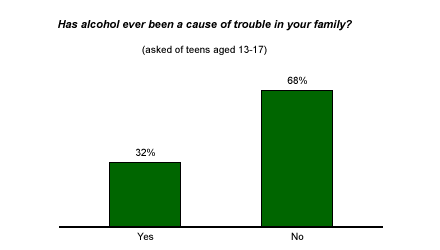 The education level of teens' parents also seems to be a factor in whether teens say that alcohol has caused trouble in their families. Teens coming from families in which both parents are college-educated are less likely to report that alcohol has been a cause of trouble in their families (22%) than teens coming from families in which one parent is college-educated (36%), or neither parent is college-educated (36%). This gap also appears in results to the question about teen alcohol use. Twenty-four percent of teens with two college-educated parents say they use alcohol, compared to 34% of teens whose parents are not college-educated.
Bottom Line
Teen drinking is not just a current health problem -- it is a predictor of future health problems. Chances are that many who develop drinking problems in their teen years will not only develop physiological and psychological problems later on, but they're also more likely to perpetuate the cycle of psychological and emotional stress among their own children and family members.
To improve the health status of Americans and control future healthcare costs, health professionals should diagnose and treat alcohol abuse problems as early as possible. According to the National Institute on Alcohol Abuse and Alcoholism (NIAAA), free screenings for alcohol-related problems will be provided at more than 4,000 sites nationwide on April 10. This is an excellent opportunity to draw teens' attention to this health issue.
*The Gallup Youth Survey is conducted via an Internet methodology provided by Knowledge Networks, using an online research panel that is designed to be representative of the entire U.S. population. The current questionnaire was completed by 1,200 respondents, aged 13 to 17, between Jan. 23-Feb. 10, 2003. For results based on the total sample, one can say with 95% confidence that the maximum margin of sampling error is ±3%.