Nearly a decade ago, the first foods genetically altered using biotechnology went on the market. Since then, genetically modified food has become a source of worldwide controversy. Some African countries, though stricken by famine, have refused to accept corn from the United States that is modified. Last month, the European Union voted to require labels on foods containing genetically modified ingredients -- which the United States contends should be done on a voluntary basis. And, the United States is currently suing the EU over its five-year biotech import moratorium.
The scientific and public health communities are divided in their opinions on genetically modified food. But what do Americans overall think? Gallup polling over the past four years on food produced using biotechnology indicates that the public is becoming increasingly skeptical about it.
Health Hazards?
Most recently in a July 7-9 Gallup Poll*, Gallup asked Americans if they believe that foods that have been produced using biotechnology pose a serious health hazard to consumers.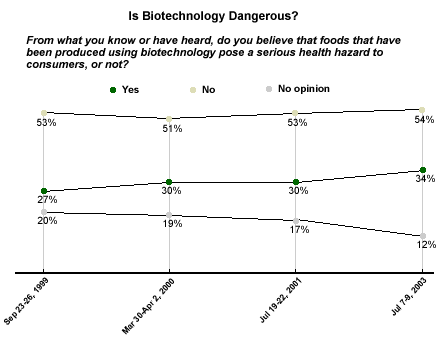 Results from 1999 through 2003 reveal no significant change in the number of Americans who feel that foods produced with biotechnology do not present a serious health hazard. Just over half the public rejects the notion that biotech foods are a serious health hazard. However, the percentage of those who believe that genetically modified foods do present a such a hazard has increased slightly, from 27% in 1999 to 34% in 2003.
Demographics
Who are those most likely to think that genetically modified foods are dangerous?
Women are somewhat more likely than men to believe that foods produced using biotechnology present a health hazard (38% of women compared to 29% of men).
People living in the East are slightly more likely than those in the West to fear the health hazards of genetically modified foods -- 39% vs. 29%, respectively.
Americans with a high school education or less are significantly more likely to believe that genetically modified foods could be hazardous (42%) than those with at least some college education (28%). Along the same lines, people in households earning less than $30,000 per year are more likely to be suspicious of these foods (47%) than those earning more than $30,000 (28%).
Republicans are less likely to be concerned about genetically modified foods than Democrats or independents are. Twenty-nine percent of Republicans think these foods can pose a health hazard, compared to 38% of Democrats and 36% of independents.
Whites are substantially less likely than nonwhites to say that genetically modified food presents a hazard. Twenty-nine percent of whites think modified foods could be hazardous, while 52% of nonwhites think the foods could pose hazards.
Bottom Line
Genetic manipulation of foods is not a new concept. Since ancient times, farmers have saved the seeds from their most successful plants to use in future years -- an early form of genetic engineering. In a 1999 report, the Institute of Food Science and Technology in Great Britain noted that other than speeding up the process, changes in food brought about through genetic manipulation are little different from changes that occur naturally.
So why is the public increasingly worried about genetically modified food? Some concerns include:
The possible development of food allergies resulting from unknown gene combinations
Fear of increasing resistance to antibiotics through ingestion of food with antibiotic-resistant genes
Fear of potential toxicity from foods modified to produce pesticides
Ultimately, the success or failure of genetically modified foods will be determined by public confidence in its safety. The Food and Drug Administration is the federal agency responsible for the labeling of food in the United States, and for identifying potential problems before food is approved for market. If the FDA invests in an enhanced evaluation process to increase public confidence in the safety and potential benefits of foods produced using biotechnology, fears about genetically modified foods could potentially be quelled.
*Results are based on telephone interviews with 1,006 national adults, aged 18 and older, conducted July 7-9, 2003. For results based on the total sample of national adults, one can say with 95% confidence that the margin of sampling error is ±3 percentage points.