An 79% approval rating among registered voters -- "Priceless!"
According to a recent Gallup Poll of Californians*, about 8 in 10 registered voters (79%) have a favorable opinion of Arnold Schwarzenegger. This would rank as one of the highest ratings received by anyone in Gallup's history (Schwarzenegger polled a 72% favorable rating among the national public in a February 2003 CNN/USA Today/Gallup poll). Several figures -- Tiger Woods in the midst of winning the "Tiger Slam," Mark McGwire after winning the 1998 home run derby, George W. Bush just after 9/11, Colin Powell in the spring after 9/11, and Michael Jordan after winning six NBA championships -- have earned higher ratings among the national public, but only moderately so. Politicians are delighted when a majority of voters view them favorably, but a 79% favorable rating among registered voters? As the credit card ad says, "Priceless!"
Political aspirations aside, it's very clear that the vast majority of Californians like Schwarzenegger. He's certainly used to public adoration -- not only has he starred in a number of wildly popular action/adventure movies, he is also married to a prominent member of the Kennedy family (Maria Shriver) and is well known as a philanthropist.
Examining Schwarzenegger's favorability ratings more closely reveals that his positive image extends to all demographic subgroups of California voters. Even voters aged 65 and older -- the demographic group presumably least likely to be fans of Schwarzenegger movies such as "The Terminator" and "Total Recall" -- give him a 64% favorable rating and a 22% unfavorable rating (the lowest ratings of any demographic group, though still exceptionally high in comparison with ratings of other personalities).
In fact, there is a pronounced correlation between age and the actor's favorability rating, with the youngest voters (those aged 18 to 29) giving Schwarzenegger an incredible 88% to 11% ratio of favorable to unfavorable. Thirty to 49-year-olds are close behind with an 85% favorable rating, and the favorable rating drops to 71% among those aged 50 to 64. The percentage of California voters who have no opinion of Schwarzenegger also varies by age. Thirteen percent of those over the age of 65 wouldn't give an opinion on Schwarzenegger either way, compared to just 1% of 18- to 29-year-olds.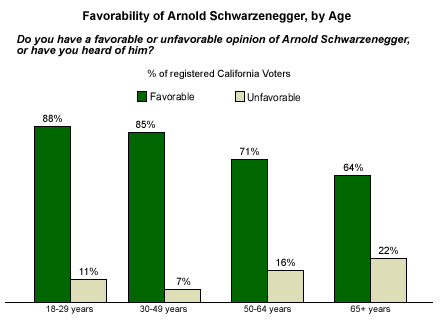 Democrats show lower positive ratings of Schwarzenegger than the other partisan groups. Sixty-nine percent of Democrats have a favorable view of him, compared to 85% of Republicans and 84% of independents. Results break down similarly when looking at liberals, conservatives, and moderates. But even these "low" ratings have a 50-percentage-point net positive margin.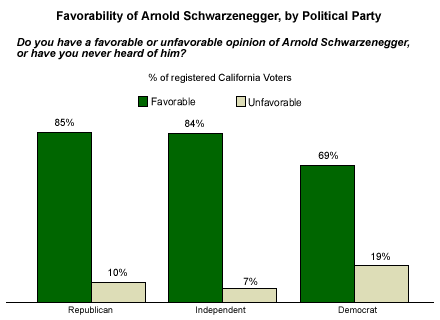 There is little difference in Schwarzenegger's favorability ratings by gender, education level, or income.
Bottom Line
Much can change in the next eight weeks of campaigning before the Oct. 7 recall. Already, reporters and opposing candidates are demanding that Schwarzenegger outline specific policy positions on issues facing the state -- which so far (as of Aug. 17) he has declined to do. His failure to meet these demands could lead to a decline in his popularity. But whatever the ultimate outcome, as of the middle of August, he is one of the most positively viewed candidates in politics today.
*Results are based on telephone interviews with 801 registered voters in California, aged 18 and older, conducted Aug. 7-10, 2003. For results based on this sample, one can say with 95% confidence that the margin of sampling error is ±4 percentage points.