It has come to our attention that the public is erroneously relying upon the information included in the "aggression connection" paragraph of a Sept. 16, 2003, article by Steve Crabtree titled, "Grand Theft of Innocence? Teens and Video Games," which Gallup subsequently determined cannot be supported by the properly weighted youth survey data, and thereafter removed from the original article. Gallup now expressly retracts the entire "aggression connection" paragraph that was included in Mr. Crabtree's initial Sept. 16, 2003, article because the data do not support any such conclusion. We regret any confusion that may have been caused by Mr. Crabtree's initial article.
On Aug. 28, two teenagers from Newport, Tenn., pleaded guilty to two sniper-style shootings that left one man dead and a woman injured. The boys claimed to have gotten the idea from Grand Theft Auto, a violent video game that has caused controversy over its potential effects on kids.
New Gallup Youth Survey results* indicate that the Grand Theft Auto series is extremely popular among teens, particularly boys. Despite the games' M rating for "mature" by the Entertainment Software Rating Board, a majority of teens (aged 13 to 17) participating in the survey -- 60% -- said they had played a game in the series before. Among boys, 76% said they had played Grand Theft Auto; among girls, 44% said they had played the game.
More generally, the burgeoning popularity of video games among children has become a concern in recent years, thanks in part to the tragic string of school shootings committed by students in the late 1990s -- the deadliest of which claimed 15 lives in 1999 at Columbine High School in Colorado. In the Columbine case, another video game, Doom, was blamed by some as having influenced the two shooters.
Adding to the concern are studies indicating that playing violent video games can affect brain development by overstimulating the parts of the brain associated with emotion-processing, without using the parts that promote rational, analytical thinking. A 2001 study by professor Ryuta Kawashima of Tokyo University concluded such games also stunt the development of the brain's frontal lobe, potentially affecting children's ability to control anti-social behavior. In addition, findings released last December by researchers at the Indiana University School of Medicine indicated that the brains of teens prone to aggression responded differently to violent video game exposure than non-aggressive adolescents' brains did.
Who's Playing, and What?
It's clear that video games are part of most teens' lives. Overall, 74% of teens say they play at least one hour a week; 34% say they play six or more hours a week.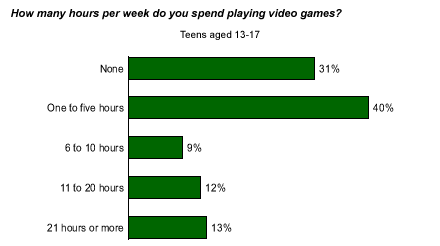 Boys are more than twice as likely as girls to say they play video games regularly; 97% of boys aged 13 to 17 say they play at least one hour a week, as do 49% of girls. Responses regarding specific games also suggest that boys are far more likely than girls to play most video games. The relatively non-violent Sims series, in which players design characters, create and maintain their homes, and interact with fictional family and friends, is an exception -- boys and girls were similarly likely to say they have played this game.
Two-thirds of teens have played sports-based games, making games of this genre more popular than games based on super-heroes and the Sims series, both of which are played by 49% and 44% of teen respondents, respectively.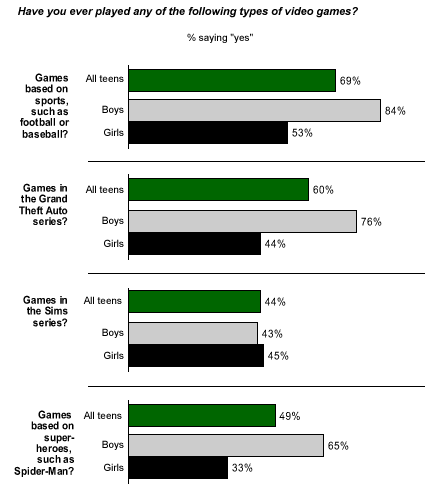 The amount of time spent on video gaming seems to taper as teens get older: respondents aged 13 to 15 report playing an average of 6.7 hours per week; among 16- to 17-year-olds, that number drops to 4.4 hours.
Bottom Line
If the number of teens who say they've played Grand Theft Auto is any indication, ratings board warnings about "mature content" haven't sunk in with many parents. Politically, raising awareness about video game ratings has the potential to be a high-profile issue -- it has been one promoted by Democratic senator and presidential hopeful Joe Lieberman.
If Grand Theft Auto and other games like it are cited in more tragic juvenile crimes such as the one in Tennessee, the video game industry will find it increasingly difficult to shrug off mounting evidence of a connection to aggressive teen behavior.
*The Gallup Youth Survey is conducted via an Internet methodology provided by Knowledge Networks, using an online research panel that is designed to be representative of the entire U.S. population. The current questionnaire was completed by 517 respondents, aged 13 to 17, between Aug. 1 and Aug. 29, 2003. For results based on the total sample, one can say with 95% confidence that the maximum margin of sampling error is ±5 percentage points.