Elections
Explore Gallup's research.
Before his assassination, RFK was popular and faring well in polls, but he was not a shoo-in for the Democratic nomination or the presidency.
Telephone survey response rates are down across the survey research industry, requiring researchers to explore alternatives that supplement phone surveys.
Midterm elections are notoriously perilous for the president's party, and Trump's approval rating only makes matters worse. Can he produce another surprise?
Hear directly from Gallup's methodologists about our latest experiments and recommendations for conducting public opinion research.
Gallup's Editor-in-Chief reports on eight things we learned from the American people during the presidential campaign of 2016.
The U.S. system for electing presidents is controversial, unpopular and not well understood, but has stood as the law of the land since George Washington was elected in 1789.
In 1973, Vice President Spiro Agnew resigned amid a bribery and tax evasion scandal. A majority of Americans thought he should resign, and the public had decidedly mixed opinions of Agnew during his time in office.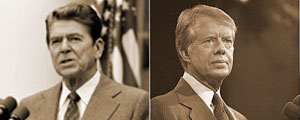 The last major-party presidential nominee who refused to participate in a debate was Jimmy Carter in 1980. Most voters disapproved of his decision, but it may have helped Ronald Reagan establish his kinder, gentler persona.
George H.W. Bush went into the 1988 convention trailing his opponent on the ballot and garnering so-so ratings for several key character traits. He came out of the convention with a new image and a commanding lead.