Development
Explore Gallup's research.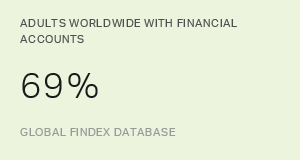 A new World Bank report focuses on the role digital technology plays in personal banking and how it can help close the financial inclusion gap.
Learn how to improve employee engagement by meeting your remote workers' need for a best friend at work.
Millennials want to work where they can learn, grow and have a future. Discover how your organization can offer them the right kind of development.
A new report from the United Nations on the world's progress on sustainable development goals features data that Gallup collected on behalf of its clients FAO and World Bank on world hunger and financial inclusion.
Millennials desire opportunities to learn and grow in their jobs -- but they're struggling to find ones they think are worthwhile.
Millennials have limited financial freedom. Yet their motivations to find a new job have less to do with money than with other factors.
Millennials are the generation in the workplace most likely to look for and change jobs. What do they want from an employer?
Worldwide, Where Do People Feel Safe? Not in Latin America