Health Habits
Explore Gallup's research.
Americans' likelihood to avoid contact with others outside their household dropped to new lows as 53% say they have avoided public places in the week before the survey, and 45% have stayed away from small gatherings during that time.
One-third of U.S. workers say they are "always" working remotely due to the coronavirus pandemic, the lowest reading on this measure since April.
Americans' willingness to receive an FDA-approved COVID-19 vaccine has fallen to 50%. Comfort has plunged among Democrats, while Republicans' willingness has increased.
Americans who are confident they can protect themselves from COVID-19 are more likely to visit stores and other public places. Mask mandates are among several factors linked to higher confidence.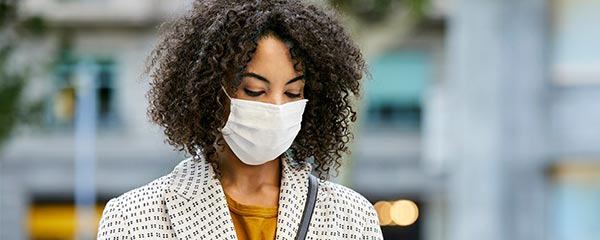 80% of Americans say they would be "highly likely" to wear a mask tomorrow if out of the home and in an indoor space. Those who wear masks differ significantly from those who do not wear masks in their understanding of the virus' risks and toll.
A sizable minority of Americans have historically been reluctant to take new vaccines, with a gap in willingness by party affiliation since 1957.
Americans who are confident that social distancing saves lives are much more likely than those less confident to practice substantial social distancing.
Most Americans are confident that social distancing saves lives during COVID-19, though pockets of skepticism remain.
The World Food Programme's new Gender Equality for Food Security measure bridges the gender data gap in food security data at an extremely critical time.
Americans practicing social distancing have 90% fewer contacts with other people per day than those who are not attempting the practice.