Health Insurance
Explore Gallup's research.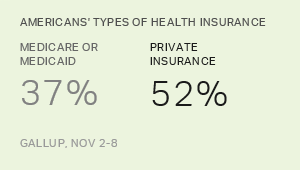 In recent years, an increasing proportion of Americans have seen their health coverage paid for by Medicare or Medicaid, while fewer Americans have private insurance.
In his recent article in the Journal of the American Medical Association, President Obama relied on data from the Gallup-Healthways Well-Being Index to assess changes and identify patterns in states' uninsured rates.