Leadership & Coaching
Explore Gallup's research.
Millennials want to work where they can learn, grow and have a future. Discover how your organization can offer them the right kind of development.
There are 7 billion people in the world. Imagine if all 7 billion received coaching to maximize their potential this week. It would change how humans develop.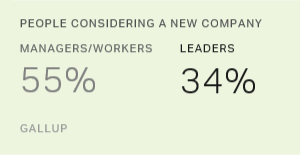 Most talented leaders don't want to leave their current company. Attracting them requires knowing what matters most to them.
35% of U.S. Managers Are Engaged in Their Jobs
Developing ASEAN's Future Leaders Today