Perceptions of Foreign Countries
Explore Gallup's research.
The presidential candidates are delivering potent messages about China and Russia, reminding their respective base voters what's at stake in November.
Gallup will release the findings of its annual World Affairs survey in the coming weeks.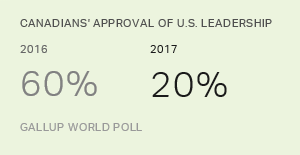 While Americans have very positive attitudes toward their fellow G7 nations, people in those countries have negative views of U.S. leadership.
While North Korea's recent advancements in nuclear technology present new challenges to the U.S. in keeping international peace, Americans have long had North Korea on their radar as a threat.