Political Parties
Explore Gallup's research.
American pride has become more of a partisan issue under the Trump presidency and could enter into the 2020 campaign.
Throughout the late Ross Perot's two presidential campaigns, U.S. voters had a mixed view of the business executive turned politician.
Pete Buttigieg raised the possibility of a "religious left" in the coming presidential election, but relatively few liberals or Democrats are highly religious.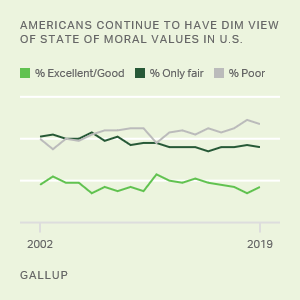 Fewer than 20% of Americans continue to rate the state of moral values in the U.S. as excellent or good and nearly eight in 10 say they are getting worse.