Political Parties
Explore Gallup's research.
American pride has become more of a partisan issue under the Trump presidency and could enter into the 2020 campaign.
Throughout the late Ross Perot's two presidential campaigns, U.S. voters had a mixed view of the business executive turned politician.
Pete Buttigieg raised the possibility of a "religious left" in the coming presidential election, but relatively few liberals or Democrats are highly religious.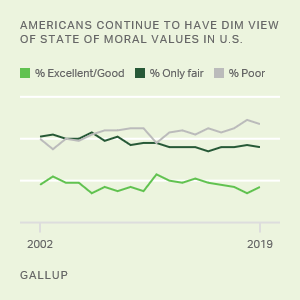 Fewer than 20% of Americans continue to rate the state of moral values in the U.S. as excellent or good and nearly eight in 10 say they are getting worse.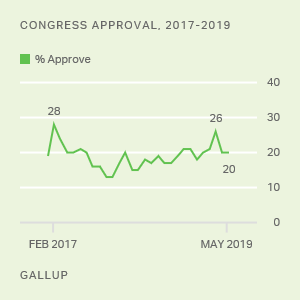 Congressional job approval remained at 20% for the second consecutive month, six points lower than the two-year high reached in March.
A majority of Americans (63%) remain dissatisfied with the direction of the U.S., but the percentage satisfied edged up to 36% in May.
Joe Biden has an extraordinary 44 years of service as an elected federal official; how he defines it will help determine his campaign's success.
Half of Americans approve and 48% disapprove of the Affordable Care Act, similar to the even split in November.
Political polarization over environmental protection didn't start with President Donald Trump, but has intensified during his administration.