According to our research, workplaces with areas where employees can congregate, like dining and break areas, have twice as many people with best friends at work. If you are involved in shaping the layout of a new workspace or rearranging an existing area, consider this an opportunity to capitalize on the "water cooler effect" by creating more conversations in your workplace.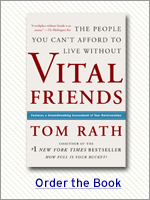 In addition to the findings about dining and break areas, our research revealed that workplaces with a physical layout that makes it easy for people to socialize have significantly more friendships. In fact, the effects of these environmental factors were much stronger than we had originally guessed. You are three times more likely to have a close-knit workgroup in this kind of physical workplace environment. Unfortunately, only one-third of the people we asked feel that the physical layout of their workplace makes it easy for them to socialize. [See "In Search of the Perfect Office" in the "See Also" area on this page.]
The terminal
In the late 1990s, retail giant Best Buy could hardly keep up with its own growth. Headquartered in the Minneapolis area, Best Buy's corporate staff was spread across 14 different locations, which posed a major challenge for this people-centric organization. The company's leadership figured it was time to build a new corporate campus and consolidate all 14 offices into one central location. They knew it would take a very innovative design to foster conversations and teamwork in a 1.6-million-square-foot building that needed to house 7,500 employees.
Best Buy decided to model the layout of an airport, with interconnected terminals. They labeled the buildings "Terminal A," "Terminal B," and so on, and then built the ultimate hub, or "Main Terminal." The Main Terminal would have three zones, dubbed "The Park," "The Café," and "The Neighborhood."
When you walk into Best Buy's Main Terminal, the first thing that strikes you is the bustling entryway. The only route for visitor or employee entry from the massive parking garage is through the middle of the Main Terminal. Even employees who work at the far end of Terminal D have to enter through this common area -- although it is less than convenient. When you walk through the busy security area, you find yourself in the middle of one enormous room. This Main Terminal has soaring 30-foot ceilings, is surrounded by floor-to-ceiling glass, and spans the equivalent of almost four city blocks.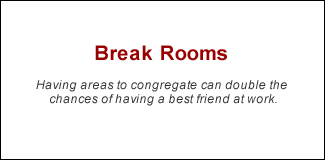 On any given morning, almost all the patio tables with umbrellas are occupied with people talking, reading the newspaper, or working wirelessly from their laptops. Just beyond the tables is a full-sized Caribou Coffee with people waiting in line and chatting. Although indoors -- and in suburban Minneapolis -- the place has the feel of a sidewalk café in San Francisco. One reason this coffee shop is always packed is that it is the only place in the entire complex where employees can get coffee. Instead of placing coffee pots on each floor and in every building, Best Buy intentionally forces people to visit the terminal for their daily caffeine fix.
If you walk around the other side of this main area, you'll see foosball tables, pool tables, and several video game consoles near the large glass windows. Just beyond that is an outdoor sand volleyball court. None of this is unique -- the place has the look and feel of a high-tech company, particularly in the Bay Area during the dotcom boom. Unfortunately, in many dotcom companies, employee play areas were just for show; you'd rarely see a foosball table in use, even though they were on the front of many companies' recruiting brochures. But at Best Buy, people actually play foosball or pool, and usually, every video game console is in use. And on the outer edges of the Main Terminal, there's a gift shop, bank, pharmacy, fitness center, health clinic, dry cleaner, and a bustling day care center.
The Main Terminal also houses a smaller building within a building. This is Best Buy's facility for meetings and management retreats. Instead of going off-site to a hotel or conference center, employees use this space for longer meetings. It's filled with large couches around a fireplace, a small creek with water flowing over rocks, and several small to mid-sized meeting rooms -- some with whiteboard walls for brainstorming sessions. No one has a permanent office in this space; it's reserved for collaboration.
While it is impossible to quantify the precise impact of Best Buy's massive connecting hub, it's clear that it's stimulating thousands of additional interactions and conversations every day. As one Best Buy employee explained, "There always seems to be an energy in the building." You could call it a water cooler for the 21st century.
Best Buy is not alone. Over the past decade, many organizations have designed their buildings to encourage conversations and interaction. One of the world's largest software companies has modeled its headquarters after a large ship. The building is shaped like a long narrow boat encased in glass. Every employee, including the top executives, sits in a cubicle with natural sunlight streaming in from both sides.
According to our research, nearly one-third of employees cannot see the outside from their workspace -- and people in this group are 86% more likely to be disengaged in their jobs. The good news is, employers are finally starting to realize the importance of architecture, and they are taking this into account before construction starts. The bad news is, many people work in older buildings that were designed during the days when workspaces had more walls, and people were rewarded with plush, remote corner offices that created additional distance from the masses.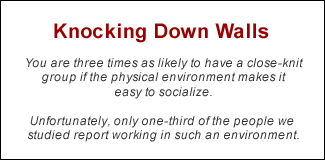 If you work in a building with imperfect architecture, it will take a bit more effort and creativity to foster vital friendships. Many organizations depend on "virtual" water coolers. That is, they encourage people to bring the conversation with them wherever they go, helping others connect. Regular events where people can catch up and meet others can also serve as venues for ad-hoc conversations. Organizations filled with "best friends" are always trying new things: weekly or monthly social hours, dinners hosted by managers in their homes with their workgroups, outings to events in the area, involvement in community service groups, or larger parties for special holidays and events. These workplaces have one thing in common: They try anything to start a conversation.