The best and the brightest in any workplace are bound to share certain traits, such as a sense of responsibility and a positive attitude. But one thing they won't have in common is their ages. That's because highly dedicated employees are found across the age spectrum. In GMJ's fourth national survey of U.S. workers, the percentage who say they are engaged, or deeply involved in their work, varied only slightly by age group: 35% of workers ages 18 to 24 are engaged; as are 29% ages 25 to 34; 30% ages 35 to 49; and 29% ages 50 and older.
The level of engagement is important because Gallup research shows that engaged employees are more productive than their disengaged colleagues. (That same research shows that employees are engaged when an employer meets their basic needs, including respect, praise, constructive criticism and the opportunity to contribute.)
So, what might we learn about boosting engagement by examining some workplace attitudes of different age groups? As it turns out, age groups vary significantly in their view of the workplace as a meritocracy: Only about a quarter of workers age 25 or older strongly believe that promotion is based on ability, compared with 40% of 18- to 24-year-olds. And only about a quarter to a third of workers age 25 or older trust their company to be fair to all employees, compared with 45% of younger workers.
If the older workers' more jaded view truly reflects their experience, managers should be able to boost engagement by asserting that their companies are committed to fairness. That doesn't mean everyone who wants a promotion will get one. But it does require managers to recognize all employees appropriately. Doing so is more than just good management, it's the bedrock of engagement. And as is evident from the chart showing the cost of disengagement, an engaged workforce is something no company can afford to be without.
PERCENTAGE OF EMPLOYEES BY AGE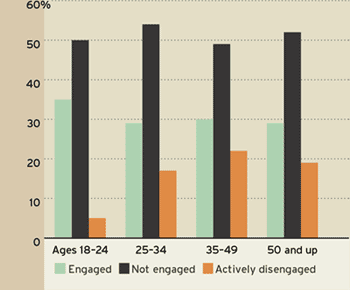 PERCENTAGE OF EMPLOYEES WHO STRONGLY AGREE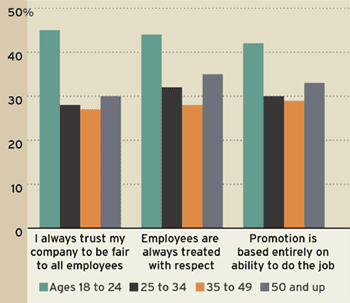 THE COST OF DISENGAGEMENT
PERCENTAGE OF ACTIVELY DISENGAGED EMPLOYEES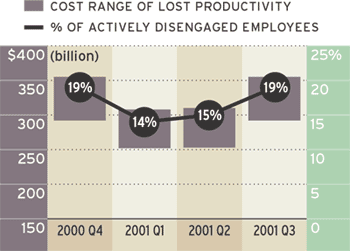 Results of these surveys are based on nationally representative samples of about 1,000 employed adults age 18 or older. Interviews were conducted by telephone from October 2000 to August 2001 by The Gallup Organization. For results based on samples of this size, one can say with 95% confidence that the error attributable to sampling and other random effects could be plus or minus three percentage points. For findings based on subgroups, the sampling error would be greater.