Ask American executives about German workers and you are likely to get a description of highly skilled, generously compensated men and women who produce some of the best products in the world. So it may come as a surprise that the economic engine of Europe is also home to widespread worker dissatisfaction, a problem that may be costing the country as much as €226.5 billion a year (U.S. $191.5 billion).
In a survey of 2,009 German employees last summer, Gallup GmbH in Wiesbaden, Germany found that a staggering 69% of the German workers are "not engaged," that is, they lack a sense of professional development and fulfillment that is fundamental to productive employment. The survey, called Q12 because it uses 12 questions to measure the level of employee engagement, is premised on Gallup research which shows that employees flourish when employers meet their basic human needs, such as the needs for respect, praise and support. Conversely, employees languish when such needs go unmet.
WORK SCHMERZ: GERMANS ARE UNHAPPIER ON THE JOB THAN THEIR U.S. COUNTERPARTS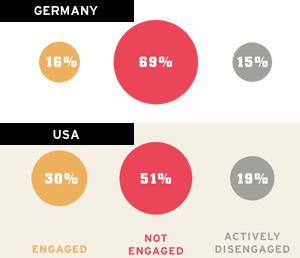 The German Q12 result is all the more distressing when contrasted with the situation in the United States: The percentage of workers who meet Gallup's definition of "engaged," or who feel fully involved in their work, is almost twice as high in the U.S. as in Germany. And because engagement, as measured by Q12, correlates to bottom-line business outcomes, this means German companies operate at a competitive disadvantage.
What could account for the low German engagement? And what can be done to improve it? The answers to these questions are crucial not just for German executives, but for any business leader who wants to maximize a company's human assets.
To put the survey in proper perspective, it is worth taking a closer look at the numbers. While the German data are striking overall, not all of the 12 survey questions registered the same dismal results. On the first two questions, for example, Germans did rather well: roughly two thirds know what is expected of them at work, while about half of them have the materials and equipment they need to do their jobs right.
But as soon as the survey addressed issues related to feedback and development, the story changed dramatically. Only one in five of German employees say there is someone at work who encourages their development or who has given them a progress report in the previous six months. Slightly less than one in five say they have received recognition or praise for doing good work in the past seven days. Only about one quarter feel that their immediate supervisor cares about them as individuals or that their opinions count.
It's possible, of course, that cultural mores and the famously pessimistic German worldview are playing into these numbers. According to Neil Fligstein, professor of sociology at the University of California in Berkeley and an expert on comparative employment systems in Europe and the U.S., "cultural attitudes certainly play a role" in the German Q12 results. Indeed, the typical German approach to management relies on seniority rather than merit. Rigid social formalities continue to be the rule -- employees who have worked together for decades still address each other with the formal "Sie" rather than the informal "du." And communication from supervisors, if it happens at all, tends to be critical rather than positive; it is used primarily to correct mistakes.
Fligstein further points to the unique problems that have resulted from German reunification, such as the alienation of some East Germans as they try to adjust to western workplaces. But Fligstein also notes that Germany is struggling to update from a technocratic, manufacturing-based employment system to a people-centered, service-dominated economy. "The whole thing that built this postwar economic miracle is in need of some renovation," he says, "and these findings may be registering that."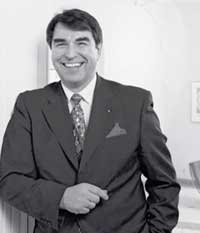 AT ESTÉE LAUDER COMPANIES IN GERMANY, HUMAN RESOURCES MANAGER DETLEV LANGE EMPHASIZES INDIVIDUALITY OVER UNIFORMITY
Coming at a time when the German economy has slowed and the German government is contemplating labor-market reforms, the Gallup Q12 results have touched a nerve in Germany. More than 70 different German newspapers, a half-dozen business magazines, and several national radio and TV news programs ran stories on the survey when it was announced last fall. "It was interesting for people to see how bad the situation really is," says Marco Nink, Gallup's bureau chief of public opinion research in Germany. "And we could show that this data can be correlated to business outcomes, which is totally new in Germany."
The good news is that the problem is ripe for improvement. The Q12 breaks employees into three groups: "engaged," "not engaged" and "actively disengaged." (The last category refers to workers who show up but are fundamentally uninvolved in their work.) Significantly, the percentage of actively disengaged is roughly similar in Germany and in the U.S., indicating a hard core of deadbeat work environments that is difficult to eradicate. The big difference emerges in the number of not engaged workers: 69% of Germans fall into this category, as opposed to 51% of Americans. But with specific changes, it's much easier to move not engaged employees into the engaged category than it is to motivate those who are actively disengaged. "Getting more engaged people from the middle group can often be done quickly through just a few simple activities," says Nink, among them, management training sessions that focus on recognizing successful performance, looking for and promoting talent, and improving communication between co-workers.
Estée Lauder Companies in Germany, with 580 employees, is one firm that has recently embraced the necessity of identifying and meeting employee needs as a means to enhanced productivity. After undergoing a Q12 assessment last November, the company began management seminars aimed at boosting engagement before the next Q12 in July. Detlev Lange, the company's human resources manager, notes that 30% of his employees qualified as engaged in the company's first Q12, almost twice the percentage in Germany overall. But he believes that a concerted effort to respond to employees not as cogs in a greater machine but as individuals can, he says, "improve the results for the field staff and for the back-office employees as well."
Regardless of the ways in which German executives adapt Q12 to their unique cultural context, the most important outcome of the survey is the attention it has drawn to the individual as the key to a more productive workplace. To avoid underutilizing human assets, any company -- German, American or otherwise -- needs to be vigilant about the quality of each employee's work life.