PRINCETON, NJ -- Of the seven Republican and Democratic candidates currently receiving the most support for their respective party's 2008 nomination for president, Sen. Hillary Clinton receives the most favorable public reviews for having good healthcare proposals. While she outshines her chief Democratic rivals on this score, it's the Republicans who fare the worst.
According to Gallup's Sept. 24-27 Panel survey, Clinton is the only candidate whom a majority of Americans commend for having "good ideas about how to address the healthcare system in the United States." Fifty-three percent say she has good ideas, while 38% disagree. (The poll was conducted shortly after Clinton unveiled the latest installment of her healthcare plan in September, but she has generally scored well on the healthcare issue throughout the campaign.)
Clinton's leading Democratic opponents -- Sen. Barack Obama and former Sen. John Edwards -- are the next-most-highly rated on healthcare, with roughly 4 in 10 Americans saying each has good ideas. All four Republicans rated -- including former Mayor Rudy Giuliani, Sen. John McCain, former Gov. Mitt Romney, and former Sen. Fred Thompson -- fall below Edwards and Obama, with Giuliani scoring the best (31% say he has good ideas) and Thompson the worst (18%).
Do you think each of the following presidential candidates does or does not have good ideas about how to address the healthcare system in the United States? How about -- [RANDOM ORDER]?
2007 Sep 24-27

Yes, has
good ideas

No,
does not

No
opinion

%

%

%

Hillary Clinton

53

38

9

Barack Obama

40

38

22

John Edwards

38

39

23

Rudy Giuliani

31

40

29

John McCain

23

45

32

Mitt Romney

22

43

35

Fred Thompson

18

40

41
Much of the variation in ratings can be explained by the percentages of Americans with no opinion of the candidates' healthcare plans. For instance, whereas only 9% of Americans have no opinion about Clinton's ideas, 22% have no opinion about Obama's and 41% have no opinion about Thompson's.
Still, even when limiting the assessment to informed opinions of each candidate, Clinton is the only candidate receiving mostly positive reviews. Obama and Edwards are viewed equally positively and negatively, and the four Republicans are all viewed more negatively than positively.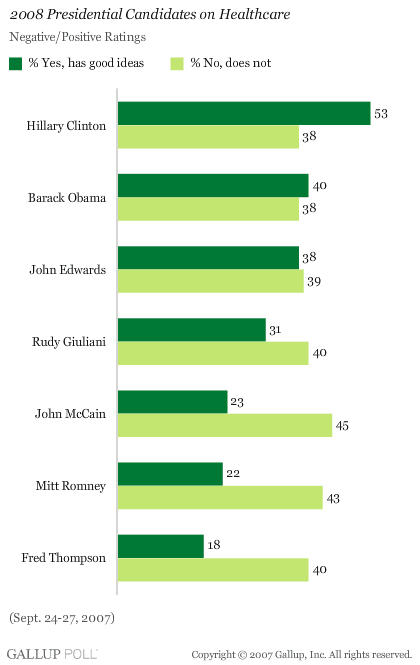 Advantage Democrats
There are substantial gaps in ratings of the candidates by political party. Of course, the Democratic candidates receive more praise from Americans identifying themselves as Democrats (including independents who lean Democratic) than from those identifying as Republicans (and Republican leaners), and vice versa. However, the Democrats receive much more praise from members of their own party than the Republicans do from theirs. Whereas a majority of Democrats say that each of the three leading Democrats has good ideas on healthcare, none of the four leading Republican candidates receives majority applause from Republicans nationwide.
This is most stark in terms of the party front-runners. While 83% of Democrats say their party's front-runner (Clinton) has good ideas about addressing healthcare, only 47% of Republicans say this with respect to the top-ranked Republican, Giuliani.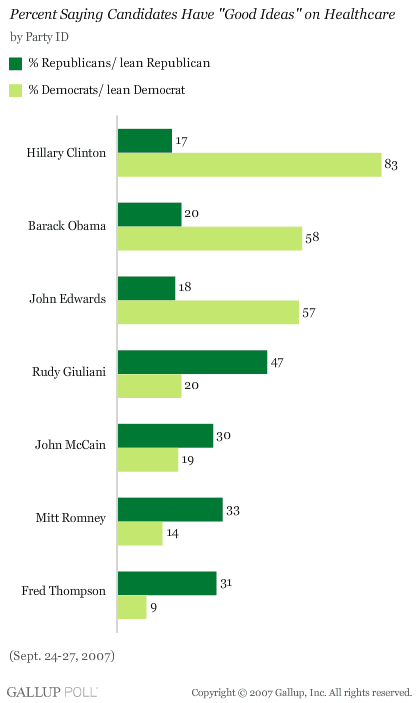 Republican Healthcare Ideas Fare Better Than Candidate Ratings Might Suggest
The Democratic advantage on healthcare seen in the candidate ratings is not nearly as obvious in public reaction to the various proposals emanating from the campaigns.
A companion article to this report (see "Any Healthcare Reform Plan Will Do for Americans" in Related Items) reviewed public reaction to 12 specific ideas for reforming healthcare put forth by several presidential candidates from both parties. Of the six most popular proposals* (each favored by at least three in four Americans), only two are signature Democratic proposals; one is proposed by at least one candidate from each party, while the other three are found in one or more of the Republicans' healthcare platforms.
The most popular proposal tested in the poll comes from the Clinton campaign: giving tax breaks to small businesses to allow them to provide health insurance for their employees. More than 9 in 10 Americans (94%) favor this.

One of the key elements in all three of the leading Democrats' plans is also among the most popular tested in the poll: requiring large companies to offer health insurance to their employees or pay into a pool used to fund it. Approximately 8 in 10 Americans favor this, including 89% of Democrats and 72% of Republicans.

At the same time, four of the most popular proposals tested include two championed by former Gov. Mike Huckabee: allowing workers to maintain their medical insurance when they change jobs (86%) and providing incentives in health insurance plans for those who can demonstrate a healthy lifestyle (81%).

Romney's proposal for reducing government regulation of health insurance providers is favored by 77% of Americans.

Both Romney's and Obama's plans include provisions for government subsidies to help lower-income Americans buy private health insurance, a position favored by 76% of Americans.
Additionally, 7 in 10 Americans like Republican-backed proposals to institute caps on medical malpractice awards (69%), give American families a $15,000 tax credit to buy private health insurance (68%), and have the federal government help fund state-based healthcare programs (68%).
All three of the three least well-reviewed proposals -- although still favored by more than half of Americans -- come from the Democrats.
Rep. Dennis Kucinich's proposal for establishing a national healthcare system funded by the government is supported by 54% of Americans, including 76% of Democrats, but only 27% of Republicans.
Requiring all Americans to carry some form of health insurance, something several of the Democratic plans include, is favored by 53% of Americans. However, because the candidates generally link this mandate to income-based government subsidies to help make health insurance affordable for people, public support for the intent of this proposal could be higher.
Similarly, the percentage of Americans saying they favor repealing the federal income tax cuts passed in 2001 and 2002 to pay for new healthcare programs could be higher than the 54% of Americans found in the survey, if the questions specified this would apply only to higher-income Americans -- something the Clinton, Obama, and Edwards plans do.
Bottom Line
In general, the Democratic candidates -- those leading the field as well as those lagging in the polls -- tend to favor policies that will result in "universal" healthcare coverage, either by a combination of public or private initiatives, or through a new national healthcare plan. The Republican candidates tend to speak in terms of expanding healthcare access and coverage by focusing on free-market reforms to the existing private-based healthcare system. As the data reviewed here reveal, both approaches have potential strengths and weaknesses in winning public support.
But the playing field is not as level as public reaction to various elements of the healthcare reform plans might convey. Perhaps the Democrats have been more vocal about their plans and successful at explaining them; perhaps by virtue of the fundamental images of the parties, Americans are just more willing to believe the Democrats can handle the issue. (Recent Gallup polling has given the Democratic Party a strong advantage over the Republicans on the issue, with the Democrats chosen by about 2 to 1 over the Republicans as the party better able to handle the issue.)
Whatever the reason, when it comes to healthcare, Americans clearly have much greater confidence in the leading Democratic candidates -- and Clinton in particular -- than in the Republican candidates.
Survey Methods
Results for this panel study are based on telephone interviews with 1,006 national adults, aged 18 and older, conducted Sept. 24-27, 2007. Respondents were randomly drawn from Gallup's nationally representative household panel, which was originally recruited through random selection methods. The final sample is weighted so it is representative of U.S. adults nationwide. For results based on the total sample of national adults, one can say with 95% confidence that the maximum margin of sampling error is ±4 percentage points.
In addition to sampling error, question wording and practical difficulties in conducting surveys can introduce error or bias into the findings of public opinion polls.
* This analysis relies on descriptions of the presidential candidates' healthcare plans from the Kaiser Family Foundation.
Still thinking about healthcare,
11. Please tell me whether you would favor or oppose each of the following as a way of reforming the U.S. healthcare system. How about -- [RANDOM ORDER]?
2007 Sep 24-27
(sorted by "favor")


Favor


Oppose

No opinion

%

%

%

Give tax breaks to small businesses to allow them to provide health insurance for their employees

94

6

*

Allow American workers to keep the same medical insurance when they change jobs

86

11

3

Require large companies to either offer health insurance coverage to their employees or to pay into a pool that would be used to pay for health insurance

81

17

2

Provide incentives in health insurance plans for those who can demonstrate they live a healthy lifestyle

81

18

2

Reduce government regulation to allow more health insurance providers to compete in the system

77

18

4

Provide government subsidies to help lower-income Americans buy health insurance

76

22

3

Introduce reforms to the legal system that would place limits on the amount of money awarded in malpractice suits against doctors

69

29

2

Provide American families a $15,000 tax credit to allow them to buy private health insurance

68

28

4

Have the federal government help fund state programs that attempt to address the health insurance situation in that state

68

30

3

Establish a national healthcare system funded by the government, similar to the ones in Canada and Europe

54

41

5

Repeal the federal income tax cuts passed in 2001 and 2002 and use that money to pay for new healthcare programs

54

41

5

Require every American to carry some form of health insurance

53

44

3

* Less than 0.5%