PRINCETON, NJ -- NASA astronauts are currently in space for a two-week mission to continue work on the International Space Station. The mission is historic from the standpoint that women are the commanders of the two crews in space. A recent Gallup Poll finds the majority of Americans giving NASA positive marks for the job it is doing. The current ratings are little changed from recent years, and from a longer-term perspective the public has generally rated NASA positively.
According to the Sept. 14-16 poll, 56% of Americans rate the job NASA is doing in positive terms, with 16% saying it is doing an "excellent" job and 40% a "good" job. Meanwhile, just 8% say it is doing a poor job, with most of the rest describing NASA's performance as "only fair."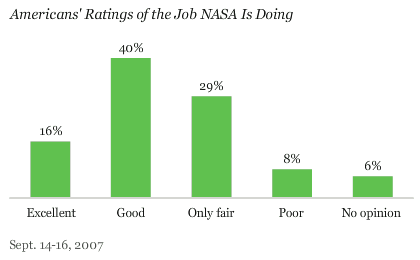 These attitudes are similar to what Gallup measured in 2006 (57% positive ratings for NASA) and 2005 (53% and 60% positive ratings in two polls).
In fact, NASA has had less-than-majority positive evaluations just twice since 1990, when Gallup first asked this question. The initial 46% rating in July 1990 came shortly after a flaw in the Hubble telescope was discovered. Gallup measured the historical low rating of 43% in September 1993 after a series of mishaps, which included the loss of contact with the Mars Orbiter and a couple of last-second decisions to scrub planned space shuttle missions.
The high point in NASA's ratings came in November 1998, shortly after Sen. John Glenn -- one of the earliest U.S. astronauts -- made a much-heralded return trip to space.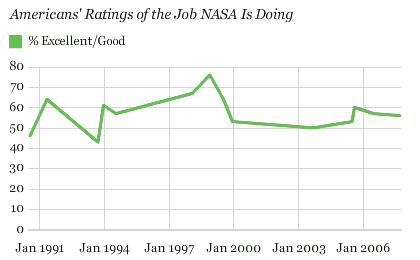 Generally speaking, Americans' opinions of NASA are fairly uniform by subgroup, including by political affiliation. There are differences by age, with older Americans less likely than younger Americans to rate NASA positively. From 2005 to 2007, when NASA averaged a 57% positive rating, its rating was 62% among 18- to 34-year-olds but only 49% among those 55 and older.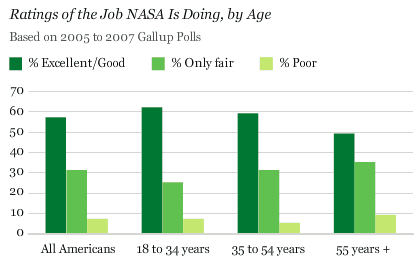 Survey Methods
These results are based on telephone interviews with a randomly selected national sample of 1,010 adults, aged 18 and older, conducted Sept. 14-16, 2007. For results based on this sample, one can say with 95% confidence that the maximum error attributable to sampling and other random effects is ±3 percentage points. In addition to sampling error, question wording and practical difficulties in conducting surveys can introduce error or bias into the findings of public opinion polls.
35. How would you rate the job being done by NASA -- the U.S. space agency? Would you say it is doing an excellent, good, only fair, or poor job?
 

Excellent

Good

Only fair

Poor

No
opinion

 

%

%

%

%

%

2007 Sep 14-16

16

40

29

8

6

2006 Jun 23-25

17

40

30

7

6

2005 Aug 5-7

16

44

29

8

3

2005 Jun 24-26

11

42

34

6

7

2003 Sep 8-10

12

38

36

10

4

1999 Dec 9-12

13

40

31

12

4

1999 Jul 13-14;

20

44

20

5

11

1998 Nov 20-22

26

50

17

4

3

1998 Jan 30-Feb 1

21

46

21

4

8

1994 Jul 15-17

14

43

29

6

8

1993 Dec 17-19

18

43

30

7

2

1993 Sept 13-15

7

36

35

11

11

1991 May 2-5

16

48

24

6

6

1990 July 19-22

10

36

34

15

5