PRINCETON, NJ -- The fairly large dollar figure Americans estimated in November that they would spend for Christmas gifts this year appears to be holding up in a new Gallup Poll, conducted Dec. 6-9. Americans' average estimate for the total amount they will spend on gifts this season is now $833, down slightly -- but not by a statistically significant amount -- from the $866 recorded in mid-November.
More importantly, the $833 estimate is similar to Gallup's final 2006 pre-Christmas spending forecast of $826. Given that actual holiday retail sales in 2006 rose by a better-than-average amount over the previous year, 2007 holiday spending may not be the big disappointment some have predicted for the nation's retailers.
As Gallup noted last month (see "Christmas Spending Projection Still Looks Positive" in Related Items), in years when Americans' average anticipated spending fell well below the previous year's estimate (2000, 2001, and 2002), year-to-year growth in holiday retail sales was relatively anemic, generally falling below 5%. (According to the Census Bureau's "GAFO" measure of department store-type retail sales for the months of November and December each year, 5% annual growth in holiday spending is about the norm.)
In 2000, Gallup measured a $40 drop in average anticipated spending compared with 1999. This was met with a 3.9% increase in November/December GAFO retail sales over 1999.
The smaller decline of $23 seen in 2001 was met with a 4.4% increase in retail sales.
The $104 drop in anticipated spending between 2001 and 2002 was associated with a paltry 1.8% increase in 2002 retail sales -- one of the worst holiday retail seasons in recent years.
By contrast, in years when Americans' anticipated Christmas gift-spending figure equaled or exceeded that of the previous year -- as it does today -- retail sales have shown fairly robust annual increases, in the 5% to 6% range.
The $44 increase in average projected spending between 2002 and 2003 corresponded with a 5.4% increase in 2003 holiday retail sales compared with the previous year.
The $4 decline in projected spending between 2003 and 2004 (essentially no change) corresponded with a 5.2% increase in 2004 holiday spending.
The $33 increase in consumers' spending forecast between 2004 and 2005 was met with a 6.3% increase in 2005 holiday sales.
Last year, the $63 increase in consumers' spending forecast was met with a 5.4% increase in holiday sales.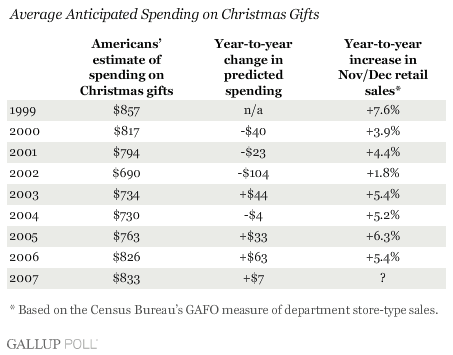 Top Third Will Spend a Thousand Dollars or More
Americans have a wide range of Christmas gift budgets, as a third of Americans say they will spend $1,000 or more, 37% will spend between $250 and $999, and 19% will spend less than $250. Twelve percent of Americans offer no spending estimate, including 5% who say they will spend nothing or don't celebrate Christmas.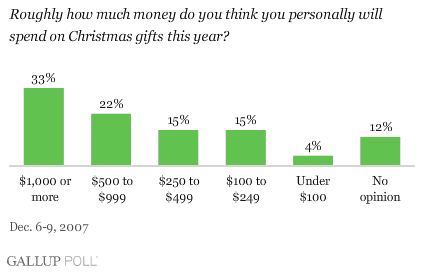 While the average estimated amount being spent this year among all Americans is $833, the average figure excluding those who say they will spend nothing is $880.
Low-Income Respondents Still Cutting Back
Spending intentions vary widely by household income, but as seen last month, the estimated average outlay of those in the lowest income bracket is well below what it was in 2006, and is even below where it stood at the very beginning of this year's holiday shopping season, in October. On average, those making less than $30,000 per year now think they will spend $359 in Christmas gifts. That's down from $512 a year ago.
At the same time, upper-income Americans plan to spend more than $200 above what they spent a year ago: $1,339 today versus $1,102 in November 2006. The anticipated spending of middle-income earners is about the same: $774 today versus $812 a year ago, with the $38 difference falling within the margin of sampling error of the two surveys.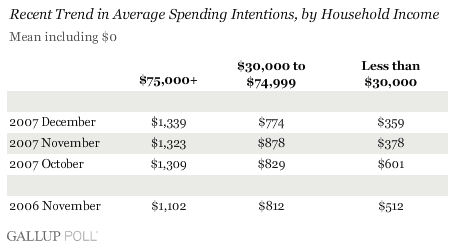 Most Perceive No Change in Their Spending
Gallup also asks respondents to say whether the amount they estimate spending on gifts this year is more, less, or about the same as they spent last Christmas. Overall, 16% say they will spend more, 25% say they will spend less, and 57% say they will spend about the same amount.
These results are typical of what Gallup has found on this measure since 1990. Shoppers typically perceive that their spending will be about the same; among the rest, a higher proportion say they will be spending less rather than more.
There is some notable variation in these results by household income, however. High-income respondents are about evenly divided between those saying they will spend more and those saying they will spend less (18% vs. 16%, respectively). Those in the middle- and lower-income brackets are much more likely to say they will be spending less rather than more.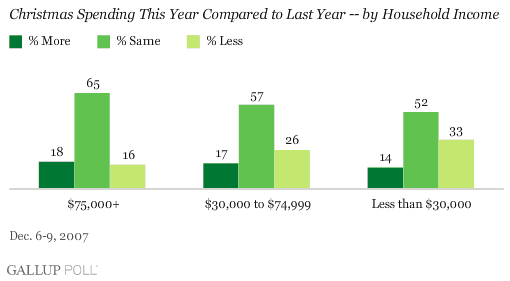 Bottom Line
This year's holiday retail season continues to look like it will reap solid financial returns for the nation's retailers, perhaps registering more than a 5% increase in sales over last year. To the extent sales are dampened, it appears this will be because of lower-income shoppers who anticipate spending less than they did in 2006. While this could hurt discount-oriented retailers, on a national basis, suppressed spending at the lower end of the economic spectrum could be offset by the likely increase in spending by affluent Americans.
Survey Methods
Results are based on telephone interviews with 1,027 national adults, aged 18 and older, conducted Dec. 6-9, 2007. For results based on the total sample of national adults, one can say with 95% confidence that the maximum margin of sampling error is ±3 percentage points. In addition to sampling error, question wording and practical difficulties in conducting surveys can introduce error or bias into the findings of public opinion polls.